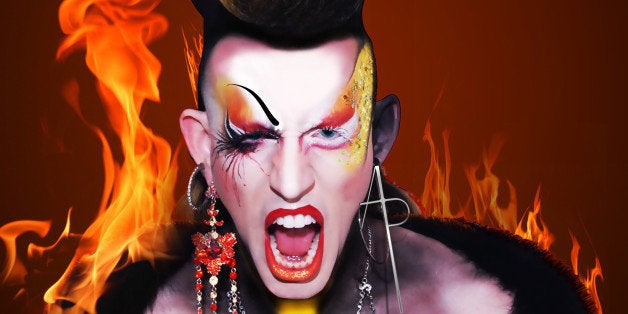 This is the sixth installment in HuffPost Gay Voices Associate Editor JamesMichael Nichols' 30-part series "After Dark: NYC Nightlife Today And Days Past" that examines the state of New York nightlife in the modern day, as well as the development and production of nightlife over the past several decades. Each featured individual in this series currently serves as a prominent person in the New York nightlife community or has made important contributions in the past that have sustained long-lasting impacts.
HuffPost Gay Voices believes that it is important and valuable to elevate the work, both today and in the past, of those engaged in the New York nightlife community, especially in an age where queer history seems to be increasingly forgotten. Nightlife not only creates spaces for queers and other marginalized groups to be artistically and authentically celebrated, but the work of those involved in nightlife creates and shapes the future of our culture as a whole. Visit Gay Voices regularly to learn not only about individuals currently making an impact in nightlife, but those whose legacy has previously contributed to the ways we understand queerness, art, identity and human experience today.
The Huffington Post: What did your journey to becoming a fixture in the New York nightlife scene entail? How did you come to embody Acid Betty as a persona?
Acid Betty: It started with me leaving Los Angeles in hopes of becoming "more creative" and open-ended with no intention in mind other than happiness. I was a professional dancer and helping cast some of the largest music videos to date, but noticed that the art and passion was definitely missing and not for me. I then found myself at a lot of drag icon Sherry Vine's shows and, in the end, became best friends with her hair stylist/boyfriend at the time. One thing led to another and Marec and I were having too much fun dressing up and going out as recluses on Sherry's list. I do apologize to Kenny Kenny and Brandon Olsen now -- I am sure I was a mess every week, like clockwork, but they still let us in for free.
I had a full-time job so Acid Betty was my hobby. I loved going out to clubs and surprising the freaks working there with another over-the-top look. After a year or so of being a hobby freak, I realized New York needed me. Don't we all have those delusions at one time or another? So I hosted hundreds of parties, as well as throwing my own very successful freak fest: Acid Disko! I was working almost five nights a week as Acid and doing web design and marketing with left-over eyeliner during the day.
It really wasn't until I received a call that Lady Bunny wasn't a real man, so "Project Runway" wouldn't be able to film her as a he [laughs]. So I became her last minute replacement for the all-Drag Queen episode of "Project Runway." After it aired "acid betty" was one of the highest searched terms on google in the world and I found hundreds of posts and blogs trying to explain, understand and hopefully celebrate this new strange idea of a Hybrid Drag Queen and why the last name Betty was a larger descriptive than just a name. It was fantastic!
After my five second stint on Project Runway I was working larger events and parties and began traveling and taking Acid on the road. Ironically, she still continues to be a great hobby. I have since been working on some new projects for Acid that will hopefully extend myself into the art world more seriously.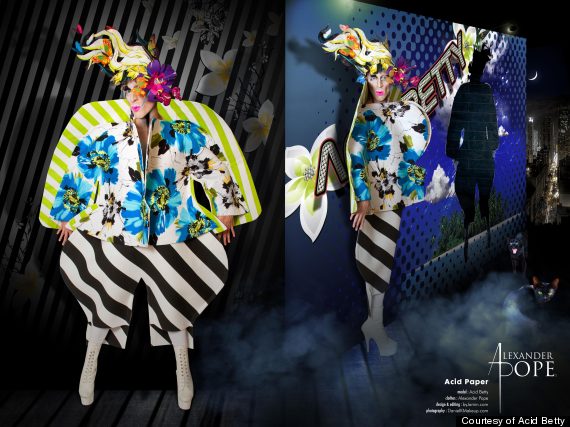 You produce a diverse spectrum of work. How would you describe your aesthetic and your work as an artist?
Overall I hope my work leaves people challenged and inspired. My intention has never been to be a drag queen, an impersonator or a female illusionist. I try to express concepts, emotions or moments in time rather than be "a passable woman." I have been known to challenge the boundaries of the art of drag. I have been told my whole life that being a renaissance man would be my down-fall, but I can assure you it has done nothing but uplift me my entire life. I do pretty much everything you see. I style and design the hair, makeup and outfits as well as the video visuals that accompany some of my live performances. When performing I produce all original work and try to flex my humble acting and dance beginnings. I don't believe you can call yourself an artist if all you are doing is prancing abut on top of someone else's work -- so the continuation of original work and supporting other's original work is very important to me.
You describe yourself as a "hybrid drag queen" -- what does this mean?
It was the best way to describe myself at the time. When I started working in New York the club kid scene was hardly breathing and there was only one kind of successful drag queen -- and it wasn't me. I was pushing the boundaries of drag and including the lack of padding or tits as still beautiful! I came onto the scene and no one knew how to put back their eyebrows or style a wig. I was aiming to master the "greats" work -- such as Lady Bunny, Joey Arias, Sherry Vine and Leigh Bowery -- and then throw it back at New York and see what happened. I think they call it "Brooklyn drag" now, but at the time I was thrown up against a lot of discrimination within my community as well as out. However, I fought the good fight and now drag is just a mess isn't it? The great part is I now have self-confessed "hybrid drag queens" all over this crazy world, so watch out!
How have you seen the NYC nightlife scene change and develop over the past decade?
I have been involved with the nightlife scene for over 10 years. It's not long at all when I consider my friend Penny Arcade has been here five times as long and Joey Arias for over 200 years. Most kids before moving to New York often have their eyes, ears and dreams on this city and that was me -- I definitely had childhood dreams of becoming a club freak at night and living in New York. I felt like I knew every club kid on "Geraldo" as my own fucked up friend. Luckily, while working in nightlife a lot of great old school kids came back out to my party, Acid Disko, or some performances and I always heard the same things: "It's nice someone is still trying to hold up the torch. We all miss our dying New York." It's hard for me to imagine how they are feeling, even though I can attest to similar protests. There was an energy that drew people and me together and into their desires and fantasies and just let things go in the nightclubs. I can still experience it happening today -- just in smaller doses and more spread out.
What do you consider to be the most important thing coming out of what nightlife has shifted and developed into today?
I am not sure if there is anything important coming out of nightlife as much as a warning sign. We could possibly be losing our queer identity to Facebook status updates and "RuPaul's Drag Race."
It is important for us queers to pass down a tradition and common knowledge only expressly understood by us and us alone.
The nightlife has always been a place for other queers to meet, support and interact with each other and it is important that we continue that tradition. If we sell out to ticket sales, what's hot on TV and begin to segregate between each other then we'll be left with no allies and no traditions of our own. It's time for the younger kids to start creating something new. Something we have never seen before.
Use that computer to the watch the past and create a better future.
In a similar vein to what Penny Arcade said in her feature, I think our egos are so quick to believe that we have a better thought or intention than those before us. What is often forgotten is that without those people before us we would not be having the choices we have today. We must remember the struggles and fights made for our said liberties today because they will slowly be taken back if we don't pay attention.
How do your identities as an artist and nightlife personality shape and inform one another?
I didn't think they would ever affect each other or be related, as I never imagined I would be a drag queen or pursue such a thing. Nowadays they are one and the same. Acid Betty as my artistic expression vessel -- everything I do for pleasurable art is through Acid and my art collective the Haus of Acid. Working in nightlife also has given me a political message and grounds to start from. The discrimination and struggles I had to endure bringing Acid Betty to life have only fueled my fire and given me a voice to speak from.
How have you seen technology augment and mold nightlife during your time in the scene? Do you think this is necessarily good or bad?
Technology is affecting everything. I use videos and digital design in my work all the time now; it's almost customary. Also, the way people meet each other has definitely changed. Maybe all of the microphones and video cameras on phones and watches have reduced peoples' interactions to very controlled selfies and lovely conversations. I get ignored when I am out working, but then get a "poke" or "friend request" from the same boys who just hours previously ignored me. I think the kids need to definitely loosen it up a bit. Kevin Aviance told me once, "Honey, if I am not walking out with a shoe in my hand and part of my outfit missing it was not a good night."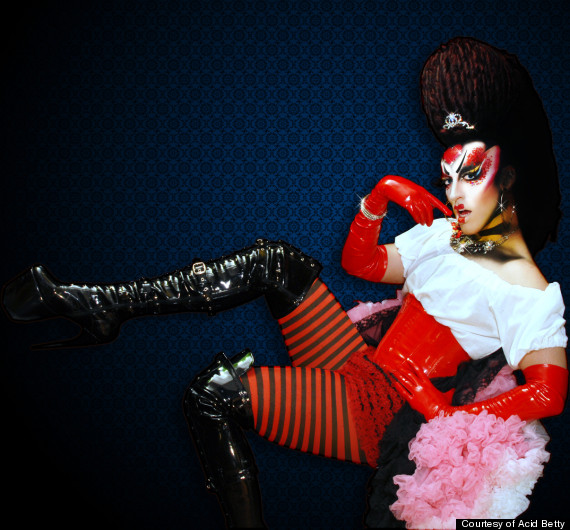 What projects are you currently working on?
I am currently working on my first large art "secret project" for the Haus of Acid and am very excited to birth that out. Otherwise check out HausofAcid.com or AcidBetty.com for more information.
How do you see what is happening now in New York nightlife today as building on a historical legacy of artists, performers, musicians and personalities over the past decades?
I see a lot what is happening today in nightlife as a representation of the past. I find a lot of work in the museums from the 50's, 60's and 70's being reflected into today's kids -- though I am not sure if they are aware of it or not. It seems pop culture has slowly infested the queer waters and the only music performed to is Top 100.
I love that music myself, but I go out into the nightlife for the second-better-life. The mirrored reflection of pop-culture. The perverted royal finger to what is normative.
Now you have to search within the nooks and crannies to find anyone brave enough to be honestly queer.
For more from Acid Betty head here to visit the artist's website. Missed the previous installments in this series? Check out the slideshow below.
Calling all HuffPost superfans!
Sign up for membership to become a founding member and help shape HuffPost's next chapter