Throughout the eighth season of "RuPaul's Drag Race," Huffington Post Queer Voices will interview each departing queen on the Tuesday following the air date of their elimination episode. Check HuffPost Queer Voices weekly to hear these queens reflect on their time on the show and their legacy as queer artists and performers. Check out the previous interviews with Dax Exclamationpoint, Laila McQueen, Naysha Lopez and Cynthia Lee Fontain.
On last night's episode of "RuPaul's Drag Race," fans of the cult franchise said goodbye to this season's first New York City queen: Acid Betty.
The Huffington Post chatted with Betty today about her thoughts surrounding her elimination, the show as a whole and her feelings about what she says is exclusion from the Brooklyn drag community.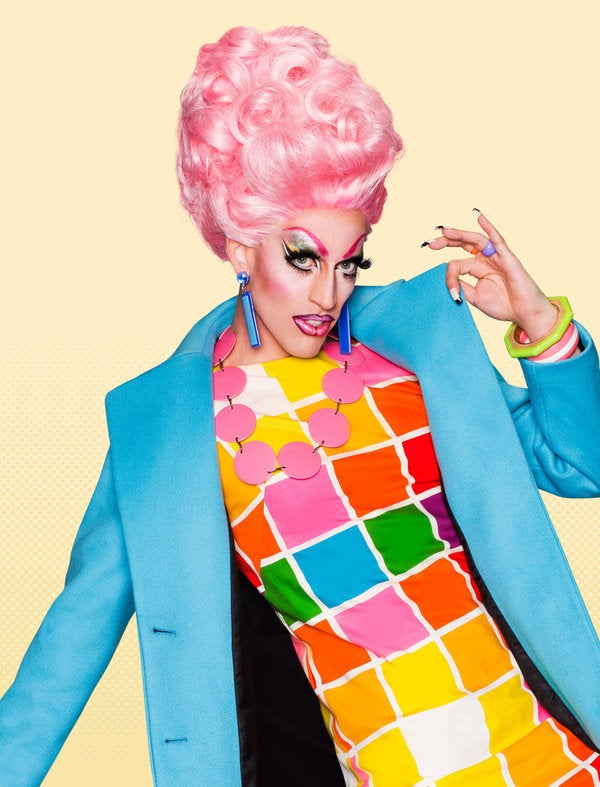 The Huffington Post: Hey, Betty. So, many people thought you were going to be top three. Were you as shocked as the viewers when you were eliminated?
Acid Betty: I was not (laughs). I was telling Bob [The Drag Queen] the whole time – we were like, "Top 3 girl, top three!" And I told him, "I'm gonna try!" But I wasn't surprised because you can kind of feel the waters and they weren't really going my way.
How do you feel about doing the show in retrospect? Are you still happy you did it?
I'm really happy that I did it. Some people were like, "Oh my God, I thought you'd never do it," and others were like, "Finally!" I always like to try something once at least and so I didn't want to be one of those bitches that made up excuses as to why I wasn't on the show. I was on it, I did it, whatever the outcome was I can say I was there. I went to the Island, felt the water, took a picture while I was there. (laughs)
How would you would describe Acid Betty as an artist and performer?
I would say a provocateur. I also like to try to be the energy of now, if that makes sense. In a world of people on their cell phones and on the internet and lip-syncing to weird mixes that refer to memories that you had when you were on the internet -- I prefer to try to shock people back into the moment of now. We are together, with me on the stage.
Let's talk briefly about the Brooklyn drag moment on this last episode. You told Thorgy Thor that you feel excluded by the Brooklyn drag scene -- can you talk to me a bit about your feelings surrounding that and if they've changed at all?
Well, [it's to the extent] that when I met up with Thorgy [after the show's filming] and we were pretending like we haven't seen each other, even though we just saw each other the day before in L.A., I was in Brooklyn and it was really fun to watch how everyone was so excited to see her and hear about the stories about the possibilities of why she was gone and this and that. And I thought that was her first moment where she saw what I was talking about. Even though they all know who I am and I said hello to them, no one was including me in conversation, no one was saying "Hi, how are you?" until Thorgy opened it up and said 'Oh, Acid Betty is here, too." 
So I don't really know if it's changed.

Do you hope that it will change?
Yeah, I hope so. To be honest, Alotta McGriddles reached out to me to host at Macri Park and I just haven't had time to go. But I think it will change a bit.
Yeah, I was actually there last night. You should definitely do that.
Yeah, because she said, "Girl, you live here you should be doing something here." And in my head, I was like, "oh my God it's the first time someone has said that." (laughs) Honestly, I secretly sized up some of the shit I said on the TV show when I returned and I talked to her and a few other people when I got back because people always want to talk drag with me and I would ask questions like, "How would you feel if someone called Brooklyn unpolished and hairy?" and they'd be like, "You're right!" (laughs).
Gag. Ok, well now that you're off who would you like to see win?
Thorgy, of course. I really belive that she deserves it. She's one of the hardest working girls up there. Bob is a close second, I think Bob is amazing. But also after being on the show, after meeting Chi Chi [Devayne] I've been her secret cheerleader.
She's fabulous! Even when they described it in this last episode where she's kind've shy and keeps to herself, that's exactly how I describe myself. Which is weird, because we're the same kind of person. And I think you get that right away.
I can see that. Just two more questions, what advice would you give to someone who makes it onto the show in the future?
Be true to yourself -- meaning express yourself honestly and don't try to do something you think someone else wants you to do because that will end up being the wrong answer. That's really it. And don't let anyone's looks or comments affect you or how you feel about your confidence or what you do. You'll get far.
What do you want the legacy of Acid Betty to be? What does the future hold for you?
Well, I hope after being on that show I will have changed the look of drag and people will start including more color (laughs) and more fantasy and maybe change the look of drag. Not everyone needs to wear boobs because not all women have boobs. And I hope be more in the art world – I want to be an artist, not just a queen anymore.
Want to catch up with the previous winners of "Drag Race"? Head here and check out the slideshow below for interviews with the previously eliminated season eight queens.
PHOTO GALLERY
"RuPaul's Drag Race" Season Eight Eliminated Queens
Calling all HuffPost superfans!
Sign up for membership to become a founding member and help shape HuffPost's next chapter