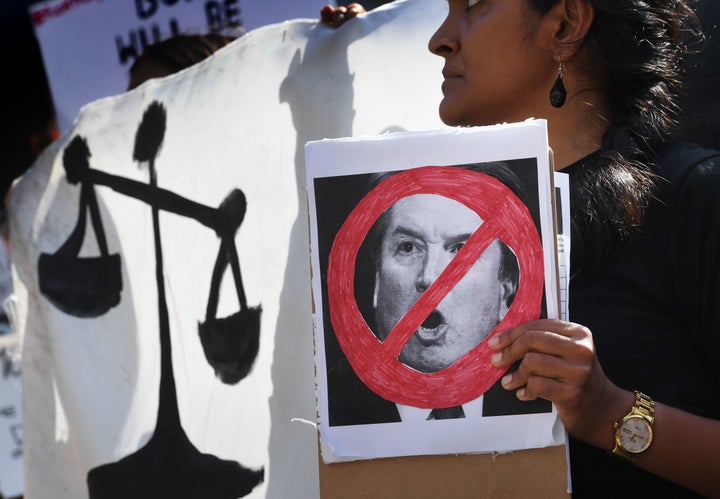 The organization's national board of directors passed a resolution opposing Kavanaugh, citing "credible allegations" that the nominee "engaged in serious misconduct" against Christine Blasey Ford and others.
"The standard for such an appointment should be high, and the burden is on the nominee," the board's resolution stated. "That burden is not met as long as there are unresolved questions regarding the credible allegations of sexual assault."
ACLU President Susan Herman clarified that the organization is nonpartisan and does not oppose Kavanaugh based on how he might vote on the Supreme Court.
"We oppose him in light of the credible allegations of sexual assault against him," Herman reiterated.
Blasey testified Thursday before the Senate Judiciary Committee that Kavanaugh locked her in a room and sexually assaulted her in 1982. The judge responded to the accusation directly afterward with an angry, emotionally charged statement that said Senate Democrats "destroyed" his reputation and his family.
Blasey's testimony, Kavanaugh's response, subsequent allegations by other women and the "inadequate" investigation into the nominee's past behavior all led the board of directors to doubt Kavanaugh's fitness to serve on the nation's highest court, the board said.
While the ACLU frequently comments on politics, it said Saturday's announcement marks only the fourth time in its 98-year history that its board has voted to oppose a Supreme Court nominee. It did not endorse or oppose then-nominee Neil Gorsuch in 2017. Upon Kavanaugh's nomination in July, the ACLU released a statement warning that the judge could help President Donald Trump "undermine civil liberties and civil rights."
"It's incumbent on Congress to determine whether Kavanaugh's legal views are compatible with the powerful role he will play for generations," Legal Director David Cole said at the time.
America Magazine, a Jesuit publication, rescinded its endorsement of Kavanaugh after Blasey's testimony. (Kavanaugh's high school, Georgetown Prep, is a Jesuit establishment.)
Senate Republicans made the startling decision Friday to agree to a one-week delay on Kavanaugh's confirmation vote pending further FBI investigation of his past. The American Bar Association and Yale Law School, which Kavanaugh attended, had joined Democrats' calls for the FBI investigation earlier in the week.
Popular in the Community