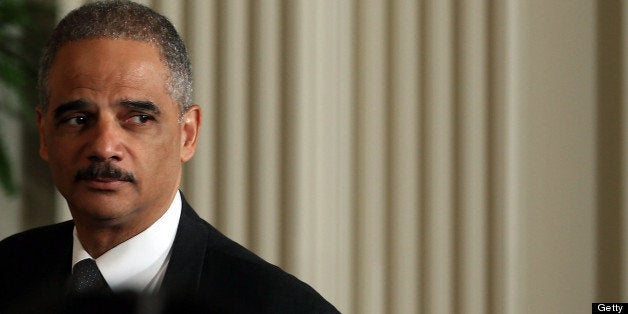 WASHINGTON -- Two civil liberties organizations suing the U.S. government for killing three Americans in drone strikes slammed the Obama administration Tuesday for trying to cut federal courts out of the debate. The government argued in a court filing last week that drone strikes against American citizens were constitutional, in part, because President Barack Obama said they are.
"Two years after the fact, the president declassified what the entire world knew to be true -- that the government killed three American citizens, including a 16-year-old boy," the Center for Constitutional Rights and the American Civil Liberties Union said in a joint statement. "Now, the government continues to insist that the courts have no role in evaluating the legality of its actions. But the executive branch cannot simply declare the killings lawful and attempt to close the book on that basis. A federal judge, not executive officials examining their own conduct, must determine the constitutionality of the government's actions."
The ACLU and the Center for Constitutional Rights has sued the government on behalf of the estates of three American citizens killed in drone strikes. The suit alleges the killings violated the constitutional rights to due process of the slain Americans. One American killed by a drone, Anwar al Awlaki, was specifically targeted by the U.S. government. Awlaki's 16-year-old son and another American, Samir Khan, were killed in strikes that didn't specifically target them.
The Obama administration said in a court filing last week that statements from Attorney General Eric Holder and President Barack Obama claiming the drone strikes were constitutional "support the conclusion that those actions were lawful, and certainly were not clearly established to be unconstitutional in 2011."
The Department of Justice said the plaintiffs "failed to allege the violation of any clearly established constitutional rights" and that acknowledging that the government had killed the U.S. citizens didn't change its position.
In a court filing on Tuesday, the ACLU and Center for Constitutional Rights said that the "fact that the government has now declassified its use of lethal force against the decedents -- after its long-standing argument that such disclosure would present grave risks to national security" -- suggested the blanket concerns about classified information were "speculative."
Calling all HuffPost superfans!
Sign up for membership to become a founding member and help shape HuffPost's next chapter
BEFORE YOU GO
PHOTO GALLERY
Drones: The Future Of Flight