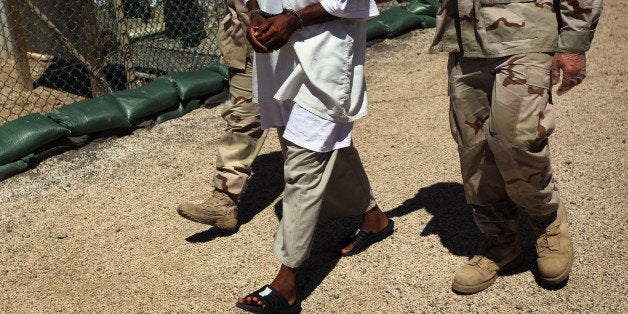 The American Civil Liberties Union and other human rights groups on Monday called on Defense Secretary Chuck Hagel to halt the force-feeding of hunger-striking Guantanamo detainees.
The force-feeding process is inherently cruel, inhuman, and degrading. The prisoner is strapped into a chair with restraints on his legs, arms, body, and sometimes head, immobilizing him. A tube is inserted up his nostril, and snaked down his throat into his stomach. A liquid nutritional supplement is then forced down the tube. The prisoner is restrained in the chair for upwards of two hours to prevent him from vomiting. As Guantánamo hunger-striker Samir Naji al Hasan Moqbel explained recently: "I can't describe how painful it is to be force-fed this way. As it was thrust in, it made me feel like throwing up. I wanted to vomit, but I couldn't. There was agony in my chest, throat and stomach. I had never experienced such pain before." 1 Debilitating risks of force-feeding include major infections, pneumonia, collapsed lungs, heart failure, post-traumatic stress disorder and other psychological trauma.
The letter went on to claim that the military's handling of the hunger strike violates the Geneva Conventions and could be considered "torture" under some treaties. It also asked Hagel to investigate and to rectify any "abusive conditions and treatment" outside of the hunger strike.
As of Monday, five of the 29 detainees being force-fed were being treated in the hospital. As HuffPost's Ryan J. Reilly reported in April, many of the hunger-strikers have turned to this extreme form of protest because they don't have any other options and feel they will die in the facility:
President Barack Obama addressed the hunger strike at a press conference in April, saying that he didn't "want these individuals to die." He went on to maintain that he still wants to close the prison, a goal he promised to accomplish during his first year in the White House. As critics have noted, however, Obama has not even used the powers he has to scale back the number of prisoners held at Guantanamo.
Calling all HuffPost superfans!
Sign up for membership to become a founding member and help shape HuffPost's next chapter
BEFORE YOU GO
PHOTO GALLERY
Inside Guantanamo's Prison Facility