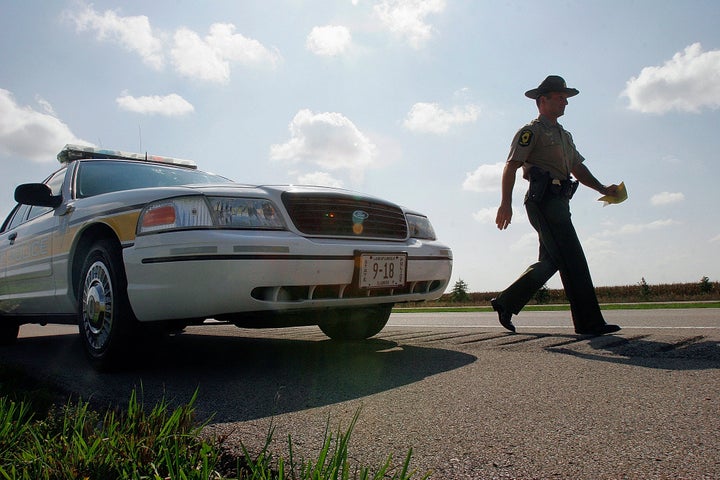 The Illinois branch of the American Civil Liberties Union petitioned the U.S. Department of Justice on Tuesday, asking the department to investigate the Illinois state police for what it calls "dramatic" discrimination in traffic stop practices.
Years of public data show that a practice called a "consent search," where officers ask to search a car despite having insufficient legal evidence for the search, disproportionately targets minority drivers.
"The discrimination is striking," said Harvey Grossman, legal director at ACLU Illinois, in a phone interview with Huffington Post Chicago. "There's nothing left to say other than that the Illinois State Police are using a different standard when they stop black and brown motorists."
For example, in 2009, Latino drivers were three times more likely to be subjected to a consent search than white drivers. But white drivers were more than 2.5 times more likely to have contraband found in their car during such a search than Latinos. Numbers were similar for black drivers, and for several years prior as well.
As Grossman told HuffPost Chicago, the ACLU had originally filed suit against the state over the consent searches in the 1990s, but the courts said that there wasn't sufficient data to prove the case. As a result, then-state senator Barack Obama and others pushed through the Illinois Traffic Stop Statistical Study Act of 2003, which required officers to record the race of the drivers they stopped and searched.
Since then, racial data has been publicly available every year. It has shown that black drivers are anywhere from 1.8 to 3.2 times more likely than white drivers to be consent-searched. Latino drivers ranged from 2.9 to 4 times more likely to be searched than their white counterparts.
At first, law enforcement officials insisted that it was because those drivers were more likely to consent to searches, so the law was amended to track that data as well. It turns out that upwards of 95 percent of all drivers, of all races, consent to searches.
Then, the police argued that it was because drivers of color were more likely to have contraband in their car. Again, the data turned that myth on its head: white drivers were in fact more often found to have illegal items in their cars during searches.
"The needlessness [of consent searches] and the discriminatory behavior is evident in the fact that they're seizing less contraband," Grossman said.
Over the years, the ACLU has asked Governors Rod Blagojevich and Pat Quinn to take action on the issue, but both have been reluctant to deprive the ISP of a tool that it values to allow officers to follow up on hunches that don't have sufficient legal cause.
So the organization is now asking the Department of Justice to investigate. The ultimate goal, Grossman explained, is putting a permanent end to consent searches.
"There you are, you're pulled over to the side of the road, and suddenly your car's being searched. It's humiliating. It's a terrible experience to go through," he said.
It's an experience that few feel comfortable refusing -- despite having every right to, the coercive nature of facing up to a state trooper alone on a highway is largely responsible for the 95 percent consent rate, the ACLU argues. And it's one that minorities are vastly more likely to face.
The onus now lies with the Department of Justice, which will decide whether or not the data merits an investigation of the State Police.
Master Sergeant Isaiah Vega at the Illinois State Police's public information office responded to inquiries with a concise statement: "We have received a copy of the letter and are reviewing it," he wrote in an email. "We take matters of this nature very seriously."
Popular in the Community