The American Civil Liberties Union wants to get people to mobilize against President Donald Trump's policies ― and it's looking for people who are serious about local activism.
About 2,300 "watch parties" nationwide followed the event via live stream, and 1 million people have watched the event's video since, ACLU National Political Director Faiz Shakir told The Huffington Post.
"We'll do the work in the courts. You do the work in the streets."
To defend immigrant, LGBTQ, reproductive, civil rights and more, the group is looking to engage people in activism specifically in their communities.
"We're urging people to think about resisting Trump through local law enforcement and city officials," Shakir told HuffPost. "Cities have a lot of power to change the direction of the country: They have constitutional sovereignty. They have power in local ordinances.
"They can really alter the course of the way the country is going. Especially if we're on the wrong course."
For its first action, the ACLU is setting its eyes on defending immigrants through what it calls "freedom cities." The group is asking followers to make appointments with local law enforcement or city officials to demand that they implement immigrant-friendly policies, including not allowing officials to inquire about someone's immigration status unless it's legally relevant and not interrogating or detaining people based on race or ethnicity.
To help people set the agenda for their meetings with local officials ― and in true lawyer-like fashion ― the group released an extensive document detailing a nine-point set of policies, complete with legal jargon, for people to use.
But even with a detailed guideline, many people who are new to activism may find one-on-one meetings a tough request ― much harder than, say, showing up to a protest or calling representatives. But that's the point, says Shakir.
"It's a higher bar, definitely, and we're challenging what level of interest people have in activism."
"It's a higher bar, definitely, and we're challenging what level of interest people have in activism," Shakir told HuffPost. "It's not a simple ask. It's not click a link or pick up a phone. It involves research and follow-up. But we wouldn't be doing it if we didn't think this was also the path to truly meaningful change."
Shakir sees this as a new, "more difficult model" of organizing. While other activist groups that have arisen since Trump's election, such as the Women's March or Indivisible, have primarily called for actions directed at getting Congress' attention, the ACLU is aimed at cities. Shakir says he wants to push people to "get off their chairs."
In a political moment when hashtag activism and protest selfies are all the rage, this may show just how engaged the so-called resistance to Trump really is, said Daniel Aldana Cohen, an assistant professor of sociology and a member of the Media Activism Research Collective at the University of Pennsylvania.
"In a way, campaigns like this one will really be a test of the resistance against Trump," Cohen told HuffPost. "If enough people are angry and committed enough, then complex campaigns like this will work. If all anyone is willing to do is get on Twitter, then the resistance will never get anywhere."
Beyond immigration, the ACLU expects to engage People Power followers in any number of possible actions, such as advocating before local school boards on behalf of LGBTQ students and calling for police reforms when someone from a minority community is treated unjustly by law enforcement.
So far, it seems people have been listening to the ACLU's initial call to action.
"People are copying me on messages they sent to local city officials to request meetings," Shakir said. "But we'll have to see if people follow up and make it happen. I hope we remain growing and impactful and influential over the next few years, not just weeks."
"If all anyone is willing to do is get on Twitter, then the resistance will never get anywhere."
The ACLU's event on Saturday closed with a pointed message from MILCK, performing her song "Quiet," which garnered wide attention after she sang it at the Women's March on Washington on Jan. 21.
"I can't keep quiet," she sang, as photos from recent protests flashed on a screen behind her. "No, not anymore."
For HuffPost's #LoveTakesAction series, we're telling stories of how people are standing up to hate and supporting those most threatened. Know a story from your community? Send news tips to lovetips@huffingtonpost.com.
Before You Go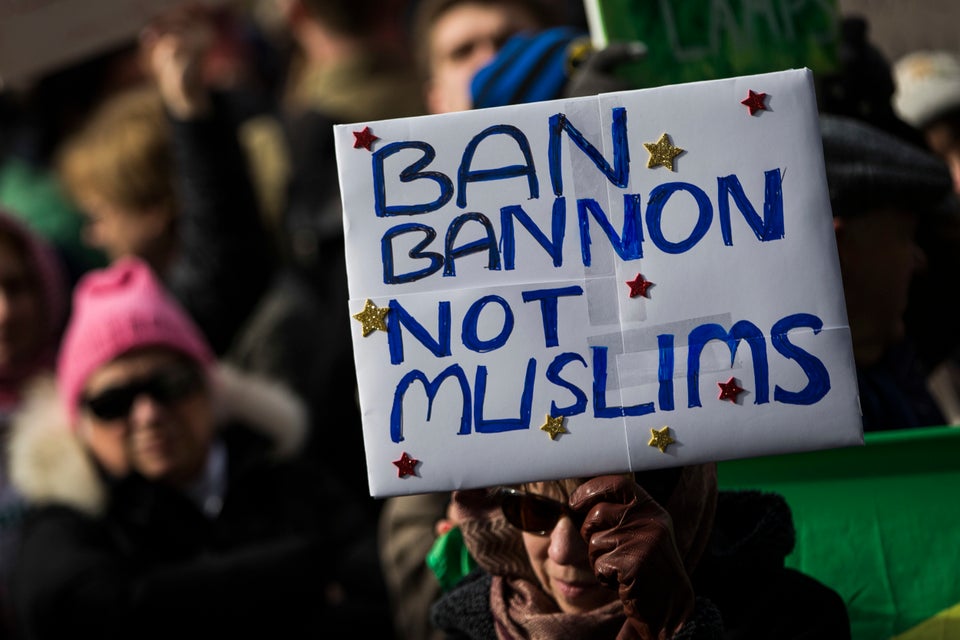 Nationwide Protests Against Trump's Executive Order
Popular in the Community