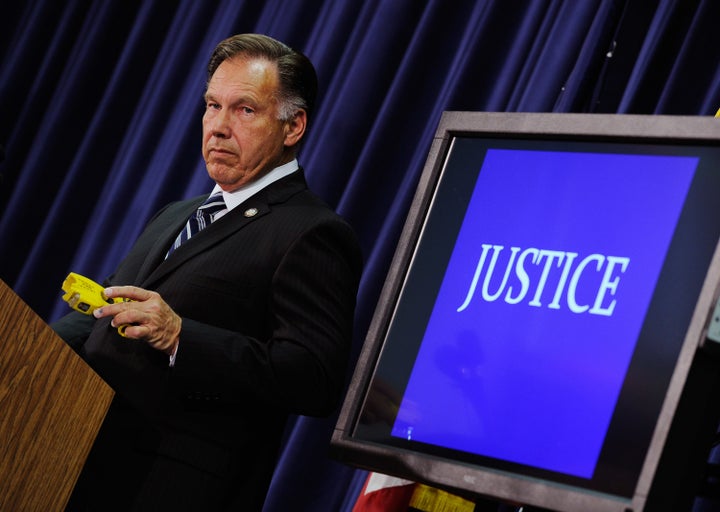 LOS ANGELES -- The ACLU of Southern California is demanding that the Orange County District Attorney's Office turn over public records related to a jailhouse informant scandal, or the organization intends to take them to court, according to an ACLU letter sent Thursday to the OCDA's office.
A set of letters provided to The Huffington Post, the most recent from Thursday, reveals that the civil liberties organization is "deeply" troubled by the lack of accountability and transparency from the beleaguered OCDA office. 
"There is an overwhelming public interest in the information we requested," ACLU SoCal staff attorney Brendan Hamme writes in the letter. "It is, therefore, deeply troubling that your office refuses to make public the policies and practices that were in place and failed to prevent these constitutional violations from occurring, documents bearing on the scope of the violations, and the policies and practices that your office has pledged to adopt to prevent future violations."
In early March, the ACLU made a records request under the California Public Records Act for information stretching back 30 years, including about policies and procedures related to allegations of prosecutorial misconduct, disclosure of evidence, procurement of interviews with defendants who already had an attorney and use of informants, and policies and practices the DA's office says it has put in place in response to the allegations of misconduct. 
By the end of the month, Deputy DA Denise Hernandez and Assistant DA Ebrahim Baytieh responded to the ACLU letter. The office provided the ACLU with about 300 pages of materials, some already public, but largely rejected the civil rights organization's substantive requests for records linked to the informant scandal. They argued the request is "overbroad" as is, but also said that for some requests, either no records exist at all, they could violate copyright if released, or that they don't exist in a searchable or producible format. 
The ACLU, in today's letter, is demanding that the office turn over the records it has requested and has offered to engage in a dialogue with the OCDA regarding the request to help sort out any issues with the breadth of the request. But the organization says it will be "forced to litigate and a court will sort out properly exempted documents from those you are required by law to produce," if the OCDA simply further rejects the request.
The OCDA says it fully cooperated with the request and provided any and all records in its possession and subject to the state public records act to the ACLU.
The OCDA's office has been under fire for almost three years for its involvement in mishandling evidence produced from a secret jailhouse informant program that has allegedly violated the rights of countless defendants. Assistant Public Defender Scott Sanders, who first unearthed the informant network, has been arguing since 2013 that a tainted snitch network in county jails has existed in secret for decades. Sanders argues that county prosecutors and police have violated multiple defendants' rights by illegally obtaining, and sometimes withholding, evidence gleaned from jail informants.
For years the OCDA's office has denied that an informant program existed in the county, but earlier this month they finally acknowledged that an informant program does indeed exist in the county, and sheriff's deputies actively "cultivated," "recruited" and "utilized" informants and rewarded them in exchange for their information. Additionally, a new trove of secret notes kept by sheriff's deputies about jail inmates and informants surfaced in recent months, shining new light on the informant program.
Across the country, law enforcement authorities deploy informants to help bolster a case — a tactic that's perfectly legal, even when the snitch receives something in exchange. But Sanders alleges that in some Orange County cases, the sheriff's jailhouse informants held recorded and unrecorded conversations with inmates who were already represented by lawyers — which is a violation of an inmate's right to counsel. Prosecutors allegedly took damning evidence gathered by the informants and presented it in court, while withholding evidence that could have been beneficial to the defense — which is a violation of a defendant's right to due process.
Sanders' discoveries have caused multiple murder cases in the county to unravel, even resulting in some accused murderers having their sentences vacated. Last year, the misconduct from law enforcement and prosecutors in one high-profile case led to Superior Court Judge Thomas Goethals ejecting the entire DA office from the mass murder trial. He then turned the case over to California Attorney General Kamala Harris, who is still investigating the allegations of misconduct.
Earlier this year, a group of former prosecutors and legal experts called on the U.S. Department of Justice to conduct a full investigation of the DA's office and the sheriff's department over the informant program.
Orange County District Attorney Tony Rackauckas has maintained that no one in his office intentionally behaved inappropriately in relation to the jailhouse informant program. He, too, has invited the DOJ to investigate his office's practices in that area.
It remains unclear exactly how many cases may have been affected by tainted informant evidence, but Sanders has argued that every case involving a jailhouse informant in Orange County over the last 30 years deserves to be re-examined.
"Public trust in Orange County's criminal justice system has been eviscerated by revelations of thirty years of systemic constitutional violations," Hamme told The Huffington Post. "The time has come and gone for the Orange County District Attorney's Office to adopt transparency and accountability as its guiding principles, but their abysmal and evasive response to our Public Records Act request only raises further questions of exactly what they are hiding from the public."
Calling all HuffPost superfans!
Sign up for membership to become a founding member and help shape HuffPost's next chapter