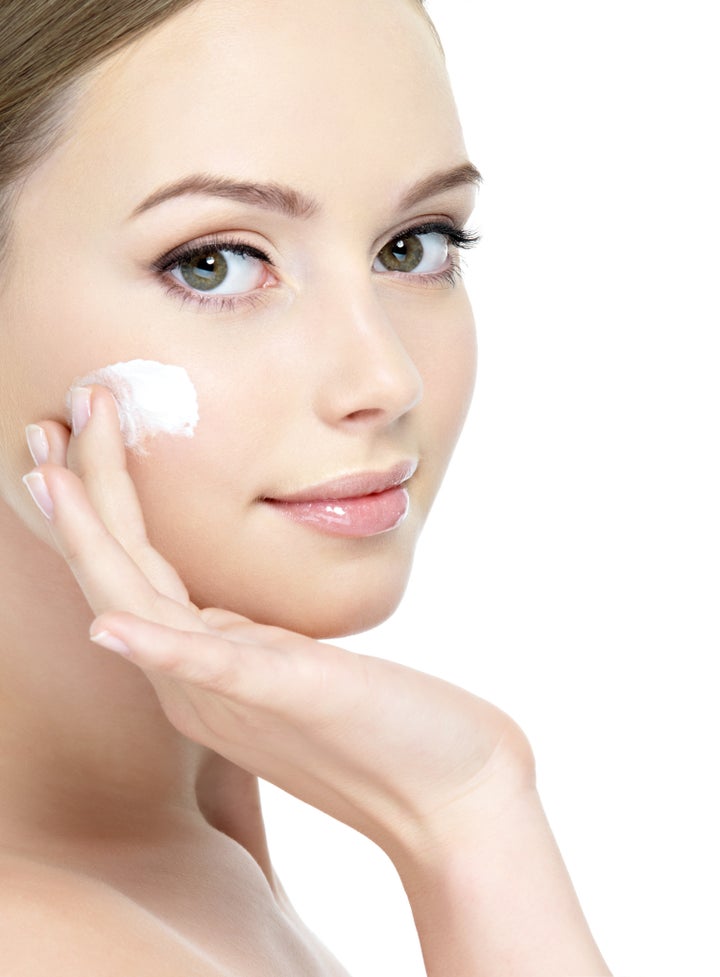 Don't let skin troubles spoil your holiday cheer! If you've woken up the day before or (gasp!) the day of your biggest holiday party with a blaring blemish, remain calm. You can't make it magically disappear, but you can make the situation better in a number of ways. New York City-based dermatologist Dr. Dennis Gross gives you tricks for making a pimple appear smaller, less noticeable, and keeping it from getting worse. Once you have your skin under control, follow celebrity makeup artist Nick Barose's steps to making acne practically invisible.
Avoid touching the blemish at all costs. "However tempting it may be to pop a pimple, I urge my patients to try their hardest to resist," explains Dr. Gross. "When a dermatologist drains a pimple, they apply downward pressure perpendicularly to the skin's surface. But when people try to do it themselves, they usually squeeze from the sides, which ends up backfiring because it causes infection to go down deeper into the pore. This may permanently enlarge pores or even make infection worse."
Apply a sulfur-packed product to the affected area. "A spot treatment will treat the redness that appears when the blemish becomes infected and inflamed on the surface of skin. Products containing sulfur help to control the oil that feeds bacteria, thus reducing spots altogether, and also relieving swelling to flatten the blemish."
Properly Cover and Conceal We all know that piling on too much makeup can look unnatural. But according to Barose, it can end up drawing even more attention to your breakout. "When excess foundation and powder get dried out, it accentuates the bump," explains Barose. The makeup pro takes you through the steps to perfectly covering even the worst spots.
Step One: Prep Your Skin "First be sure there are no dry patches from acne medication. Gently scrub those away with a wet warm towel so skin is smooth and perfectly prepped. For really big, red pimples, I usually dab on Clinique Acne Solution first. It's a roll-on clear gel that won't build up, so when you add concealer and foundation on top it won't turn blotchy. Even out skin tone with a BB cream using a wedge sponge to blend it in. Layer more on areas that need more coverage."
Step Two: Apply Concealer "Apply concealer with a small, pointed concealer brush directly on blemishes. Never use your fingers because it'll look spotty and cakey! Opt for a concealer that's thick because it needs to sit on the pimple without moving or fading. I like Maybelline SuperStay Concealer applied with a MAC Concealer Brush."
Step Three: Set The Look "Apply a light dusting of powder. On the blemished area, you might want to set it a bit more by using a velour powder puff. If pimples are on the cheek area, you may want to skip blush that day, especially ones that have shimmer in them because it'll draw attention to your blemish. Pink tone blushes will also bring out the redness in the pimple. If you really want to wear blush, opt for warm, champagne-bronze tone instead. I like Aerin Pretty Bronze Illuminating Powder in Level One."
REAL LIFE. REAL NEWS. REAL VOICES.
Help us tell more of the stories that matter from voices that too often remain unheard.