WASHINGTON -- A new short-term budget bill introduced on Monday by House Republicans includes a bizarre provision banning federal funding to anti-poverty group ACORN, despite the fact that the group has already been stripped of federal funding -- and has been defunct for nearly three years.
ACORN leaders announced that the group was disbanding in March 2010, after Congress cut off all federal funding to the organization. The provision in the current GOP budget bill [PDF], buried on page 221 of 269, would duplicate legislation that has already passed, to target an organization that does not exist.
ACORN, also known as the Alliance of Community Organizations for Reform Now, came under heavy fire in the fall of 2009 after conservative provocateur James O'Keefe released a set of selectively edited videos that appeared to show employees of the organization offering advice on tax avoidance related to prostitution and child smuggling. Independent investigations by the California attorney general, the Massachusetts attorney general and the Brooklyn, N.Y. district attorney would later clear ACORN of criminal wrongdoing, and an investigation by the Government Accountability Office would clear ACORN of charges that it mishandled federal funds.
But the damage to ACORN's reputation had already been done. By November of 2009, Congress had defunded the organization, using broad language that applied to "any organization" that had been charged with breaking federal or state election laws, lobbying disclosure laws, campaign finance laws or filing fraudulent paperwork with any federal or state agency. The funding ban also extended to any employees, contractors or others affiliated with any group charged with any of those things.
Nevertheless, Section 510 of the latest legislation, introduced by House Appropriations Chair Hal Rogers (R-Ky.), reads: "None of the funds made available in this Act may be distributed to the Association of Community Organizations for Reform Now (ACORN) or its subsidiaries or successors."
Jennifer Hing, a spokeswoman for the committee, said the line was "a typical provision that is included in most appropriations bills."
The bill is known as a "continuing resolution" rather than an official, formal budget, because it does not update federal spending plans for all departments. Instead, the bill simply maintains spending levels from the prior year for nearly all federal agencies. The legislation does update plans for the Departments of Defense and Veterans Affairs, helping to cushion the effects of sequestration cuts on those divisions of government, but ignores their effects on other operations, including anti-poverty plans and Medicare.
The federal government will shut down if a continuing resolution, or C.R., is not approved by March 27.
Rogers' bill also explicitly bars the use of the funds it appropriates for computer networks that do not block the viewing and exchange of pornography. It further bans the transportation of detainees from Guantanamo Bay, Cuba, to facilities in the United States, even though the Obama administration has not transferred any detainees from Guantanamo since 2009 and has announced no plans to do so.
This article has been updated with a comment from the committee spokeswoman.
CORRECTION: A previous version of this article referred to Rogers as a congressman from Alabama. He is from Kentucky.
Before You Go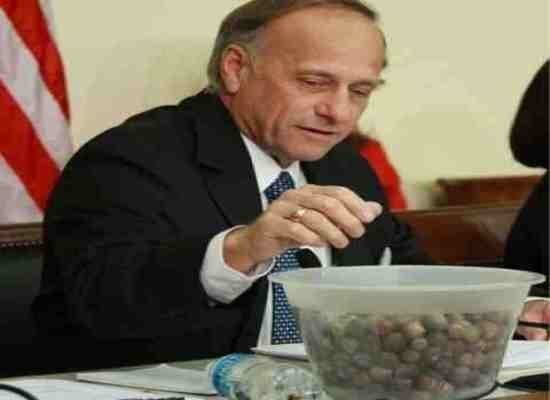 More Crazy Examples of Congressional Theatrics
Popular in the Community