On Monday, the Democratic-leaning group ACORN, which has been painted as a criminal enterprise by the GOP for its voter registration and housing policy efforts, pushed back against its critics by producing a photo of John McCain attending its March 2006 rally.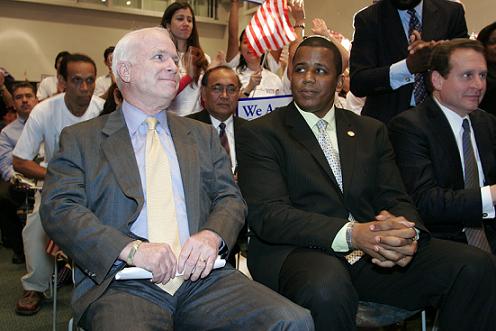 It was a reminder that, for all their electoral histrionics, Republicans have aligned themselves with ACORN in the past.
Indeed, in addition to the McCain photo, there is a host of examples of prominent McCain surrogates attending ACORN events, signing ACORN legislation, or complimenting the group's efforts.
Florida Gov. Charlie Crist, for example, partnered with ACORN in March 2008 for a "Homeownership Promotes The Economy" taskforce. More recently, Crist declared that -- contrary to GOP outrage -- he was not upset with the group's voter registration efforts in his state. The New York Times reported that ACORN supported a law signed by Governor Crist, which "changed the rules last year to restore the voting rights of about 112,000 former convicts."
In July 2005, meanwhile, another Republican governor, Rick Perry of Texas, signed ACORN's Lending Law Reform Bill that changed the state's homelending practices.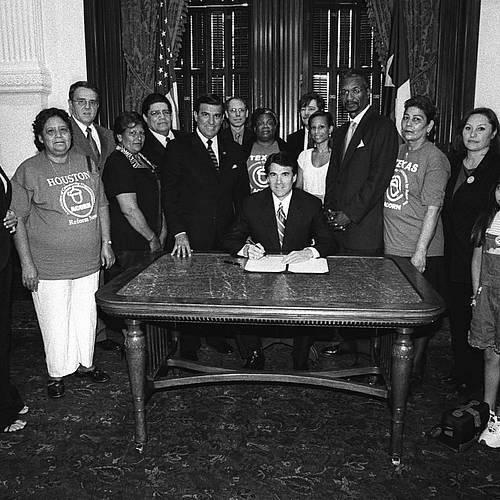 In July 2008, California Governor and McCain supporter Arnold Schwarzenegger signed a bill that ACORN helped draft aimed at California homeowners facing foreclosure.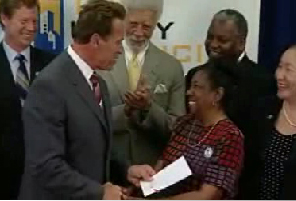 In June 2007, Minnesota Governor and McCain VP short-lister Tim Pawlenty signed a similar bill -- drafted by ACORN -- that helped homeowners get fairer deals on their mortgages.
"The legislation was drafted according to recommendations made by a predatory lending study group established by Swanson prior to the legislative session," wrote the Northwestern Financial Review. "The study group contained representatives from the banking industry and the mortgage brokers association, as well as consumer advocates from organizations such as Illegal Aid and ACORN."
As Governor of Massachusetts, Mitt Romney signed an anti-predatory lending bill that ACORN supported. In February 2006, Connecticut Senator Joe Lieberman met with the ACORN Katrina Survivors Association. And back in July 2005, New York City mayor Michael Bloomberg actually got a kiss from ACORN's state leader, according to the publication City Limits, during an announcement that the city would protect or create 65,000 affordable units in a new housing proposal. Bloomberg, it should be noted, has not endorsed a candidate.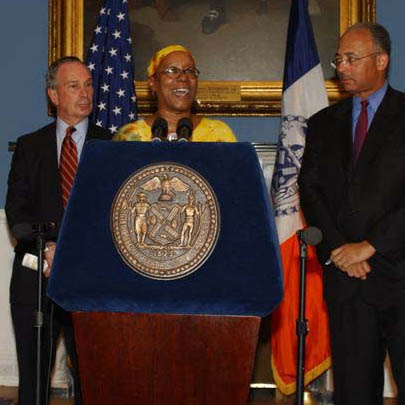 It would be, in a normal political context, highly unremarkable that Republican and Independent officials would praise and work with a group as large and influential as ACORN. But in recent days, it seems, Republicans and the McCain campaign are keen on painting the community-organizing group as something inherently corrupt. The primary target of complaint has been the organization's voter registration efforts, which have led to numerous non-existent individuals being put on the rolls.
Recently the McCain campaign went farther, releasing a web advertisement that linked Barack Obama to ACORN, and blamed the group for helping instigate the crisis in the nation's housing market -- itself a contributor to the financial mess.
ACORN "bull[ied] banks" and engaged in "intimidation tactics," says the ad. "ACORN forced banks to issue risky home loans. The same types of loans that caused the financial crisis we're in today."
ACORN has insisted, in the wake of these and other attacks, that it has been firm in its advocacy for regulations to "protect homeowners from predatory lenders." And certainly, they have a handful of prominent Republican officials who, at one point in time, agreed.
Calling all HuffPost superfans!
Sign up for membership to become a founding member and help shape HuffPost's next chapter