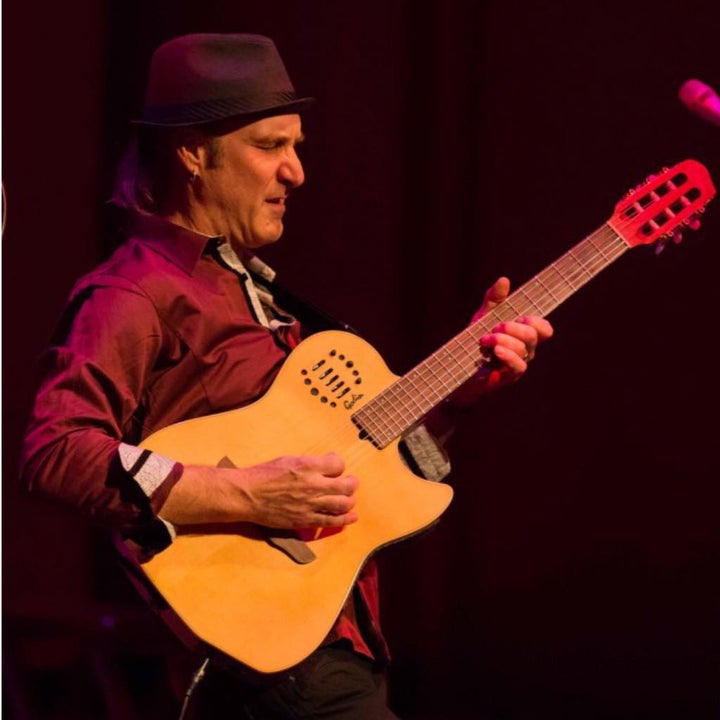 Duffy King is a guitar aficionado. His styles range from Rhythm and Blues, to Jazz/Rock and Flamenco to Bluegrass. His guitar playing has been described as "energetic kinetic grooves, driving rhythms, and searing, blistering leads." Duffy is best known for his potent Jazz/Rock and R&B/Funk chops. When you read about who Duffy has performed or recorded with it reads like a who's who of musical royalty: Marshall Tucker Band, Earl Klugh, Tony Franklin(Whitesnake), Rare Earth, Oteil Burbridge (Allman Bros, Eric Clapton, Carlos Santana) and Ralph Armstrong (Frank Zappa) and the list keeps growing. Most recently Duffy King was chosen to play guitar for John Lodge the longtime bassist of The Moody Blues and his latest band 10,000 Light Years.
We love stories about people who really illustrate the notion that "you can't judge a book by its' cover", and that there can be true "diamonds in the rough." Duffy King looks the part of a musician. He has long hair, a guitar in hand, a bandanna wrapped around his head, and blue jeans. For some, that would be enough to qualify him as cool. But, what really makes him cool to us, is his extraordinary talent, and that he's the kind of man who grew up in the rough and tumble city of Detroit, and then produce the most tender holiday collection in "Solo Guitar Christmas" that we've heard in a long time. It's so unique and heartfelt, and it comes with such a touching tribute to his Mom on the inside cover. Duffy has a great confidence about him and you can see the respect in the eyes of so many different musicians who work with him. He brings glory to his art form and to his upbringing when he plays. Clearly, he's also a man who respects his wife, Karen, and proudly showcases her magnificent artwork on his latest album "Acoustically Speaking."
Duffy King grew up in Detroit Michigan, and became a full-time musician in 1978. Married to wife Karen, he lives with her and their 16-year-old son, splitting their time these days, when he's not on tour, between the Metro Detroit area and their studio on a lake in Northern Michigan. His accomplishments are impressive. Over the years, he's received 20 Detroit Music Award nominations, actually winning 6 of the awards. Duffy's talent doesn't stop with playing guitar. His songwriting skills have won awards in Billboard Magazine's Songwriter's Contest, and he received acclaim for his solo release, Livin' for the Big Time, which charted in the top 10 on many radio stations throughout the mid-west region of the US. He was nominated in the Detroit Music Awards in 1999, 2001, 2002 and 2003 for Outstanding Guitarist in the Rhythm and Blues Category and his 2002 CD release, "Solo Guitar Christmas", was nominated for Record of the Year in the 2003 Jazz Category.
In 1995 and 1996 Duffy performed clinic/promotional tours for the Gibson Guitar Corporation worldwide, performing in the Winter and Summer NAMM expo shows in Frankfurt, Germany - Lucerne, Switzerland - Paris, France - Tokyo, Japan, where he could combine his musicality, and his wonderful humor to create an entertaining and productive clinic, knocking them dead everywhere they traveled. Other companies he's performed clinics for include, Yamaha Guitars and Amplifiers, Egnater Amplification and Rocktron.
He was the featured guitarist on Motley Crue drummer Tommy Lee's solo project, Methods of Mayhem 2010 release, "A Public Disservice," in addition to being the featured guitarist on gold and platinum, international Polygram artist, World Music Award winner, Matthias Reim's recording Reim 3. Duffy King has also composed music for Independent Films and also performed the music for two national Chevrolet ads.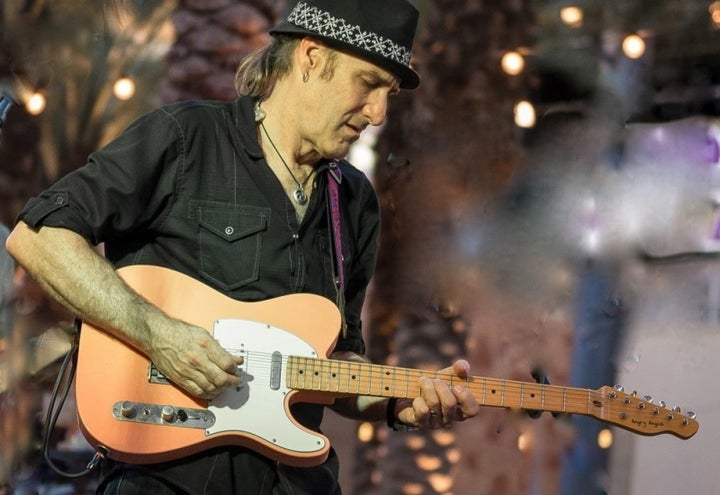 In 2016 Duffy produced a new album called Acoustically Speaking. It was submitted for the 59th Annual Grammy Awards and garnered rave reviews from journalists and musicians alike. It's been played on Jazz radio extensively throughout the US and Canada reaching several Top 10 lists and a few Top 5 lists.. It featured 8 tracks all written by Duffy King ( he co-wrote Sophie's Sonata with Bill Dutcher and Black Onyx with Rob Emanuel.) It's an excursion into Latin/jazz, acoustic fusion, and "modern acoustic guitar" compositions.
Michael Fagien of Jazzis Magazine reviewed King's new album on December 14th 2016 and said: "Fans of rhythmically driven six-string guitar virtuosity will find plenty to love on DUFFY KING's recording, Acoustically Speaking (Groove Dawg). Calling up associations with everyone from Michael Hedges and Leo Kottke to Paco de Lucia and Django Reinhardt, the Detroit native delves into a set rich with influences from flamenco to bluegrass to the catchall category "modern acoustic guitar". King is alternately featured solo and in duo, trio and quartet settings, all of which spotlight his remarkable dexterity and commitment to groove. Highlighting as jazzy, nylon-string sound on "Danza del Sol" (Dance of the Sun), our selection, King at times evinces Wes Montgomery before he dives into full-on string blurring flamenco. Meanwhile, bassist Felix Sainz maintains the central pulse around which the song revolves around, as drummer Rob Emanuel and percussionist Perry Senn keep the rhythmic engine stoked. King has won significant acclaim for his mastery, including nominations for Grammy, World Music and Billboard Magazine awards."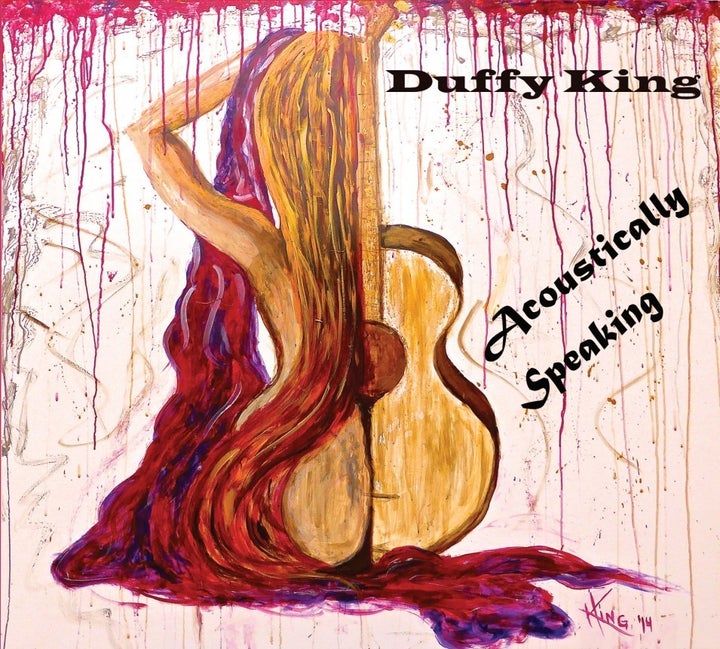 Alan Hewitt, Duffy's best friend since he was a teenager, and Duffy have played together in many bands throughout their career. In 2015 they had a fusion super-group called Allan Hewitt & One Nation, which consisted of Alan, Duffy King, Sonny Emory on drums, Jamie Glaser also on guitar, and JV Collier on bass. The bands pedigree earned them a super-group handle as past players from Jean Luc Ponty, Steely Dan, Lee Rittenour, Herbie Hancock, Chick Corea, Earth Wind & Fire, and Bruce Hornsby. They released a highly-acclaimed album on Sony/RED called Evolution.
Alan Hewitt, has been the keyboardist for The Moody Blues since 2009 traveling the world with them. Bass player John Lodge has been with The Moody Blues since near their beginning in 1965 in England. His distinctive falsetto vocals were a major asset to the bands success. John is a prolific songwriter and wrote over 40 of their hit songs. In 1985 he joined his band-members in accepting The Ivor Novello Award for Outstanding Contribution to Music. In May 2015 John released a solo album titled "10,000 Light Years Ago," which reunited him with band members Ray Thomas and Mike Pinder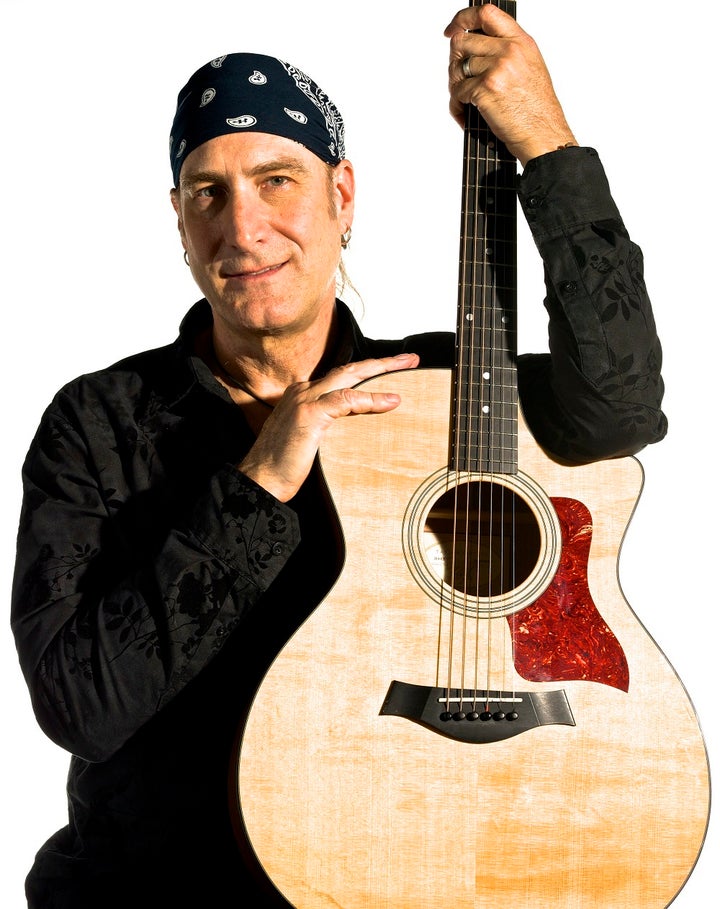 Duffy King was invited to join John Lodge, and his buddy Alan Hewitt, to play guitar in the 10,000 Light Years Band on Johns' 10,000 Light Years Tour. The tour started on February 3rd 2016 in Florida and included as one of its dates a 4-day cruise called Cruise To The Edge, that left from Tampa on February 7th 2016 and returned on February 11th. Performing on the cruise was also Yes, Kansas, Steve Hackett and Mike Portnoy. This exclusive cruise charter was a fantasy camp for Prog music fans, with nonstop entertainment activities and fun. To find out more visit Cruise to the Edge 2017
As we struggle, in the current climate in our country, to define what makes a man "strong", it's been refreshing to see Duffy King's success. His guitar technique is supreme. He's a cool guy, who has immense depth, determination, respect for women, and a great sense of humor. He doesn't care where you come from, but only where you're headed. We wish Duffy the best of luck and hope you'll check out his music. He's a nice guy and he plays one hell of a guitar.
Popular in the Community