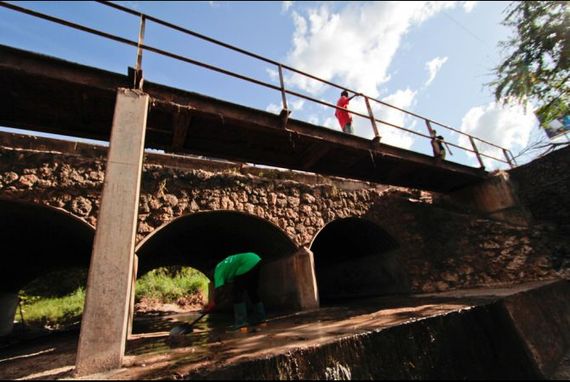 DAR ES SALAAM, Tanzania -- Last year, Coca-Cola announced a $100 million partnership with the International Finance Corporation to provide business skills training and micro-loans to "empower" women -- those who sell Coca-Cola products, that is.
The program has already involved 200,000 women in Nigeria who "touch the Coca-Cola value chain," according to the company. For instance, a woman might receive a loan to buy water from a local Coke bottler and resell it in bulk, or a farmer who grows fruit used in Coca-Cola products might receive a loan to increase her crop yield. Watchdogs say the project, ironically called the Banking on Women initiative, is merely a savvy way for Coca-Cola to increase its own reach in the country while diverting so-called development funding from the International Finance Corporation, a subsidiary of the World Bank, to subsidize Coca-Cola's profit-seeking activity.
Critics contend that the Mlalakua River cleanup in Tanzania is one of many Coke-partnered projects in Africa that appear to have been designed to benefit the company as much or more so than the locals it proclaims to help.
In Nigeria, Ghana and Liberia, Coca-Cola is partnering with Water Health International, an NGO accused by watchdog groups of focusing on market access for its partners. The partnership loans money to communities to construct kiosks that will provide clean drinking water. The loans are to be repaid over eight years using funds from community members who purchase the water.
The Ekocenters are "being funded by people paying more for that water," says Shayda Naficy, director of the International Water Campaign at the Boston-based watchdog Corporate Accountability International. "They buy it at a high price, and the kiosk repays the loan to Coke." The sale price of that water is often three times the rate for public water in those areas, according to a report by Naficy's group.
"Coke is promoting this as a form of charity, when it is actually providing a loan that isn't truly low interest, which is resulting in a high-priced form of water access, that Coke benefits from directly," Naficy says. In May, Coca-Cola went one step further by investing directly in Water Health International, giving it a direct financial stake in the water retailer behind the project.
"This 'green-washing' which so many companies will do" can be misleading, says Tania Hamilton, the director of the NGO in Tanzania that is Partnering with Coca-Cola in the Mlalakua River cleanup project. "If Coke's doing it to help water for everybody and at the same time helping itself, that's fine. But it shouldn't just be to allow women to sell more Coke," she says.
Coca-Cola has a long history in Africa, one that began around World War II when the United States gave contracts to the company to provide soda to soldiers in the field. That led to a contract to build bottling plants that would provide Coca-Cola to soldiers stationed abroad, which paved the way for the international distribution network it operates today.
But when it comes to philanthropy, Coca-Cola's presence in the global water sector began in the wake of scandal. In 2005, protests forced Coca-Cola to shut down its bottling plant in Kerala, India. Villagers claimed the company's operations caused their wells to dry up and polluted soil and groundwater. The company was also accused of distributing what it claimed was fertilizer but turned out to be toxic sludge. The incident got widespread international attention and sparked protests.
In the years since, Coca-Cola has improved its public image significantly. At the US-Africa Leaders Summit in Washington in August, the company announced an additional $5 billion in investments to expand its business in Africa, bringing the company's total Africa investment from 2010 to 2020 to $17 billion. Coca-Cola also announced it would expand its Replenish Africa Initiative to improve water access for 2 million people by 2015. Tellingly, the company's press release announcing the investment neglected to mention how much of that money would actually be spent as aid -- either through public-private partnerships or otherwise.
This article is part of a Special Report for The GroundTruth Project called "Branding Health," which looks into how public-private partnerships have transformed the global health industry.
Popular in the Community