MIRAMAR, Fla. ― A makeshift sign hanging from a fence outside of New Renaissance Middle School warned residents seeking last minute shelter from Hurricane Irma that the school's gym had reached its capacity and couldn't accept any more people.
Outside, nearly 160 cars filled the school's main parking lot. Inside, hundreds of people had gathered.
Hurricane Irma, one of the most powerful storms to ever form in the Atlantic Ocean, is expected to make landfall somewhere in southern Florida early Sunday morning. And in the hours and days before it does, schools across the state's southernmost counties have transformed into shelters for people seeking refuge from the storm's fury.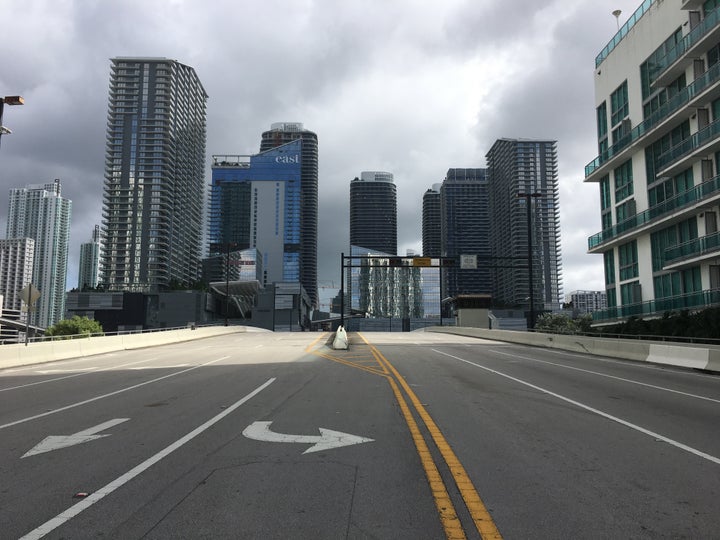 New Renaissance opened on Thursday and reached capacity by Friday evening.
"Yesterday we had a busy day getting everyone in, but we got everyone in safe and secure," said Mark Norville, the school's head of facility services. "Organizing, putting them into place, getting everybody into a comfortable spot. We wanted to make sure everyone who got in was comfortable, and we were able to reach that goal."
New Renaissance is one of 21 schools in Broward County, which sits just north of Miami and includes coastal towns like Fort Lauderdale, that is now serving as a shelter. To the south, Miami-Dade County opened 42 schools to shelter vulnerable residents who couldn't evacuate before the storm.
Not everything has gone according to plan. In certain locations in Miami-Dade County on Friday, confusion set in among some local residents as certain shelters reached capacity, and others that had been announced as open weren't quite ready yet.
But at New Renaissance, the process has been smooth so far, said Red Cross volunteer Pauletta Scott.
"Everybody is compliant, to say the least," Scott said as she stood outside the shelter. "They're not happy, but they are following the rules."
Florida Gov. Rick Scott (R) and local officials have ordered more than 6 million Florida residents ― including at least 650,000 who live in Miami-Dade County ― to evacuate their homes ahead of Irma, which could smash the state with winds in excess of 130 miles per hour. Storm surges could send 2- to 4-foot walls of seawater into coastal towns, and Broward County officials said they expect 10 to 20 inches of rain.
That threat has made the schools-turned shelters a vital resource for many Floridians who couldn't afford to evacuate the state or didn't get out in time, and they are a sign of how well state and local authorities have prepared for the storm, Pauletta Scott said.
As a Red Cross volunteer, Pauletta Scott has worked through Hurricane Katrina in New Orleans and Hurricane Sandy in New York. Compared to those storms, Scott said, Florida is an "A1 prototype" for how to prepare for a potentially catastrophic storm.
Still, it's been a trying few days for volunteers and those seeking shelter alike. Since doors across the state opened Thursday, thousands of people seeking refuge have swarmed shelters seeking help. Broward County had served 16,000 people as of Friday night, according to the county's emergency management division. Miami-Dade County's shelters have the capacity to accept 100,000 residents.
Even with those resources, shelters in more vulnerable areas have filled rapidly, leaving some residents stuck outside and searching for the next closest option. It hasn't been easy to turn people away when shelters get full, but Red Cross volunteers have tried to direct those in need to other areas that still have room.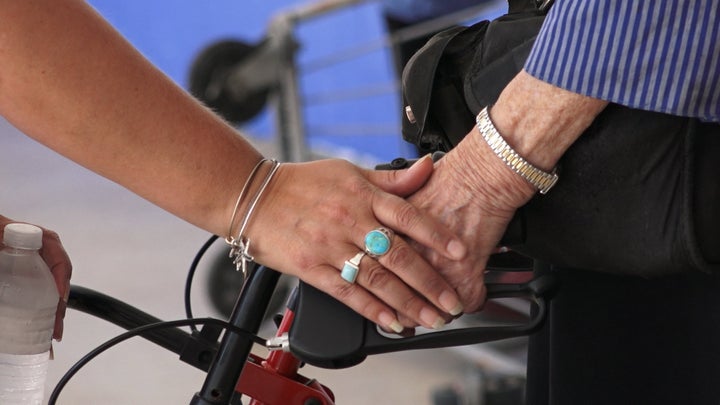 "When we turn them away, we do it lovingly, we do it with empathy," Scott said. "We don't turn them away until we have to."
Scott's words were echoed at another shelter, where Red Cross volunteers had to turn away elderly and direct them to shelters still open.
"If I could take you in, I would take you in ― swear on my heart," one volunteer said Friday afternoon at North Miami Beach High School, which had accepted 400 people in the previous 24 hours.
Though North Miami Beach High was at capacity Friday, Miami-Dade County now lists it among the 31 that are still open. New Renaissance's capacity could also fluctuate depending on the scope of the emergency, Scott suggested.
While anxiety is still present, those staying at New Renaissance Middle School Saturday said people have generally been getting along.
"It's my first hurricane," said Alexander Jackson, who worked for a traveling carnival circuit in Indiana before it brought him to Florida last year. "Here is nice, ain't had no problems. Everybody is cool, calm, collected. Nobody fighting, no one doing any wrong, just waiting for breakfast, lunch and dinner."
Joe Vano stood outside smoking a cigarette as he watched gray clouds twist and glide forward. A native New Yorker, Vano came to Florida ten months ago for work with AT&T. It's his first hurricane.
"I've never done this before," Vano told HuffPost. "I usually leave, I go west. I just didn't make it this time. Everybody left and I was basically left behind."
While Vano has a house in Hollywood, Florida, he said it wasn't an option to stay in a home built "like a tin can." But he said he's making do at the shelter.
"I'm not worried at all," Vano said of the impending storm. "I come from New York, you know how it is, man. You deal with a lot out there, so this is not a big deal. This is my first time but why should I be nervous? What's gonna happen is what's gonna happen. They got mattresses."
As he finished his cigarette, the darkening skies opened, dumping rain onto the shelter below. It was time to go back inside.
Support HuffPost
The Stakes Have Never Been Higher
Related
Popular in the Community