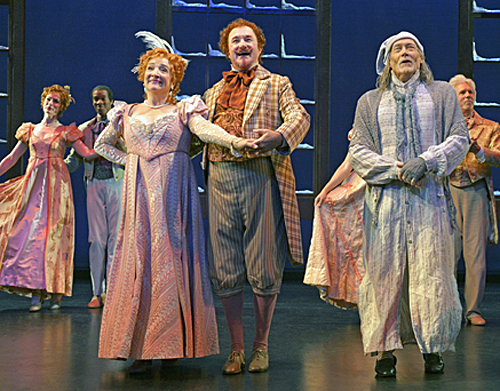 Scrooge (James Carpenter, right) revisits long-ago festivities hosted by the Fezziwigs (Sharon Lockwood and Jarion Monroe).
In the immortal words of Ebenezer Scrooge: Bah, Humbug! They're beating the Dickens out of A Christmas Carol at the Geary Theater in San Francisco.
To give credit where it's due, the adaptation and production by American Conservatory Theater is certainly a crowd pleaser, with many dates sold out even before it opened last week. The current version has been packing the holiday-season house since 2005, when it replaced ACT's original, more faithful and more moving treatment of the classic.
And, yes, it follows the tale's basic structure and employs the lines that anyone who has ever encountered Carol would expect to hear:
The heartless Scrooge's retort to charity solicitors: "Are there no prisons?"
The frightened Scrooge's quip to Marley's ghost: "There's more of gravy than of grave about you, whatever you are!"
The reformed Scrooge's pledge to abused clerk Bob Cratchit: "and therefore . . . I am about to raise your salary!"
And of course Tiny Tim's "God bless us, every one."
But familiar lines alone don't re-create the magical, morality-driven adventure that Charles Dickens published in 1843, and left to the ages. That narrative flickers between bright and bleak aspects of human experience, both personal and social. ACT's staging celebrates the bright, along with the sentimental, and throws a fairy-tale gloss over Dickens' assaults on the harshness of poverty in Victorian England.
(As if the metaphoric parallels with 21st century America were not obvious enough, someone in the opening scene waves a sign reading "Tax the Rich.")
More than anything else, the production offers a fast-moving spectacle that serves as a showcase for ACT's educational offerings: theatrical training for youngsters from pre-teens through college graduates.
The cast of close to 50 includes a host of tykes and teens who act, sing and dance, while experiencing the thrill of playing before huge audiences under the Geary's bright lights. The show even pays a kind of homage to the season's other major stage tradition, The Nutcracker, via six girls dancing in costumes suggesting plums, figs and onions.
Professionals fill the principal roles, of course, and deliver them in admirable fashion.
As Scrooge, Bay Area veteran James Carpenter opens as the stern taskmaster who drives his struggling clerk at a breathtaking pace, then quickly melts when he confronts visions of his own lonely childhood, adolescent friendships and alienated love. In Carpenter's hands, Scrooge's efforts to join in the merriment of years past -- especially at one-time employer Fezziwig's Christmas festivities -- brim with vitality and charm.
Ken Ruta, who played Scrooge more than 20 years ago, returns here as Marley. Bound in the obligatory shroud of weighty chains, he delivers the ghost's ghastly warnings with his customary resonance and stature. It's a small but plum role, and Ruta makes it memorable.
Another Bay Area regular who takes full advantage of a few brief moments to sparkle is Sharon Lockwood, in a role conceived not by Dickens but by adapters Carey Perloff and Paul Walsh. She plays Scrooge's housekeeper, at first with abused befuddlement and later with delight, after his demise. Between those moments, she's the lively Mrs.Fezziwig.
They're fine, and so are Jarion Monroe as the ebullient Fezziwig and Liam Vincent as Cratchit. But characters other than Scrooge are almost peripheral to the production; its core belongs to throngs of actors, to movement, to music, to sets that rise and fall and glide across the stage, and to such special effects as huge expanses of swirling black fabric -- manipulated by no less than five performers -- to represent the Ghost of Christmas Future.
This Carol is a pageant that displays ACT's wealth of technical resources and the skills of aspiring actors in the company of a few pros, which seems to be all that's needed to pack the Geary in this holiday season.
Does it reveal what Dickens attempted to say, and what he expressed so well that his legacy has touched hearts and minds for 170 years? I think not. Humbug!

A Christmas Carol runs through Dec. 28 in ACT's Geary Theater, 415 Geary St., San Francisco. Tickets are $20-$95, from 415-749-2228 or act-sf.org
Related
Popular in the Community