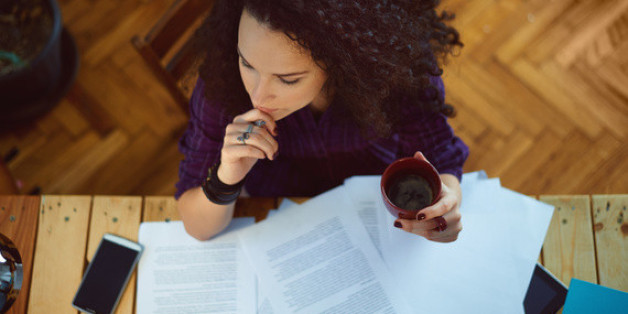 Making the transition from employee to full-time business owner can be a tough adjustment for some. After years of living the cubicle life, and sticking to a strict, structured schedule, it is natural to want to break free from the life that you used to know and settle into a life of freedom!
But when you make the switch to being your own boss, it doesn't necessarily mean that all structure and discipline should go out the window. In fact, that mentality is the quickest way to set you and your business up for failure. A smart mogul in the making knows that there has to be some sort of structure to keep things flowing smoothly and make your working time productive.
When I decided I was ready to be my own boss and became a full-time entrepreneur, I thought that meant working in my PJs from the comfort and warmth of my bed, "multi-tasking" by watching television or chatting with friends and family members (you know, to make the day go by faster), and doing whatever I wanted to do, whenever I wanted to do it.
There was only one problem: I found myself not getting much work done. I realized that I was treating my business more like a hobby rather than the budding empire that I was trying to build.
It wasn't until I made a conscious decision to make these changes that I saw a drastic difference in my business:
Think Like a Mogul
Coming from a corporate background, I realized that what made the company I worked for run so smoothly was the structure. There were set working hours, checklists of what needed to be accomplished each day, and deadlines. When I first made the switch, I was lacking all of these things. Then, I had an AHA-moment: what if you ran your business as if it was already a major empire. These days, I follow a schedule pretty closely to make sure I am actually getting work done and moving my business forward. Now, I know you probably decided to go into business for yourself to free up more of your time, but the reality of it is you STILL have to work, sometimes harder than if you were an employee (more on that in a future post). Set a schedule that you will be able to keep up with, make daily to-do lists, give yourself deadlines to finish projects, and work as if you are the CEO of a Fortune 500 company. Entrepreneurship does not mean you get to slack off.
Eliminate Distractions
Distractions, such as watching television and taking phone calls, are the biggest productivity killers. It's very hard to focus when you're trying to catch up on the latest episode of Scandal (or whatever shows you can't live without) or when your phone is ringing off the hook from friends that want to chat you up at any given time. I'm all for multi-tasking, but this will get you absolutely nowhere, fast. Turn off the television, make sure your friends and family members know and respect your work schedule, and stick to it.
Schedule Breaks
I confess, I am a Facebook junkie! I am one of those people who must check the goings-on every few minutes. Yep, I know it's bad (hanging my head down in shame). My solution: I've decided to schedule breaks into my daily schedule. Just like if you were a 9-5 employee, you would typically get two 10-15 min. breaks, and an hour lunch. Don't fool yourself into thinking you have to work straight through the day in order to be productive. Breaks are actually necessities. Make time to stretch, grab a bite to eat, and even pencil in social media or other activities you feel that you can't go without. Depriving yourself only makes you want it more, so allow yourself to take a breather.
Get Dressed Up
Sitting around the house in PJs all day is a sure-fire way to stay in lazy mode. When you get up in the morning, get dressed, comb your hair, put on your makeup, etc. Do whatever it is you would do if you were heading into the office to work. Studies have shown that the way you look is directly related to how you feel. So, if you stay in that just-out-of-bed, hair-all-over-your-head, fluffy-pajama-wearing mode, you'll likely feel sluggish and unmotivated to get much done. However, if you pull yourself together, you'll feel more ready and willing to tackle your to-do list head on.
Location, Location, Location
Sure, working from the bed is the most comfortable place in the house, but it's also the most dangerous. Not in the actual "danger" sense, but meaning, it is probably the place that you will get the least amount of work done because to the average brain, bed = sleep, relax, tired, etc. Your environment can drastically affect your work productivity, so choose a location that is more conducive to getting things done. If you have a place in your home that can be turned into your "office" that would be the best choice. If not, consider the kitchen table, or any other quiet area that will allow you to stay alert and get things done. Also, if you need a change of environment from time to time, drive over to your local coffee shop, café/restaurant, or bookstore. The bumbling atmosphere will keep you awake, and just being out of the quiet and stillness of your home or office will up your mood, which is very important if you plan on getting anything done.
What other tips do you have for staying productive and getting things done when working for yourself? Please share in the comments below.