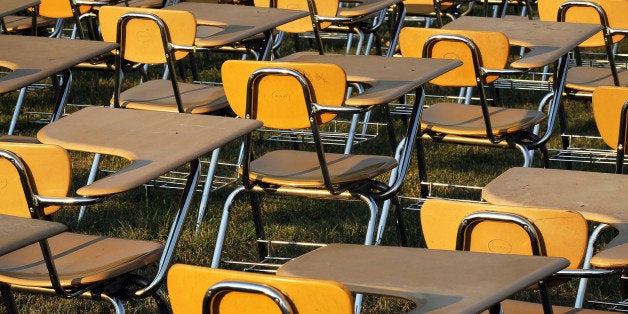 As American students return to classes in a public education system projected to be majority minority for the first time this fall, new test scores provide alarming evidence that students of color remain far behind their white counterparts.
While only 39 percent of all students who took the ACT college admissions test in 2013 scored well enough to be deemed college-ready by the testing company, the number was dramatically lower for minority students, with only 11 percent of African-American and 18 percent of Hispanic students meeting the bar. Forty-nine percent of white students and 57 percent of Asian students made the mark.
INSIDE The ACT ACHIEVEMENT GAP
|
Create Infographics
"Education in America is not a level playing ground, and the ACT scores are a stark reminder that race and class hobble achievement, which snuffs out hope, and dogs democracy," said Lee Baker, associate vice provost for undergraduate education at Duke University. "The fact that public education systems are funded by local tax dollars and in affluent neighborhoods schools are subvented by private gifts, exacerbates the dynamic. And, only the wealthy can afford private schools and only the lucky can get into high-performing charter schools."
The class of 2013 represented the most diverse group of ACT test-takers, but the results were alarming to the testing company. "While we have a more diverse group ... the gap between ethnic groups is way too large," said Jon Erickson, ACT president.
The ACT determines performance in four benchmark subjects: English, reading, math and science. According to 2014 data ACT provided to HuffPost, the subject with the largest racial achievement gap was English, where 76 percent of white students and 34 percent of black students met the benchmark.
"The gaps are hugely dramatic," said Christina Theokas, who directs research for The Education Trust, the Washington, D.C.-based education advocacy and lobbying group that first called attention to the idea of the achievement gap. "These gaps are absolutely unacceptable and it really suggests where we need to pay attention and hone in."
The ACT results are likely to be higher than the performance of the average American high school senior. That's because most students who voluntarily take the test aspire to attend college. Fifty-seven percent of America's graduating class of 2014 took the test, an 18 percent increase since 2010.
The ACT defines college readiness benchmarks as the minimum score a student must achieve on the test in order to have a 75 percent chance of earning a C or higher in a first-year college course. Twenty-six percent of all tested students met the benchmark in all four subjects in 2014, compared with 24 percent in 2010. But 31 percent of students hit none of the benchmarks.
"Nothing changes, but if you test over a million students a year, you don't expect much to change," said Mark Schneider, a vice president of the research nonprofit American Institutes for Research, who previously oversaw the federal government's education research.
Some contend ACT's bar for college readiness is too high. "What is often forgotten is that the ACT and the SAT are probability statements," said Anthony Carnevale a Georgetown University professor who researches workforce skills and headed a testing company for several years. "We know that anybody who scores in the upper half in the distribution in the ACT or the SAT has a very high chance of graduating from college. This is not so much about readiness, it's about graduating. To say that only 20 percent are ready when 50 percent have a chance to graduate is a little stiff to me."
State results showed trends similar to each other, even though some have markedly different approaches to education. In Oklahoma, where 90 percent of students took the test, 22 percent met benchmarks in all four subjects in 2014, compared with 19 percent in 2010. In Kentucky, where all students took the test, 19 percent hit all four benchmarks, up from 16 percent. In Texas, which tested 40 percent of students, 26 percent hit all four, compared with 24 percent in 2010.
The overall dismal results come as most U.S. states are struggling with making sure their students graduate from public schools ready for college. College and career-ready standards have become the modern-day educational buzzword -- and the centerpiece of the Common Core State Standards, the learning guidelines in most states for what students need to know in math and English language arts. The Common Core has become politically divisive in recent months, with some states moving to ditch the standards. Indiana and Ohio have proposed replacing the Common Core with similar college-aimed standards.
"The holy grail in all of this is it's got to be rigorous and it's got to be effective, and right now that is inconsistent from school to school," Erickson said.
ACT is trying to get into the Common Core game by selling an exam system called Aspire that tracks students along Common Core goals from a young age. So far, only Alabama has bought the system in its entirety.
Popular in the Community