ACT Seattle's latest production Mr. Burns, A Post-Electric Play takes the audience into a possible future and demonstrates what humans might create after an apocalypse. Using a single episode of The Simpsons as it's theme, this show entertains while confronting us with the absurd but possible story of a play within the play moving from mythic storytelling to futuristic post-apocalyptic musical.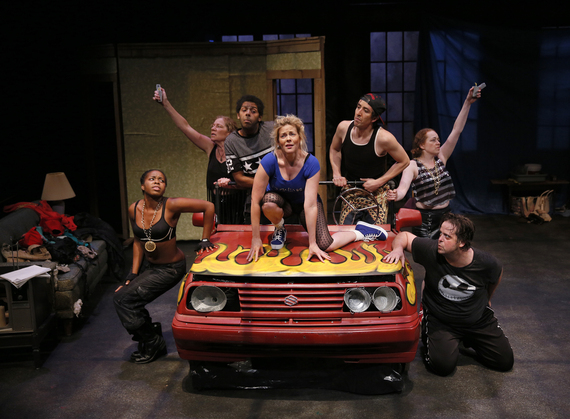 If this sounds somewhat crazy, it is. However, it's a crazy that keeps the audience entertained and wondering from opening to the big finale.
If you're planning to attend the show, I suggest spending twenty-two minutes watching the Cape Feare episode of The Simpsons beforehand. Then, you'll have a much better sense of the twists and turns that Mr. Burns presents.
Here's how ACT describes Mr. Burns:
Mr. Burns is a post-apocalyptic tale when survivors must begin again and bond together to create a new society. Not Shakespeare. Not Dickens. No, the greatest common cultural icon is the popular 'Cape Feare' episode of The Simpsons. This imaginative dark comedy propels us forward nearly a century, following a new civilization stumbling into its future. The New York Times raves, 'Anne Washburn's Mr. Burns, a post-electric play has arrived to leave you dizzy with the scope and dazzle of its ideas.'
The second act of Mr. Burns does, in fact, leave the audience dizzy and buzzing with conversation. After all, it's not often that one gets to see what could possibly evolve from a Simpsons episode if we had nothing but oral transmission such as what was true for our ancestors. It also left me wondering how much of the "truth" as it has been passed down via our religions and other cultural traditions happened as the stories tell us it did.
All in all, Mr. Burns is a roller coaster ride of excellent entertainment with several thought provoking elements and many just plain funny moments. It continues at Seattle's ACT through November 15.
REAL LIFE. REAL NEWS. REAL VOICES.
Help us tell more of the stories that matter from voices that too often remain unheard.