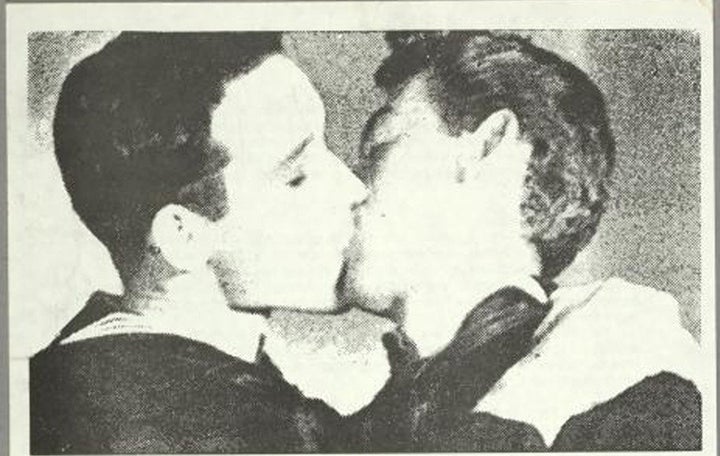 The group widely known simply as Act Up, rather by than its more formal name AIDS Coalition to Unleash Power, celebrated its 25th anniversary in New York with what else? a protest.
Veterans who had not attended the group's regular Monday meetings for a decade returned for Tuesday's demonstration, staged jointly with Occupy Wall Street. Their march through downtown Manhattan called for the creation of a tax on financial speculation, a tiny assessment on such trades that would go to health care and treatment of people with HIV or AIDS. At the rally's climax, police dragged away 19 protestors in green pointed Robin Hood hats; some had chained themselves hip to hip across Broadway by Wall Street, blocking access.

Some 20-somethings showed up, too, and the old-timers considered them a much-needed infusion of young blood into the group's graying ranks. From 2006 to 2009, the HIV infection rate spiked 48 percent for young black gay and bisexual men.
Few observers would dispute that the activists who first gathered at Manhattan's Lesbian & Gay Community Services Center in 1987, "outraged by the government's mismanagement of the AIDS crisis," swiftly built a movement that spread across the country and around the world; they helped usher in a striking number of changes in a mere quarter century: a lowering of the price of drugs, a transformation of the U.S. Food and Drug Administration's approval process for them, the inclusion of people with AIDS in drug-trial panels -- and a diminishing of the disease's stigma. As result, many people's lives were saved or dramatically lengthened.
"The reason Act Up was able to do what it did was because their demands were so targeted," Todd Gitlin, an expert on social movements at Columbia University, told the Huffington Post. "As long as they got a hearing from top government officials, they could win on the strengths of their arguments."
One member who recalls the early days, Mark Milano, was floored when he walked into a recent Manhattan meeting, slightly late because of his chemotherapy treatments.
"This is big! There are actually a lot of people here!" he told The Huffington Post. "The phoenix has risen once again! We were never dead, but we've been reinvigorated," said Milano, who was was first diagnosed with HIV in 1982 and joined Act Up in 1988.
HISTORY OF A MOVEMENT

Many of the old guard will tell you, though, that the Act Up of today isn't the Act Up of the late 1980s. That angry and focused group was fighting for drugs because people were dying.
Twenty-five years ago, gay men in New York City felt they couldn't afford not to focus. Every day a friend, lover, cousin or the guy downstairs was diagnosed; reports circulated that there was an 80 percent chance that they would all die within two years. There was no cure and no treatment. Half of Americans thought people with AIDS should be quarantined and 29 percent thought they should be tattooed, according to an Los Angeles Times survey that year.
Over the years, Act Up members staged dramatic actions like storming New York City's St. Patrick's Cathedral during Mass and scattering the ashes of people with AIDS who had died on the White House lawn. They broke into the CBS studios and inserted themselves into the evening news. A thousand members rallied outside the FDA's headquarters near Washington, D.C., resulting in its closure for the day. They chained themselves to the balcony of the New York Stock Exchange and halted trading.

But by the early 1990s, the group began to splinter. Some members of Act Up drifted away, engaging in more mainstream activities: They formed advocacy groups or joined government agencies. Many members died; others suffered burnout.
And then in 1996, the drug cocktail that activists had prayed for arrived, transforming HIV and AIDS from a death sentence into a chronic disease. "Drugs came along that made them feel like they could live their lives," explains Ann Northrop, who joined Act Up in 1988. "And so they went away."
AIDS and HIV was no longer a death sentence hovering over white, urban gay communities. The face of the disease in the United States increasing became black, Latino and female. Today, HIV is the third leading cause of death for black women, ages 25 to 44. In other parts of the world, millions lacked treatment and were dying from the disease; dedicated members of Act Up focused the group's energies there.
In more recent years, the group disrupted Al Gore's 2000 presidential campaign so as to push the Clinton administration to stop sanctioning poor nations that produced generic HIV and AIDS drugs. In 2001, activists staged a "die-in" with cardboard tombstones at the D.C. headquarters of the Pharmaceutical Research and Manufacturers of America and managed to pressure drug companies to sell their products in African countries at cost.
"Those people were genuine heros," says Jim Hubbard, who began filming the activities of Act Up a few months after it formed and whose documentary "United in Anger" is now being shown on a worldwide tour.
Over the years, the goals of the group have evolved to become more sweeping and varied. The chants changed from "Drugs in bodies" to "Money for AIDS" and then "Health care access." For its 20th anniversary, Act Up rallied for universal health care. This year the group championed a financial speculation focus.
THE NEW ACTIVISTS

Over the past five years, New Yorker Frank Susa, who's in his 30s, has watched as more than 10 of his friends have been diagnosed with HIV. Like many other young, talented and terrified gay men over the past two decades, he recently decided to join Act Up. In recent months he pitched in to help out with the anniversary festivities.
Soon the 15-year communications veteran become the coordinator of the communications committee. Susa had not before participated in any AIDS activist work but suddenly he was playing a key role in organizing this week's anniversary protest, which some members hoped would be the country's biggest demonstration in years.

Recently with an eye to coalition building, some Act Up members have suggested tackling an even broader range of issues, including job creation and climate change.
But others like Susa, with newly diagnosed friends, feel a global catchall approach would come at the expense of the issues he cares most about like disease prevention. "You are confusing the message," he wrote in one email to his committee. "We are a small grassroots organization and we should focus, focus, focus."

"These debates have been going on since the beginning," Hubbard says. "There have always been strong advocates for one position or another in Act Up. It's good to have that tension."
Today some veteran gay activists say that Act Up has survived long past the usual expiration date of an activist group. Indeed the group's artifacts have already been enshrined like historical relics, featured in two new documentaries (Hubbard's and "How to Survive a Plague") and two recent exhibitions of its distinctive design work.
But Act Up is still a living, breathing movement. Members like Milano who have been gathering together every Monday for a quarter century know that activism isn't a neatly laid-out program but rather a messy activity, directed by ordinary people's particular passions and limited by their manpower.
"We've been to those meetings for 25 fucking years. Do you know how much of a drag that can be?" Milano says. "And I see the same old, wonderful, crazy Act Up I've always seen for 25 years."
Below see a slideshow of classic Act Up posters and flyers.
CORRECTION: This article has been updated to correct the name Gay and Lesbian Service Center to be Lesbian & Gay Community Services Center. The institution has now changed its name to be Lesbian, Gay, Bisexual & Transgender Community Center.
Before You Go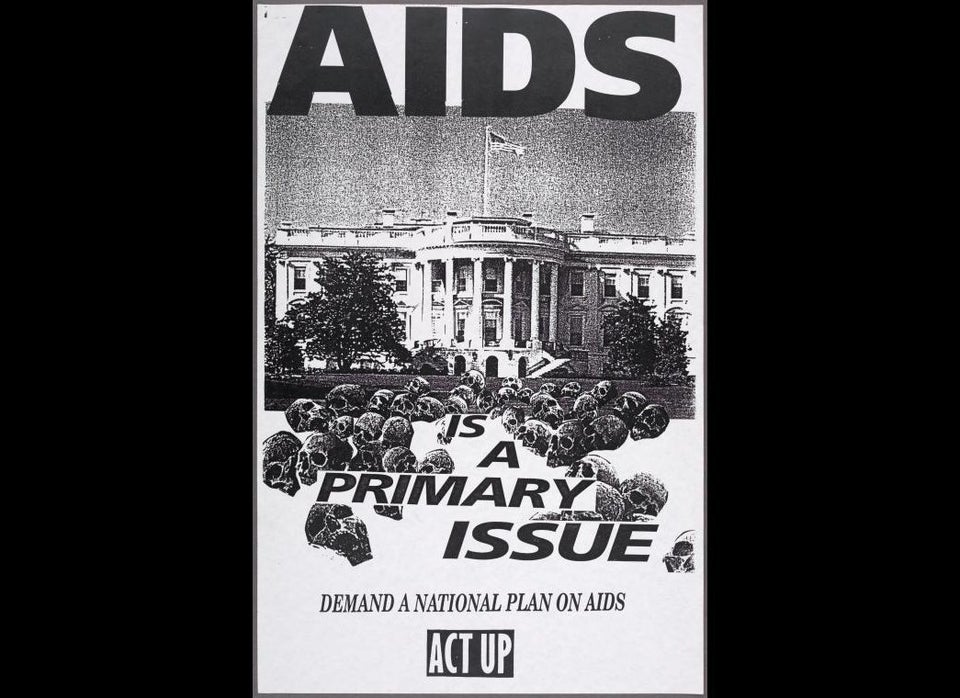 25 ACT UP Posters
Popular in the Community