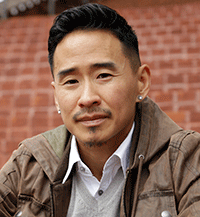 Kris Hayashi has been active in social, racial and economic justice organizing for over 20 years. For the last ten years Kris served as the Executive Director/Co-Director of the Audre Lorde Project, a Lesbian, Gay, Bisexual, Two Spirit, Trans and Gender Non Conforming People of Color organizing center based in New York City. Previously he served as a Trainer/Organizer at Western States Center in Portland, Oregon and as Executive Director of Youth United for Community Action -- a youth organizing group in California, led by young people of color organizing for social and environmental justice.
The Transgender Law Center is one of the largest transgender advocacy groups in the country. Since 2002 their mission has been to make authentic lives possible. As stated on their website:
Transgender Law Center works to change law, policy, and attitudes so that all people can live safely, authentically, and free from discrimination regardless of their gender identity or expression. We envision a future where gender self-determination and authentic expression are seen as basic rights and matters of common human dignity.
My discussion with Kris is centered around trans equality now and the future. We discuss the inequality still facing trans people, especially trans women of color, and how we as a community move forward to progress to full equality and being treated fairly without bias and discrimination. The conversation focuses on moving forward and gaining ground on this tremendous visibility that we have in 2014 as a community. How do we uplift a community where so many of us are still living below the poverty level and struggling every day just to survive and exist?
Here are the questions I asked Kris:
As the acting director of the Transgender Law Center, where do you see the transgender movement going in 2014?
This is an exciting time for us with all this great visibility with Laverne Cox, Janet Mock and CeCe McDonald. We are making great leaps with policy and law as well. Yes, we have a lot of visibility, and that is great, but a majority of our community is still struggling to survive on a daily basis with high rates of violence, harassment and unemployment. Trans women of color are still being attacked and murdered at a high rate, and we have to find a way to embrace that community and support them. Transgenders are now able to get health care, and that is so vital for them to remain healthy and transition safely.
With the passage of the School Success and Opportunity Act in California, what will be the next piece of legislation for trans equality and why?
California has been amazing in the passage of transgender laws and helping transgender youth in schools to succeed without discrimination. The amount of access and the rights and the policies supporting transgender rights in California has been tremendous. The incarcerated transgender population have been some of the most vulnerable in our community, and the lack of access to education and medical assistance is still something we need to fix as a community. I believe providing the medical care they need and allowing them access to education is very beneficial and needed for this population.
For transgenders having such a hard time finding employment, what would you say to help them get into the workforce?
The lack of access to employment is due to structural barriers and ongoing discrimination against our community engrained into society, culture and institutions. We have made great advancements in last years with the passage of Title 7 protecting transgender individuals from employment discrimination. However, translating Title 7 into reality is still a problem for our community. There is continued work needed targeting employers and institutions that discriminate against our community. Many members of our community cannot graduate school due to high levels of discrimination and harassment in the education system. We will continue to make sure these laws and policies are actually implemented and enforced. Support systems that assist, help, encourage transgenders in finding employment is vital in our communities as well.
Minority transgenders, especially trans women, are facing such high rates of violence and discrimination. What can we do as a community to help them?
The trans community are facing discrimination from institutions such as the police and immigration enforcement. Police brutality is still a problem, and the violence trans women of color face on the street is very high. We have to call on these institutions to stop the violence and harassment towards trans individuals. The violence trans women of color face on the streets and our communities will take a cultural< society-wide change. We have to be seen as individuals with valuable lives in our society. The local community must set up support systems by both LGBT and non-LGBT organizations that embraces issues of trans rights. These support systems should be led by people of color and representational of their group.
Now that we have transgender actors, authors and entertainers receiving national attention, do you feel America has changed its opinions of the trans community today?
With the visibility of Laverne Cox on the cover of Time magazine, this is a great time for the trans community. The visibility is leading to a conversation about the trans community, both positive and negative. Society is talking, and this can only help the trans community being understood that our lives matter.
Listen to the live interview:
The trans community has made great strides and should be proud of the advancements made this year, but remember, we have a lot of work to do as well. We cannot stand for any of our sisters and brothers being attacked and murdered for simply being their authentic self. No one should be afraid to be who they really are and follow their own destiny. We must continue the fight for full equality and fairness. Lauren Paulk, Reproductive Justice Fellow at the National Center for Lesbian Rights, wrote an article last week called "Beyond Equality: Combating Violence Against Trans Women of Color." In the article she wrote:
We must create a culture where transgender women of color are made to feel safe being who they are. In order to do this, we must speak out against voices that seek to misgender trans women and separate them from our communities. We must be vigilant against transphobia in our social networks, in our friend groups, and in our own language and lives.
REAL LIFE. REAL NEWS. REAL VOICES.
Help us tell more of the stories that matter from voices that too often remain unheard.