It's oh so very easy to fall in love with Katee Sackhoff, given the fact that she is super talented, smart, gorgeous, laughs with damn near total abandon-and is all about giving back, having co-founded Acting Outlaws, a motorcycle-riding charity with her Battlestar Galactica co-star Tricia Helfer. Since its launch they have saddled up to help raise awareness and money for everything from the Gulf Restoration Network and the Humane Society to the Red Cross and amfAR. Be warned, if you keep reading you may just find yourself riding out with them, or binge watching just about everything Sackhoff's been in - yup, she's that good.
Sackhoff's on screen work includes staring in the blockbuster series Battlestar Galactica, as well as Oculus, Sexy Evil Genus Genius, Riddick and Longmire. Her performances are raw, intense and so very real that she can make you believe she is just about anyone she wants to, whether that's a badass intergalactic hero, a sexy diabolical genius out for revenge, or even an intelligence analyst with a secret past. Creating a special brand of alchemy, that often leaves people surprised when she's not one of her alter egos, and instead is a rather girly, dog adoring, fun loving, hardworking, motorcycle riding actor who in her off time is riding for a cause or two.
Acting Outlaws is certainly about giving back, but it's also a rather beautiful story about the power of friendship. One where two woman met, developed a deep friendship that at times may well have you wondering if they are sisters, and ended up melding their mutual affinity for the open road and speed with their desire to make a difference in the world, ultimately launching a motorcycle riding charity- and having a blast along the way.
Sackhoff and Helfer became friends on the set of Battlestar Galactica, and after the show ended the friendship stuck. Yet back then riding motorcycles weren't on either woman's radar, although the men in their lives were avid riders. While Sackhoff grew up around quads and dirt bikes, she never rode one because in her small town it was something boys did, yet she loved how motorcycle riding felt. "I loved the being on a motorcycle - I felt so free."
Then one day Helfer threw down the gauntlet, shooting Sackhoff a pic of her new motorcycle license, and Sackhoff was all in. While the two are not competitive when it comes to work, Sackhoff, a former competitive swimmer, can't resist a challenge. "Tricia is the muscle, and pushes me to do this kind of stuff," she says. A very short time later Sackhoff had her license and a motorcycle of her own. Acting Outlaws got its start when the pair were brainstorming about how they could help raise money and awareness for the Gulf Oil spill restoration. "We both feel so blessed to have the lives we have and we wanted to give back."
At the same time each one received a script about the Van Buren sisters in their mailboxes and it sparked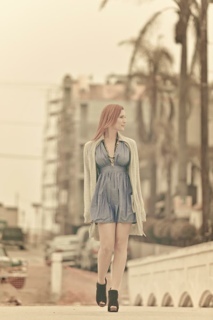 an idea. You see, the Van Buren sisters were the first women to ride across the U.S. on motorcycles, covering 5,500 miles in 60 days over some wicked terrain during WW1, a time when women weren't supposed to ride. Why? They wanted to prove to the government that women could ride as well as men and be military dispatchers.
Almost a century later they inspired Sackhoff and Helfer to take a wild ride of their own, making the 2,500 mile trek from Los Angeles to New Orleans. In Van Buren sisters style they rode through some treacherous conditions for ten days, ones that could rival something you might see on screen - and you actually can since they filmed the LA La Ride.
It was one of those epic adventures that can make or break a friendship, and in this case it made them even closer. "It was amazing and it put our friendship to the test," she says. The weather conditions really made them ride hard, and push each other past their comfort zones, and then some. For Sackhoff that meant riding through rain that felt like, "God had opened up the sky," making it almost impossible to see her front tire, let alone the road. "I was terrified, and wanted to stop, but Tricia pushed me to keep going." And she Sackhoff did.
The next day they rode through 60 mile an hour gale force winds. "We were blown from one side of the road to the other," says Sackhoff. This time it was her turn to push her friend to get on her bike and keep going - and Helfer did. Along the way truckers gave them props and called them crazy. Yet they rolled into New Orleans stronger than ever, and shortly afterwards they founded Acting Outlaws, to raise money and awareness for the charities they believe in, but there was a little more to it. "We wanted to inspire people to do something and get out of their comfort zone, no matter what that is."
Sackhoff will be hitting the road again on November 2nd to raise money for PATH, an organization aiming to end homelessness in Los Angeles and Southern California by connecting people with supportive services and building affordable housing. "The PATH Mall center connects people with all the services they need to get on their feet, including doctors, therapists, employment services and classes. Everything you need is at your fingertips," she says. Sackhoff's enthusiasm for PATH is rather infectious. "I really love how practical and accepting they are, knowing that everyone's circumstances are different."
The First Annual PATH Home - Charity Motorcycle Ride kicks off near the foot of the Angeles Crest and ends at Newcomb's Ranch with a barbeque, music and fun. Stars from your favorite shows, including Masters of Sex, Eureka, CSI Miami and Sons Of Anarchy, will be riding with them. And there's still time to score a ticket and ride out with them - you know you're thinking about it.
And maybe you're thinking about moving out of your comfort zone, about doing something different, or maybe taking a chance, whether that's taking a ride or doing something else. Well, Katee wouldn't have it any other way, because that's exactly how she lives her life - going full throttle whether at work or play, so much so don't be surprised if you see her slipping into a cockpit of a race car to do some NASCAR style driving on the charity circuit. I can't help but think that the Van Buren sisters would be inspired and riding right along with her.
A very Special thank you to Dennys Ilic for the photos of Katee Sackhoff
Calling all HuffPost superfans!
Sign up for membership to become a founding member and help shape HuffPost's next chapter