Originally published on Youthradio.org, the premier source for youth generated news throughout the globe.
There was more action on the streets of Oakland, California this week as more than a thousand protesters marched Wednesday evening in a largely peaceful protest in response to the New Year's Day shooting death of Oscar Grant. The 22 year-old African-American man was unarmed and lying face down on a train platform when he was shot in the back by Johannes Mehserle, a now resigned BART (Bay Area Rapid Transit) police officer.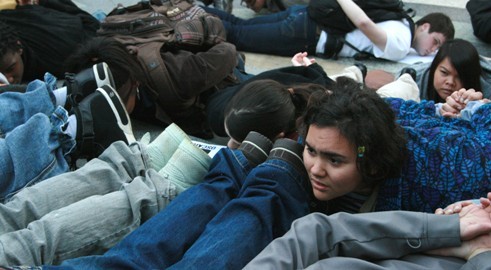 Protestors lay face down with their hands behind their backs while organizers read the names of people shot by police.
Wednesday's rally was praised for being well organized, with many dozen volunteers working to prevent the type of unrest that led to widespread vandalism and arrests the previous week. However a small group of protesters broke windows in downtown storefronts well after the protest was scheduled to conclude, marring the otherwise peaceful event.
But the real action this week took place in the courtroom. Mehserle, 27, was arrested on first degree murder charges late Tuesday for the shooting death of Oscar Grant. On Thursday Mehserle pled not-guilty in a tense Oakland courtroom, where Grant's family and friends gathered, many straining to see the defendant seated behind a security barrier.
The mood throughout the city remains on edge. In this audio slide show Youth Radio's Kareem Chadley interviews two Oakland institutions about the Oscar Grant case: rapper Too $hort and Mayor Ron Dellums.
Youth Radio/Youth Media International (YMI) is a youth-driven converged media production company that delivers the best youth news, culture and undiscovered talent to a cross section of audiences. To read more youth news from around the globe and explore high quality audio and video features, visit Youthradio.org
Popular in the Community