Once upon a time, somewhere between Willy Wonka's Chocolate Factory and Final Destination 3, there was an amusement park that defied all logic, safety standards and laws of gravity. But unlike the parks in those movies, this one actually existed…
A new mini-documentary from Mashable and Daily Motion tells the story of "Action Park," which opened in north New Jersey in 1978. The park had many nicknames, according to former guests -- "Accident Park," "Traction Park," "Class Action Park" -- and for good reason.
Action Park boasted rides like the Tarzan Swing, where (presumably drunk) teenagers would launch themselves into pool with a Tarzan-style rope, often flashing terrified onlookers on the way down. It also had an alpine slide that one interviewee described as a "giant track that ripped people's skin off." Then, there was the giant water slide with a 360-degree loop. Yes, for real… Here's a picture of it: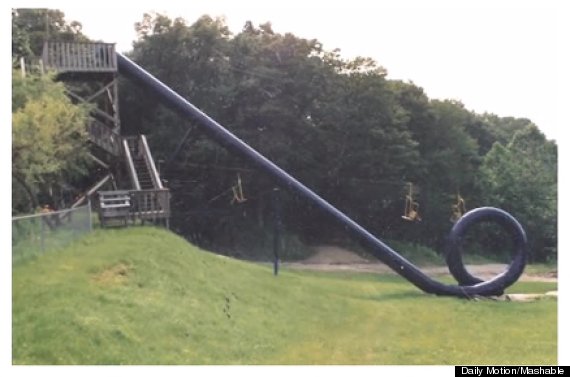 Lax rules and extreme rides helped the park achieve almost legendary status. It topped Cracked.com's list of the "6 Most Terrifying Theme Park Rides Ever Built." But WeirdNJ.com points out that park also witnessed countless injuries and several deaths. The park's parent company, Great American Reaction, went bankrupt in 1995, according to The New York Times. The park closed shortly afterwards, the video explains.
Watch Part 1 of the documentary above to learn more about Action Park or check out Part 2 to hear about the people behind it.
REAL LIFE. REAL NEWS. REAL VOICES.
Help us tell more of the stories that matter from voices that too often remain unheard.
BEFORE YOU GO
PHOTO GALLERY
States With The Most Dangerous Bridges: 24/7 Wall St.