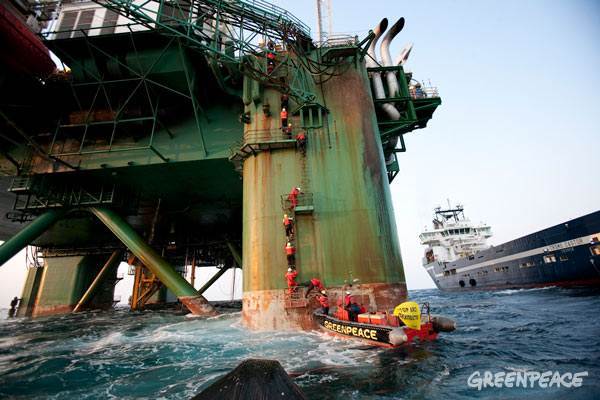 The Greenpeace delegation demanded to see the oil spill response plan, which has been kept secret by Cairn Energy (LON:CNE), despite repeated requests to make it public. The activists met with the drill manager and requested a copy of the plan, which you would think would be kept on board, and yet again were refused.
It seems oil spill response plans are often fantasies anyway -- the Bush and Obama administrations were approving spill plans for the Gulf of Mexico that were so absurd they included species that don't even live anywhere near the Gulf like walruses and sea otters.
Perhaps President Obama could remind other Arctic nations that it was only after a spill that the US realized just what a farce BP's spill response plan was. If we'd all seen BP's spill plans, would anyone in their right mind have allowed them to drill?
But it's pretty clear why the company's plan to respond to an oil spill isn't being revealed: it can't be done. It took approximately 6,000 vessels over three months to control BP's gushing Macondo well that spewed millions of barrels of oil into the Gulf of Mexico.
There is no way that a similar response could be mobilized if a blowout or large spill were to occur in freezing Arctic waters. The freezing temperatures, extreme conditions, and remote location mean that an oil spill in the Arctic would be an irreversible disaster.
Earlier, two Greenpeace activists in a survival pod stopped the Leiv Eriksson drilling for four days. One of those activists, Hannah, is originally from New Orleans and witnessed first-hand the impacts of the Gulf oil disaster.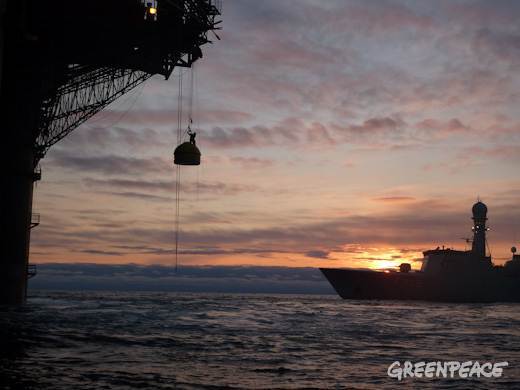 Cairn Energy isn't the only company eyeing the warming Arctic.
Supermajors like Chevron, Exxon, and Shell hope to begin drilling in especially sensitive seas near Greenland and in Alaska's Arctic waters. These oil companies are treating global warming and melting Arctic sea ice as an invitation to drill for more oil, instead of a warning to move away from climate changing fossil fuels.
We need to draw a line in the ice or the Arctic oil rush will be on.