Not long ago, I was walking out of the Unitarian Church I attend in Princeton. From the chapel I could hear faint notes of beautiful music, piquing my interest. I reentered the building to find not the usual pianist there--but a remarkably young man playing as his parents listened intently and coached his movements.
Since that first encounter, I have been privileged to follow the young pianist's--Charlie, who is 15--blossoming career. Among his many accolades, today Charlie ranks as one of the very best junior pianists in the country, and it is easy to hear why when Charlie plays. He has also won top prizes at international competitions, as well as performance spots on the Ellen DeGeneres Show and the Oprah Winfrey Show. Amazingly, he started breaking world records at the age of eight when he performed in all three Carnegie Hall concert halls.
What is inspiring about this story though is not that it's protagonist is a talented young man--but, rather, how Charlie has grown into a community leader who uses his gifts, talents, and influence to help other young people achieve their dreams.
One thing that Charlie has learned thus far in his career is the value in staying connected with the community and making charity a central focus of his work. He has been giving benefit concerts for years and was able to find meaningful impact through this practice. Today, he is working hard to startup a charity of his own--one that helps young musicians connect with their own musical studies as well as with their communities, by giving benefit concerts. He has even set up his own crowdraising page to fund this endeavor.

Charlie has been giving benefit concerts since age eight!
I asked Charlie to share with me how he got inspired to do all of this great work, and what advice he might have for his peers with similar aspirations.
Steve Mariotti: I would call what you are doing with your music career and charitable activities entrepreneurship. Do you see yourself as an entrepreneur?
Charlie Liu: I'm not sure if I am an entrepreneur yet, but I'd like to think of myself as a leader. I try to take advantage of my reputation as a pianist by giving back to the community through benefit concerts. Now what I am trying to do is to raise funds to create a music foundation. Through it, I will try to take my benefit concert model, scale it, and turn it into a bigger success and a very positive experience--not just for myself, but all young musicians that could get involved and the communities that benefit from it.
SM: What was your biggest failure and what did you learn from it?
CL: Well, one of my biggest failures I am also pretty proud of. I started an event with my friends and family called the "Young Artists for Haiti - Worldwide Piano Prodigies Collaborate." A company called D2 donated video editing efforts, and we had some of the world's top piano prodigies, and got hundred of thousands of video views. However, fundraising-wise it was not successful. The direct donation through the video links was low, far below the worth of the time and efforts the volunteers donated in making the video.
What I've learned was that the time taken to organize and produce the event was too long that time, and thus when our video came out, most people had already donated. Plus, the timing and lack of promotion were probably the main reasons why it wasn't a fundraising success. But I also learned that even when financially it was not successful, the event was motivational and inspirational for all of us who worked on it.
SM: What was your greatest success and what do you think made it possible?
CL: I've performed on the Ellen DeGeneres Show, Oprah Winfrey Show, set a world record to have performed in all 3 concert halls in Carnegie Hall at only age 8, performed for Queen Rania of Jordan, Bono of U2, Hugh Jackman etc. I am also the 2nd most successful American junior pianist in 2015, winning four top prizes at the best junior piano competitions in the USA.
But my biggest philanthropic success came at my two benefit solo recitals, which raised over $3,200 for a Children's Hospital and local rescue squad.
I think the key to these successes are plenty of hard work and good will. Not just the hard work of myself, but also by my family and volunteer helpers. I thank my audience for the success too, and it's not a surprise that many would be glad to help out the community while enjoying world class music.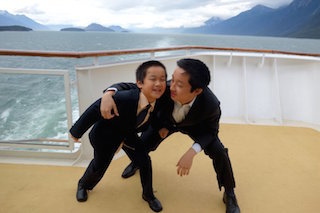 Charlie and his younger brother William
SM: Who or what has been most inspiring to you in your business career?
CL: Lang Lang is my model as a pianist. He's not only brilliant and one of the most successful pianists ever, but he also spends tremendous amount of time working with philanthropy, working to improve music education all over the world, and creating a lot of events to spread the joy and love of classical music among everyone, young or old. He was successful because of his talent, hard work, and also a keen business sense. Whether I become a career musician or not, I think his career is a great model for a successful and respectful career.
SM: What are some of the biggest challenges you've faced in getting your idea off the ground?
CL: You have to have a great idea and great marketing. Some might say having one of them is good enough, and it's probably true. But having both is the recipe for a fast and lasting success. But I call them challenges because great ideas are not easy to come by, and even if you do have a great idea, you can't succeed if no one knows about it. Of course, if one's lucky, anything could happen but you can't count on that.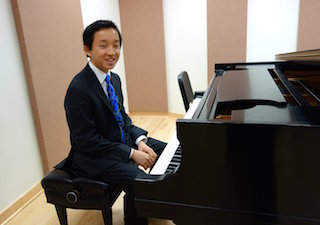 SM: What are four tips you would give to younger students in your industry?
CL: I learned from my past benefit events and also piano competitions, there are four things I consider the most important: 1) hard work, always; 2) think and adjust along the way; 3) failure is OK; and finally 4) perseverance is key to realizing your dream.
Calling all HuffPost superfans!
Sign up for membership to become a founding member and help shape HuffPost's next chapter