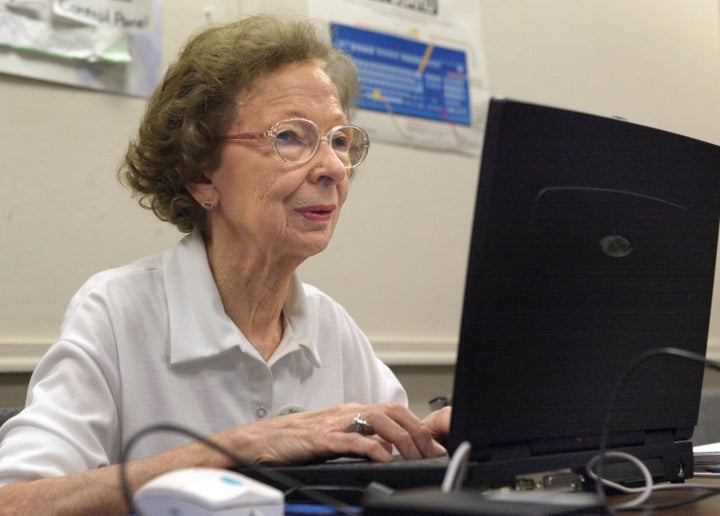 Evelyn Newman's part of a new generation. An engine of the St. Louis arts and culture scene, she runs an organization that helps nonprofits boost revenues. She's becoming conversant in social networking and marveling over Facebook's power to bring down Egypt's dictatorial regime. She plans to start a blog that will curate photos and anecdotes from her travels to 152 countries. She may also use the blog to pass along recipe and shopping suggestions.
Evelyn Newman is 90 years old.
"As I'll say in my blog, just because I'm 90 doesn't mean I'm not still interested in clothes, in fashion or in cooking. I like everything I liked before," she says. "But of course, some things have changed. I'm now only interested in clothes with long sleeves because of wrinkled arms. I'm cooking with less salt because I know what it does to your body."
When I grew up in the 1960s and 1970s, "old" seemed to describe people in their 70s or early 80s. Now we have a whole generation of people living well into their 90s and 100s -- and lots of them are truly living well, people like Evelyn and her 99-year-old husband Eric Newman, a researcher who last year made a major breakthrough in numismatics (the study of coins and currency); or people like 104-year-old Irving Kahn, an investment advisor who goes into his office every day; and Lilly Port, who at 96 traveled to Israel, Turkey, Indonesia, Singapore and Australia.
These active nonagenarians and centenarians constitute a new generation that hasn't existed before in large numbers.
What can we learn from them?
But how about Evelyn, for whom mobility is a challenge, yet she's also engaged in her home-based nonprofit work and surfing the Internet? Or Alice, 94, a ceramicist experimenting with new glazes while living in her Hudson Valley farmhouse of 55 years? (She recently got a new puppy after the death of her elderly Irish setter.)
Understanding these people's needs may deepen our knowledge of the needs of the frail elderly -- and may give us a glimpse into our own later years.
The world's population is aging fast. The number of "oldest old" -- those 80 and over -- is expected to increase 233 percent between 2008 and 2040. That compares with a 33 percent increase for the total population, and a 160 percent rise for those over age of 65. So this new generation -- ninety- and one-hundred-somethings living full lives -- resembles the future.
"One of the first things you have to cope with," says Evelyn, "is the role reversal. That's been fascinating to me." Her two adult children help their parents with several tasks, including bookkeeping and the heavier housekeeping. They have been model caregivers, says their mother.
"Our children have handled the role reversal in a way that is dignified and very successful," she says. Can she define that success? "It's about the child realizing it would be undignified, maybe even hurtful, to press too hard. If you're fragile and can't do something or don't understand it, that's one situation. But if you might need help, but can still do many things yourself, then the way in which help is offered is important."
Make sure the parent knows that you are not taking over their decision-making, she says. Let the parent make the final decision. And take time to really understand an older person's capabilities. (My VNSNY colleague Amy Druin explores how to tackle such conversations in her recent blog, Let's Talk About Aging.) Explains Evelyn, "There may be many things that the person is still able to do, only slower and with more difficulty. The more they do, the more they'll continue to do."
She sees parallels between what she wants from a caregiver today and what she did as a young parent. "You let the child do as much as he can, on his own, so he maintains his independence. You offer help in a sensitive way, never failing to acknowledge what he can already do," she says. "So, you see, the role reversal is complete."
The desire for sensitivity extends beyond family, as well. Take the common situation of helping an older person cross the street. "There's a way to do it, and a way not to do it," Evelyn says. "Don't be terribly overt, jumping up to do it. People do want to be helped, but they're sensitive about how much help they want."
One of Evelyn's greatest concerns these days is her loss of mobility; she no longer drives, and she and her husband have curtailed their world traveling. "I'm continuing to think and work," says Evelyn, "and I have new ideas every day. But travel, eyesight, hearing -- all of these do present challenges. So you adapt." She paused, then added with a laugh, "I'm dancing as fast as I can. That's what you have to do."
To compensate, Evelyn gravitates to the Internet. "When you can't get around like you used to, you need to do something to make you go forward," she explains. "With the Internet, it's limitless where I can go." She uses her new Mac to start her blog and has begun to tackle social networking. "Boy, does this feel like a new frontier," she admits. "I have to re-wire my brain."
She's not alone. Between April 2009 and May 2010, social networking among Internet users aged 65 and older doubled from 13 percent to 26 percent, according to a study by the Pew Research Center. Technology, including social networking, offers a powerful resource for seniors. Among other benefits, it keeps older adults engaged socially and staves off depression.
Alice, the ceramicist, hasn't yet used Facebook on her Mac. But she uses the laptop for many other functions, including the management and cataloguing of her artwork. She uses the Mac's "genius bar" when she has questions and frequently signs up for one-on-one tutorials.
"This is a fascinating part of life," Evelyn says "The whole mindset is critical. It all has to do with being interested in what's going on."
She points to her husband, who last year found a long-lost sample of currency illustrated by the ornithologist J. J. Audubon. Eric had been trying to learn the illustrator's identity for years, and his success received a good deal of media attention.
In fact, Eric's kind of goal-oriented dedication could actually be keeping him alive longer. We all know that doing what you love adds up to a satisfying life, and early studies show it can also boost longevity. The National Institute on Aging reports that people with hobbies may be at lower risk for certain health problems, including dementia. Those who have a strong reason to get out of bed in the morning are, simply put, more likely to do just that.
Irving Kahn, the investment advisor, agrees. The secret to his long life is waking up each day "with something to look forward to." The chairman of Kahn Brothers Advisors works full-time alongside his son and grandson to manage hundreds of millions of dollars. Asked what he'd do if he couldn't work, he answers, "I would pay you. If you took this job away from me, I'd try to buy it back. The important thing is to keep that brain going."
Along with his 108-year-old sister Helen, Irving joined more than 500 healthy people ages 95 to 112 to participate in the Albert Einstein College of Medicine Longevity Genes Project. The study director, Dr. Nir Barzilai, poses a compelling question: Is it passionate engagement in life that fosters longevity, or does the genetic predisposition to long life somehow lead to pursuing a passionate existence that simply continues in later years?
In either case, Evelyn Newman keeps busy thinking. "I'm constantly being asked for ideas," she says, "and I do have many in the pipeline. You have to make adjustments when you can't do everything as well, but I've been very lucky that I can use my brain to continue to manufacture concepts."
Add to the conversation with your own secrets of successful aging, or a story about someone whose ninth or tenth decade inspires you, or maybe you have suggestions for a new name that we might use to describe this new generation of healthy older adults.