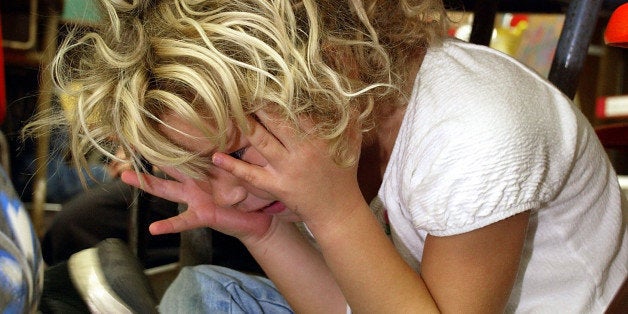 LOS ANGELES -- You're a parent, volunteering to supervise recess at your child's campus when suddenly you spot him. A masked shooter, armed to the teeth, heading straight into the building.
Do you consider yourself responsible for the students around you, and herd them to a safe place? Or do you try to locate your own child first?
Los Angeles Police Department Officer Charles Dinse posed this startling scenario recently to a group of 60 or so parents gathered in Woodland Hills, Calif., to hear his presentation on active-shooter drills. There is no right or wrong way to react to the scenario, said Dinse, but hypothetical situations like these are what schools need to grapple with in a post-Sandy Hook world.
And the more schools have active-shooter drills, the easier it'll be for staffers to make split-second decisions that could end up saving lives, he said.
During his presentation, Dinse compared the need for such drills to the need for fire drills, which became the national norm after a fire in 1958 at Our Lady of the Angels school in Chicago. Because of the reforms instituted after the tragedy, which killed 92 children and three nuns, deadly school fires have largely been eradicated in the United States. No other school fire has killed more than 10 people since then, according to the National Fire Protection Association, and an average of only 1.5 people per year died on an "education property" from 1980 to 2005, most of whom were adults or "juvenile firesetters" on school grounds after hours.
"Everyone, from yard workers to principals, needs to know what they're going to do" during a shooter scenario, said Dinse during the presentation, which is part of an ongoing LAPD outreach effort started a few months after Sandy Hook. "Even the kids have a responsibility."
For example, Dinse said administrators should consider installing lockdown alert systems that are distinct from fire alarms, as well as panic buttons with a direct line to police stations. Teachers need to learn how to lock and barricade their own doors, as well as quickly cover up windows to block shooters from looking inside. Finally, children need to be taught about gunman scenarios, and how to listen when an adult tells them to run or hide.
"If you don't know how to lock your door under low stress, you're not going to be able to lock your door during go time," Dinse told HuffPost. "The quicker the school can respond to protect themselves, the less likely they are to have casualties. Without that training, you just have chaos." In this Aug. 13, 2013 photo, police officers participating in an active-shooter drill move down a hallway in a college classroom building in Salisbury, Md. (AP Photo/Patrick Semansky)
There have been 44 school shootings on K-12 and college campuses since the December 2012 massacre at Sandy Hook Elementary School, according to an analysis released recently by the anti-gun advocacy group Moms Demand Action. This figure includes assaults, homicides, suicides and unintentional shootings.
Such statistics make Dinse and others wonder why active shooter drills aren't treated like fire drills -- at least in California, the most populous state in the nation. Dinse, who has two young children, knows he can't enact change through the legislative process as an LAPD officer, so he's hoping his community meetings will increase awareness.
The federal government does not explicitly recommend that schools conduct active-shooter drills, but a 2013 guide to school emergency plans published by the FBI and the U.S. Departments of Education and Homeland Security provides a few guidelines on incorporating them into emergency plans. Given the leeway, most school districts are left to decide on their own if and how to integrate active shooter drills.
Currently, 25 states, including Illinois, Florida, Texas, Minnesota and Virginia, have laws that explicitly mandate schools practice some form of drill for human-caused threats, such as shootings or bombs, according to the Education Commission of the States, a bipartisan research nonprofit. Thirty-two states have laws that mandate some kind of emergency drill beyond fire, earthquake or tornado, but leave the definition up to local entities, a rep from the National Conference of State Legislatures said to HuffPost. A recent bill that would have required law enforcement lockdown drills in California schools failed to move forward in the Legislature because it was flagged for its potential to add costs to California's already multimillion dollar mandate for annual school safety plans. New Washington, Ohio, Chief of Police Scott Robertson talks with fourth-grade students as they huddle in closet a during a lockdown drill at the St. Bernard School, Jan. 14, 2013. A month after the shootings at Sandy Hook Elementary School, St. Bernard Principal Susan Maloy decided to hold lockdown drills each month to increase school security. (AP Photo/Craig Ruttle)
It's that cost, both in time and financial resources, that makes criminologist Jessamyn Tracy skeptical about comparing active-shooter drills to fire drills. Tracy, who recently helped develop a report for the Department of Justice on crime trends, believes active-shooter drills may do more harm than good. They could take resources from crime-prevention issues that affect children the most, such as physical assault and sexual victimization, she said.
"The chance that someone could face a fire is reasonable," said Tracy to HuffPost, "But the chance that any one person is going to be involved in a mass shooting -- whether in school or out of school -- is incredibly low." For instance, the DOJ crime report states that 71 percent of U.S. teens aged 14-17 have been assaulted, 32 percent had been maltreated and 28 percent were sexually victimized at some point in their lifetime. By contrast, mass shooting incidents (in which four or more people are killed) were responsible for less than 90 deaths out of about 12,000 homicides in the U.S. during 2012, according to PolicyMic.com.
And since research on how active-shooter drills impact children is still in its infancy, districts could be making decisions with unforeseen consequences for children and schools.
Examples of children traumatized during such drills are surfacing around the country. Last December, administrators at a middle school in Austin, Texas, surprised their staff and students with an unannounced active-shooter drill that involved emergency teams rattling doorknobs and beating on doors, as if they were trying to break into classrooms. Both children and teachers screamed and cried during the drill because they thought it was real, reported Texas Monthly, and one teacher "had a complete meltdown," the article detailed. In Manhattan, Kan., an active-shooter drill that involved law enforcement inspections reportedly gave at least one young student nightmares about being killed by a "bad guy," reported The New York Times.
"We clearly found that if the drill was done like a lesson, and they practiced it, it appeared to increase their knowledge of what to do without increasing their anxiety," said researcher Amanda Nickerson, Ph.D. to HuffPost. "There were no scare tactics, no dramatization, no fake guns and fake blood -- that's a really important distinction."
Nickerson, who is now an associate professor at the University at Buffalo, SUNY, helped develop a guide for the National Association of School Psychologists on conducting crisis drills based on her research (one big no-no: Staff and students must never be tricked into believing the drill is real). But she said more studies are needed to examine active-shooter drills' effects on school children's emotional functioning.
"There really is very little, if any, empirical research on this issue," said Nickerson. "It's sorely needed."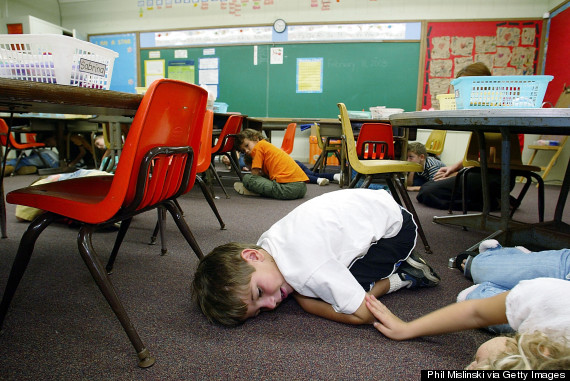 Kindergarten students lie on the floor during a classroom lockdown drill in Oahu, Hawaii. Lockdown procedure is used to protect school children from possible threats on campus such as intruders, terrorism or military attacks. (Photo by Phil Mislinski/Getty Images)
There's also no empirical evidence about whether active-shooter drills actually save lives. To conduct such a study would require "thousands of schools studied for many years," because mass school shootings are so rare, said Dewey Cornell, Ph.D., a threat assessment expert and a professor at the Curry School of Education at the University of Virginia.
Anecdotal evidence from Sandy Hook suggests that the effects of these drills are mixed. The 2012 shooting in Newtown, Conn., is one of the worst mass school shootings in U.S. history, and it happened at a school many considered to have one of the best campus security systems. For instance, just weeks before Adam Lanza carried out the attack, Sandy Hook underwent an active-shooter drill in which teachers covered their classroom door windows with black construction paper to prevent anyone from seeing inside.
It's that piece of black construction paper, Dinse argued, that saved lives; Lanza reportedly bypassed the classroom that still had the paper taped to the door. However, neither the drill nor the security system prevented Lanza from shooting his way into the school.
But during the Arapahoe High School shooting in Colorado last December, authorities attributed the quick neutralization in part to the school's "well-rehearsed lockdown practice," instituted after the 1999 Columbine school shooting, reported CNN. Karl Pierson critically wounded one schoolmate before killing himself, but he had packed enough firepower to do a lot more damage.
"We know that perpetrators often fantasize about their deeds long time before committing them," wrote Böckler in an email to HuffPost. "If they are part of lockdown drills and the like, they will anticipate this in their plans."
In 1998, for example, two students in Jonesboro, Ark., pulled the school fire alarm to trigger an evacuation. As children and teachers streamed out of the building, the boys started shooting, killing five people and injuring nine others before they were caught.
Dinse believes stories about botched shooter drills and the varying effects they've had on staff and students only underscore the need for more comprehensive training. He argues that it doesn't take many resources to teach staff how to lock their doors or cover their class windows.
"There will be more shootings. It's inevitable because we don't pick up on signs of mental illness or bullying," he said. "Help us protect the flock. We're coming, but you need to step up in schools and classrooms to spread the word."
Related