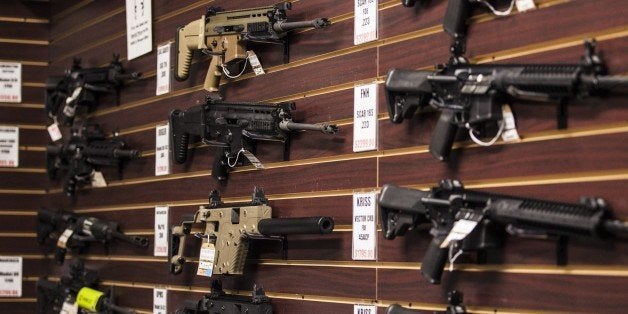 I am a supporter of active shooter trainings and of the courageous first responders who deal with these tragic events in America's K-12 schools, colleges, and universities. With the recent shooting at Umpqua Community College in Roseburg, Oregon (the 4th of 5 fatal college shootings this year) needs to be some necessary soul searching for all of us. This should take place at the same time that families in yet another community mourn a loss that will never go away.
The important work of these professionals working in public safety cannot be understated.
But we must clarify something as a country since we have developed what President Barack Obama aptly called a 'routine' for responding to rather than ending school shootings. The current routine involves four stages:
A tragic event occurs and valiant first responders go to secure the area and save as many lives as possible.
The news media enters into fully-staffed mode, trucks with satellite dishes show up, and round the clock coverage provides compassionate viewpoints from all angles and polarized opinions too.
The President gives remarks of comfort, recognizing that we as a country need to change in order for these terrible events to be controlled and prevented.
Memorials take place, families and communities mourn, and all those closely affected by previous school shootings are especially grieved -- beyond the sorrow they already carried once before and still carry.
But our cycle does not do anything more than recognize a tragedy in America for which we as a nation have not put in place any national containment strategy at all.
I imagine that we as a nation should be giving free books on prevention to superintendents and principals across this land. We should be leading national trainings for free that are not just for those who can afford them or are interested -- but for all.
Currently, the largest national prescription for school shooting prevention happens to be active shooter training. Everyone wants to be prepared. And we should be. Just like we need to be prepared for all types of disasters, manmade or natural.
However, let's consider the following two illustrations and not miss their combined point.
Cancer Prevention -- Imagine if the only work of prevention was to enroll anyone who came to a health clinic into a program that taught them how to deal with cancer once it struck.
Car Crash Prevention -- Imagine if the only defensive driving classes that were given to younger or other at-risk drivers only taught them how to deal with a wreck once it was occurring - including how to steer to avoid people, landmarks, trees, and ravines.
Instantly, these illustrations are unnerving, even upsetting, in the face of the devastating loss of lives from school shootings. Indeed for drivers to be safe, they need to be fully present (no texting, no substances, no rage) and they need to be highly skilled. You can't prevent a car crash from happening only by knowing how to steer the wheel during one.
Likewise. we know that cancer prevention that works must change our lifestyle. In other words, to keep healthy and cancer-free, even survivors of cancer must modify everything: their eating, resting, recreation, along with their emotional outlook, positive attitude, and exposure to anything that causes cancer to grow (smoking, high stress, asbestos exposure, and so forth). You cannot prevent cancer only by knowing how to live after it has occurred.
I have a family member who is a 30+ year survivor of cancer. This loved one remarked that positive attitude and faith outside of yourself (having hope) alone are huge indicators in the lives of many people who beat this disease, along with the aid of all the treatments that modern medicine can provide.
But back to the story of prevention of school shootings -- we cannot prevent them by simply knowing how to act when they occur. Instead, we need to roll the clock back and learn more ways to support children and young adults -- males oftentimes -- who are struggling emotionally.
Anyone who has heard the phrase 'Boys will be boys' knows that male immaturity is a tolerated aspect of America. Instead, the phrase should be, ' better by supporting emotionally.' Also, all of us as advocates of social emotional learning for boys need to find more ways to connect with boys who struggle.
The cost of prevention is really the price-tag of our current criminal justice system for young men. Millions upon millions (billions actually) are spent in keeping criminals locked up who are males. But the cost of prevention for these same males when they are younger through deeper social emotional learning programs, through broader mental health outreaches, and even for extra school staff simply to work more deeply with boys in relationship building could only pay off later on. An ounce for prevention instead of a ton for a cure.
The cost of doing nothing is simply to let the routine of tragedies, news coverage, Presidential consolations, and memorials continue. The cost of prevention is much more within reach. Ask any family who is grieving this terrible loss.
Instead of enlisting a draft to solve this problem, we should create focus groups of 15-year-olds and ask them if they want their country to systematically, comprehensively solve the problem of gun violence in schools. Ask them and then listen to what they say.
Active shooter protocols and the dedicated work of courageous first responders are not enough if we are finally aiming to solve this problem. In addition, standing by and doing nothing is completely unfair to this generation. And so far, not enough people are listening to school shooting survivors, to families who are grieving incredible losses, and to advocates who have solutions. Instead, the routine keeps winning.
It's time to End the Routine of the national epidemic of school shootings in America. It's time to embark on solutions that work. Lastly, we need a Presidential commission to lead this task so that it does not get waylaid any longer.
Dr. Jonathan Doll is an advocate of school safety and teacher effectiveness. He wrote the book Ending School Shootings and was the keynote speaker at Post University's May 2015 conference, "Building resilience in lethal school violence prevention."
Related
Popular in the Community