Texas witnessed the worst mass shooting in the state's history on Sunday when a gunman opened fire at a small church in Sutherland Springs, killing 26 people and wounding 20 others. Roughly half of those killed were children, including the pastor's 14-year-old daughter.
The tragedy renewed a bitter 2nd Amendment debate, coming on the heels of the deadliest mass shooting in recent U.S. history that left 58 people dead at a country music festival in Las Vegas in October. In the wake of Sunday's massacre, Texas Attorney General Ken Paxton (R) suggested parishioners arm themselves as a safety precaution.
But Paxton may have overlooked what security experts say is the most effective measure for responding to attacks: planning and training for the event of a shooting.
Marianne Alvarez is a former law enforcement officer and director of risk management at the ALICE Training Institute, which teaches institutions how to prepare for active shooter events. Alvarez also formerly served as the director of security at a church in San Jose, California, and she offered tips for houses of worship and other institutions on how to prepare for a potential attack.
ALICE is an acronym for alert, lockdown, inform, counter and evacuate. These are the basic steps the institute suggests for responding to a shooting.
"What we found is that law enforcement is not getting there in time."
In prior years, Alvarez said, institutions were trained to emphasize the "l" ― lockdown. The main message for targets of a shooting was to close and lock doors and stay put until law enforcement arrived on the scene. But although a lockdown may be effective in some scenarios, people need to be aware of other measures, she said.
"What we found is that law enforcement is not getting there in time," she told HuffPost. "It takes law enforcement typically five to eight minutes" to arrive on the scene of an attack, "and it's during that time when all the killing typically happens."
Moving through the steps of the acronym, Alvarez said "alert," is crucial for getting people apprised of a potential threat.
"A church could have camera system in place, or a security team, or the alert could be someone screaming, 'Man with a gun.' That alert puts people in a different mindset," Alvarez said.
One of the difficulties for churches and other "soft targets" is that people at those places generally aren't on the lookout for attacks.
"People may go to a house of worship and have a mindset that it's not going to happen here," she said. "It's a place where you feel safe. It's a sanctuary."
When an attack does occur, she continued, "it's a huge shock and they might freeze."
Training for potential risks like an active shooter can ensure that instead of freezing, those present are better able to "respond under pressure."
Closely related to communicating that initial alert is making sure congregants are fully informed about the most up-to-date information.
"Say you have an alert going on and now the shooter is inside," Alvarez said. "You want to give continual, updated information so everyone inside can make good decisions based on what's going on and where the threat is."
That might include locking and barricading doors. But if a shooter breaches the church building, then congregants can "counter" the attack until they're able to evacuate.
"You're throwing whatever you have ― books, bottles, Bibles."
"When faced with no other options," Alvarez said, "you're going to counter the killer. That could be 30 books coming at his head if it's at a school, or if it's a restaurant, then bottles. If it's a church, you're throwing whatever you have ― books, bottles, Bibles. The important thing is to hit your target."
Noise, movement and distraction are also important measures that Alvarez said many people forget in the moment of an attack. "Get your shooter off the target, then try to evacuate. In these situations shooters are often reloading, and that's a time when you can evacuate," she said.
Many churches have pre-emptive security measures in place, she said, and that's something all organizations should take time to implement.
Alvarez urged that churches review their policies and procedures onsuch matters as whether doors are locked during services and whether there's a security person monitoring any open doors while congregants are inside. Any exterior security volunteers should have a reliable means for communicating with people on the interior ― whether via a headset, handpack radio, or smartphone application.
"A lot of churches have volunteer security teams, hopefully led by someone with prior experience in law enforcement or security," she said. "They might also have civilian security walking the perimeter with bright safety vests on. It's important not just for shootings but also burglaries, thefts, or in the case where a person is bothering someone."
In a time when mass shootings are becoming increasingly familiar events, Alvarez said the demand for active-shooter training sessions has risen rapidly.
Three of the worst mass shootings in modern U.S. history have now occurred in the past 17 months, and Alvarez said every attack adds a sense of urgency to the work she does.
"Every time one of these shootings happens, we have to reach more people more quickly," she said. "Every citizen of the United States needs to have this training because we don't know where it's going to happen next."
Shootings are hard to predict and hard to stop but, Alvarez said, "the more preparation you do, the better your chances are."
Support HuffPost
The Stakes Have Never Been Higher
Before You Go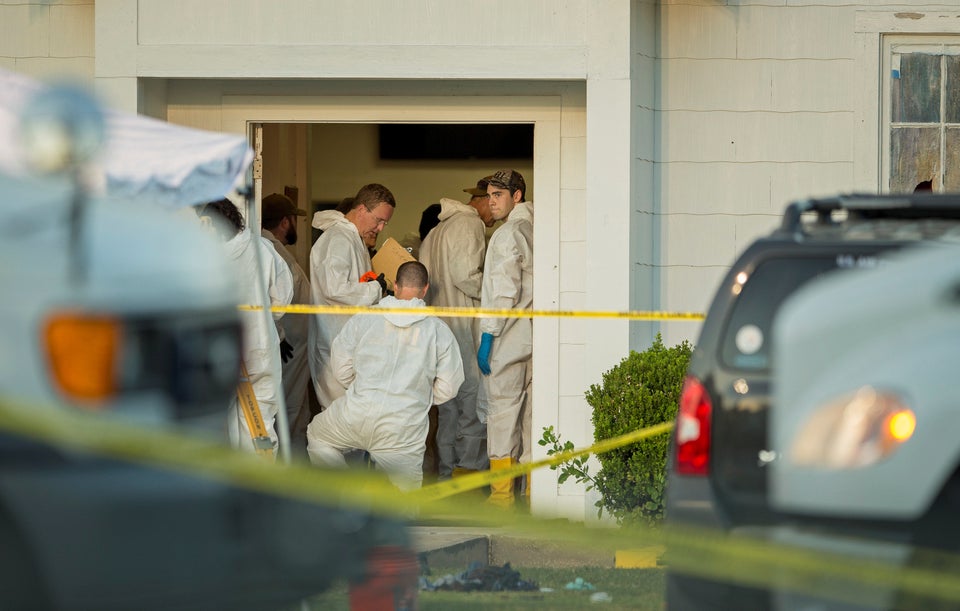 Texas Church Shooting
Popular in the Community