At times it can be difficult to express one's feelings when there's overwhelming instances of injustice. Helplessness can often lead to submission and accepting the circumstances surrounding us. Yet it is through these troubling times that there is a need for an alternative form of expression; one that captures the sentiment and allows an appropriate form of catharsis.
Art often emanates thereafter, and a voice, pencil, camera, paint brush, or digital medium becomes the soothing balm to alleviate the pain. An image, a word, or a sound can help us cope and convey the suffering, traversing language, religion or region.
A recent example of this is the #BlackLivesMatter movement:
And as it [movement] grew, it planted seeds in artists' minds. And from these seeds grew images of anger, solace, fear, hope, empowerment. Some artists reap signs of peace and serenity, but many find the need to dig deep. For some, it is a call to harvest images of rage. And some crave the therapeutic reprieve that comes from meditating in the garden of pictures they conjure up in their minds (Fogg, 2016).
Since January 16, 2015, an 83-year-old man has been on a hunger strike to bring awareness to Sikh political prisoners in India. Leaving his home in Lathrop, California, Bapu Surat Singh Khalsa (Bapu Ji) began a hunger strike in Hassanpur, Punjab, seeking the release of political prisoners who have completed their sentences.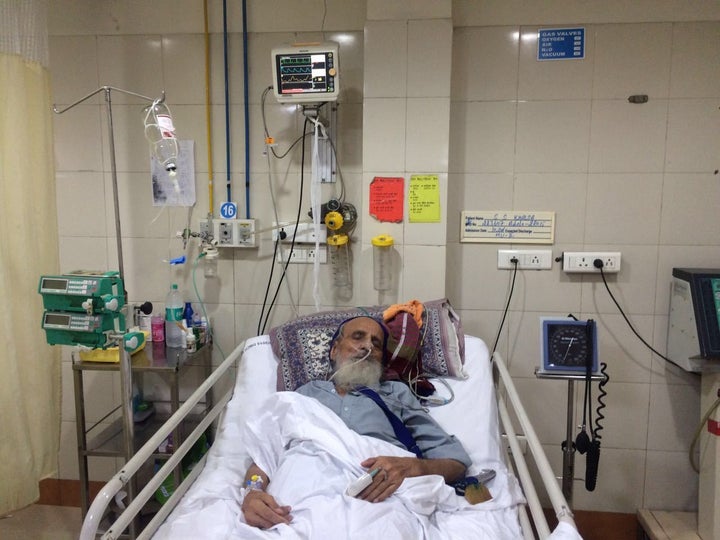 Since its conception, Bapu Ji has been force-fed, harassed, and physically abused by the Indian authorities in attempts to coercively end his struggle. Despite this intimidation, Bapu Ji has remained firm in his resolve. As a result, nine prisoners have been granted freedom, and other long-serving prisoners, parole, for the first time in decades.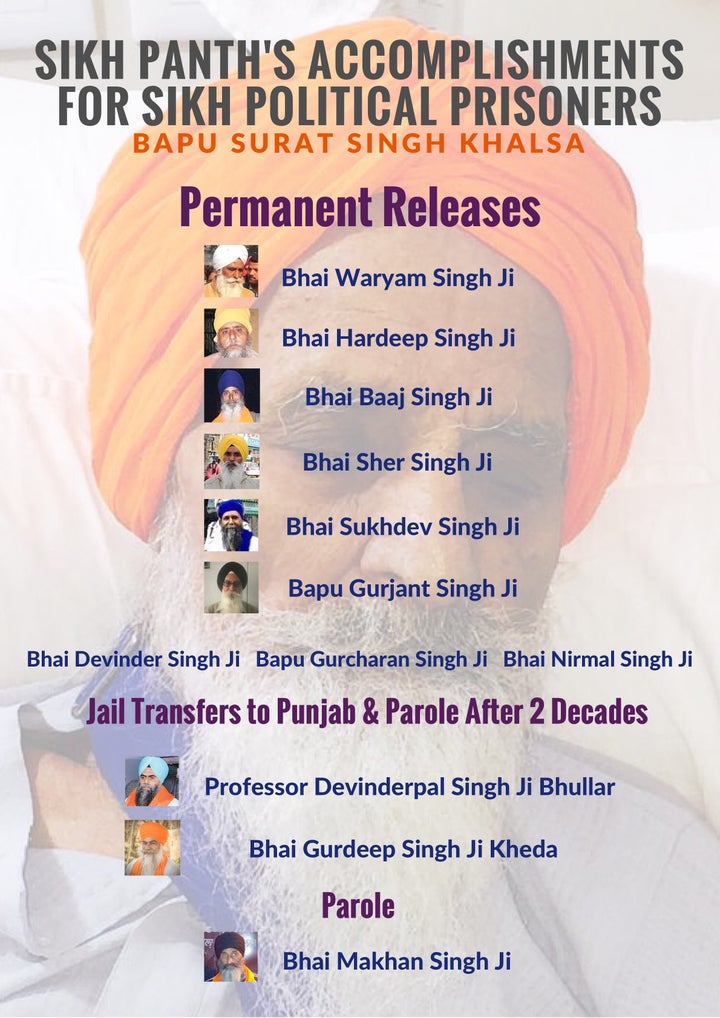 The most visible aspect of this hunger strike has been the physical transformation of Bapu Ji's body. While the Indian authorities continue to hospitalize and force-feed him, the image of protruding bones and skeletal frame remains ingrained in the minds of those that have been following his struggle since last year. Although alive, Bapu Ji's body has endured permanent damage due to the hunger strike.
Heroically, his continued struggle has resulted in political prisoners being released. However, many prisoners still remain imprisoned. This ongoing injustice has touched the hearts of countless Sikhs and human rights activists around the world. Supporters have organized conferences, rallies, blood drives, and more recently art exhibitions, to raise awareness for Bapu Ji and the Sikh political prisoners.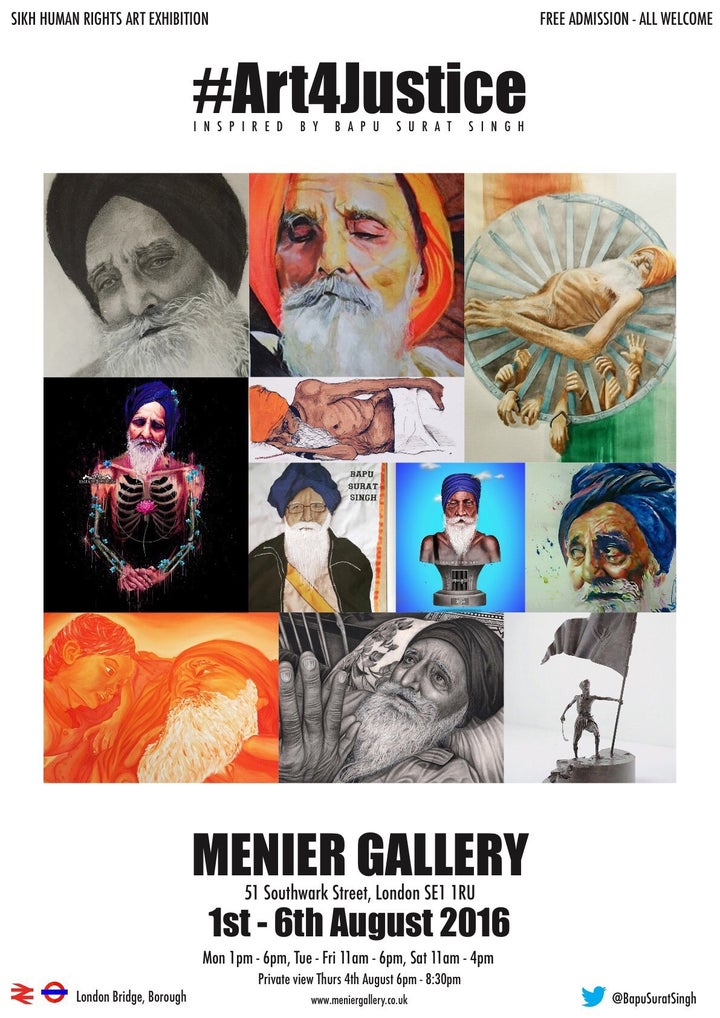 Artists have brought a voice to this hunger strike through the series of #Art4Justice exhibitions. Originating in Birmingham, UK, and moving through Bristol, UK and California, USA, the Menier Gallery in London, England hosted the fourth exhibition from August 1-6, 2016.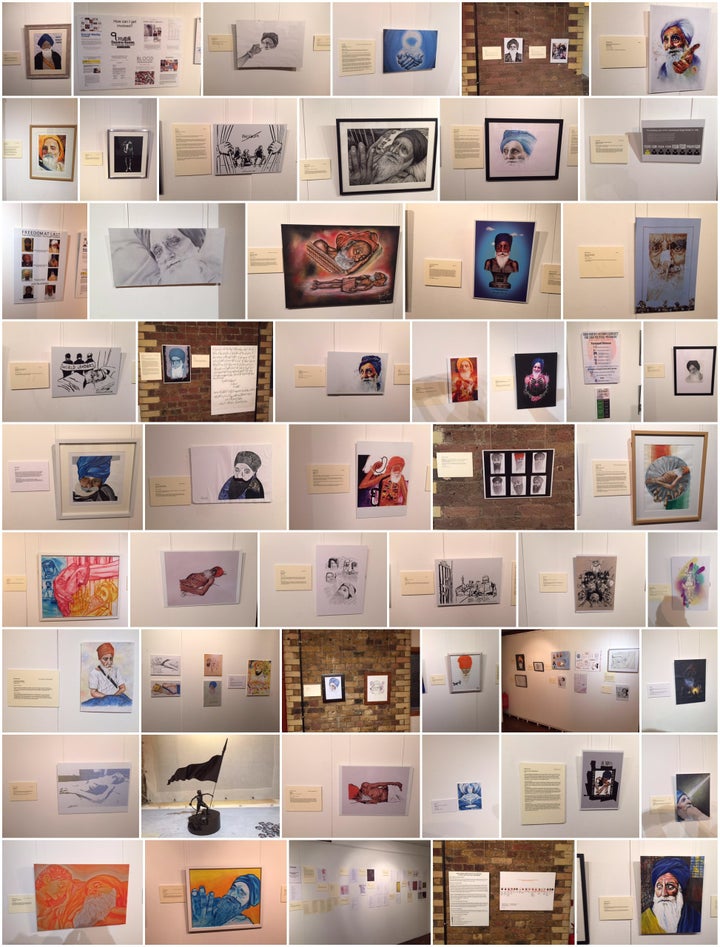 The London #Art4Justice exhibition featured work from 50 artists, and each piece conveyed a personal interpretation of the ongoing injustice in India. From paintings depicting Bapu Ji's skeletal frame, cloth pieces portraying Bapu Ji at the beginning of his hunger strike, to a sculpture of Bapu Ji's hollow body standing in resilience, artists brilliantly captured the substantive sentiments that have culminated since January of last year (WARNING: photos below contain graphic content of Bapu Ji's emaciated body).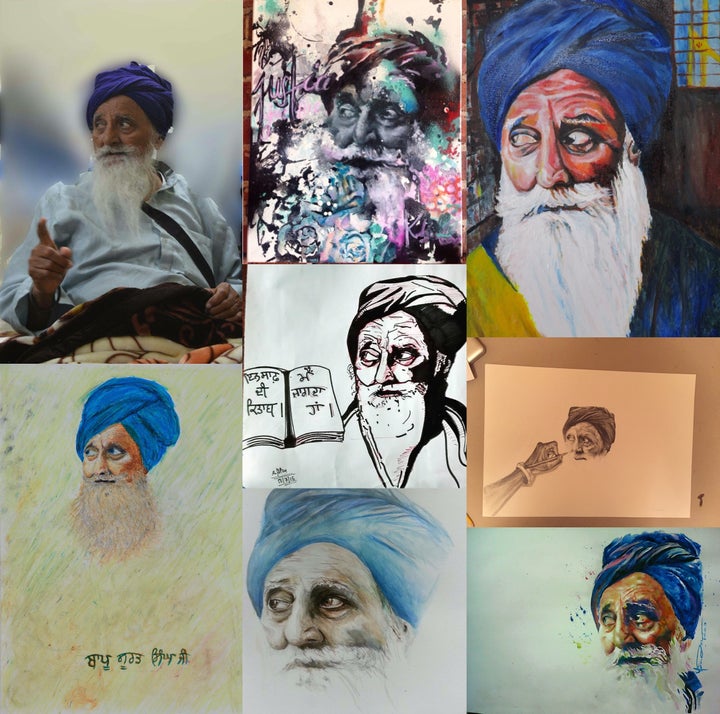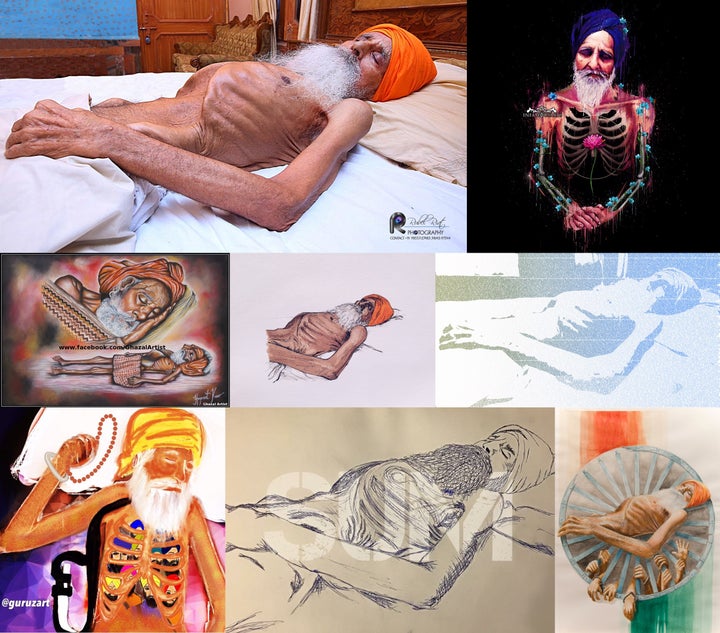 Invoking tears of sadness and inspiritment, the art delivers a message of hope, admiration, and vivification. While physical voices may be stifled in India, the art serves to project an amplified voice, reaching the hearts of any being that feels for human rights and basic civilities. As many of the artists have stated, it was the images of Bapu Ji and the stories of those imprisoned that besought a need to draw, paint, create, and in essence, express.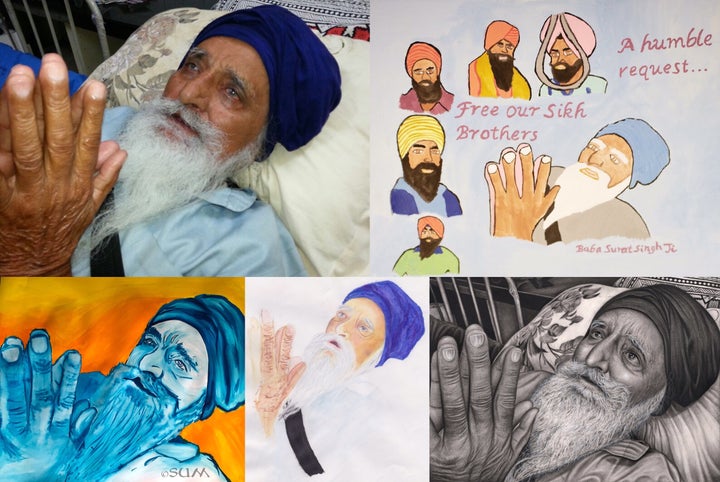 Bapu Ji himself, when shown some of the artwork in India, was moved at the depictions. There is something quite beautiful in the mutual resonance of inspiration, when the catalyst becomes invigorated by those compelled to act by the original source itself.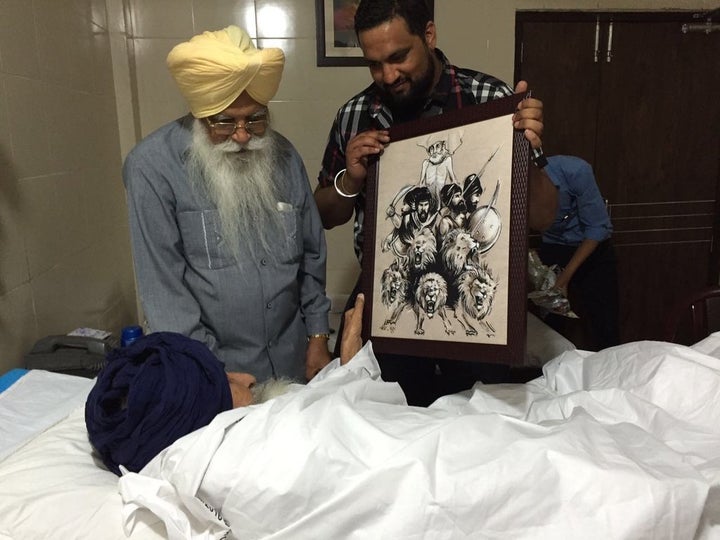 The #Art4Justice exhibition will continue its tour in the UK. For more information or if you would like to organize an exhibition in your city, please contact: freesikhpoliticalprisoners@gmail.com
For updates about Bapu Ji's hunger strike, please follow his struggle on social media:
Calling all HuffPost superfans!
Sign up for membership to become a founding member and help shape HuffPost's next chapter