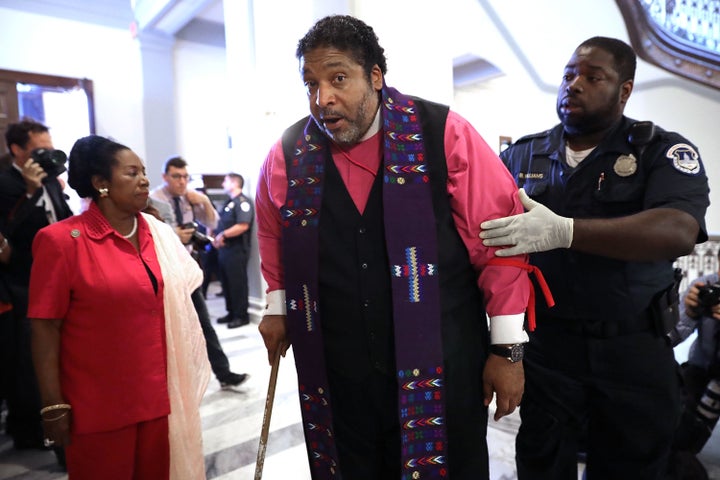 Interfaith activists protesting Republicans' proposed cuts to Medicaid were arrested today during an act of civil disobedience outside Senator Mitch McConnell's office on Capitol Hill.
Eleven protestors were taken into custody by U.S. Capitol Police after being warned to cease and desist, USCP communications chief Eva Malecki confirmed to HuffPost on Thursday. They were charged with crowding, obstructing, or incommoding. All 11 opted to pay fines and were released later in the day. 
The Rev. William Barber II, a prominent progressive Christian activist and president of the North Carolina NAACP, was among the four men and seven women who were arrested.
Speaking at a rally before the arrest, Barber told a crowd of about 50 protestors that it was imperative for people of faith to speak out against the Better Care Reconciliation Act, the Republican party's attempt at repealing and replacing President Barack Obama's Affordable Care Act.
"We're saying today it's time for other clergy to come," he said, according to Religion News Service. "It's time for moral agents to step up. It's time for us to go down to the house of power and challenge the way power is being used."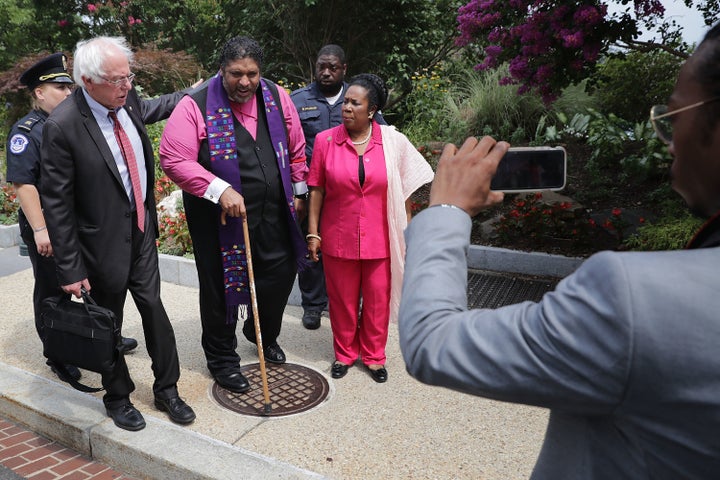 The interfaith clergy protesting the bill on Thursday believe it is an inherently immoral policy that requires a religious response.
The Rev. Traci Blackmon, executive minister of justice & witness ministries for the United Church of Christ, framed the protest in religious terms outside of McConnell's office.
"It is time to stop calling God by other names when you really want to call God capitalism. It is time to stop cloaking your greed in religious language," Blackmon said. "If you can turn your back on people who are suffering from conditions that will no longer be able to be treated, don't tell me you are pro-life."
"Health care is human right. Taking healthcare is sin. It's wrong. It's unjust. It's immoral," Barber said during the protest.
The rally, called "The March to Save Medicaid, Save Lives," aimed to send a "moral message that we cannot cut Medicaid – a lifeline for so many children, seniors and people with disabilities," according to a press release. 
Religious leaders joined together in song and listened to speeches as they marched through the Russell Senate Office Building to McConnell's office. Barber and Blackmon were also joined by Rev. Jennifer Butler, CEO of the progressive advocacy group Faith in Public Life and Rabbi Jonah Dov Pesner, Director of the Religious Action Center of Reform Judaism.
"Kill the bill!" Barber shouted during the protest, while his co-protestors echoed him. "Let the people live!"
Watch a video of the action below. 
REAL LIFE. REAL NEWS. REAL VOICES.
Help us tell more of the stories that matter from voices that too often remain unheard.
BEFORE YOU GO
PHOTO GALLERY
Inspiring Female Religious Leaders