Climate Change is Real, The Earth Needs Saving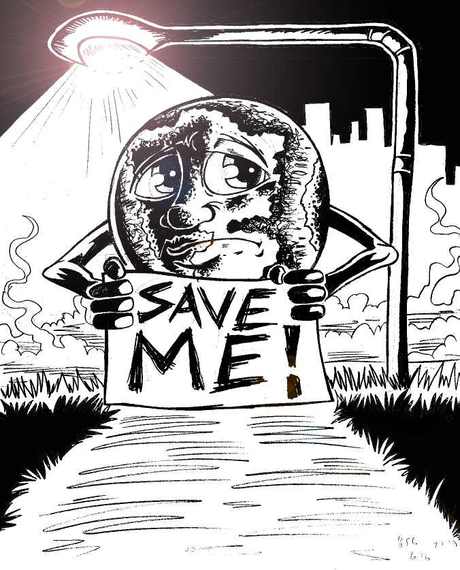 Activists speak out against Governor Tom Corbett's nomination for the Department of Environment Protection after he reveals he doesn't think climate change is harmful. (Photo Credit: C. Norris -©2013)
After years in the rumor mill, it's safe to say Mother Nature is bipolar, but it's not her fault. For decades, analysts have pointed to a steady decline in the Earth's natural environment. This troubling trend, they explain, is not simply a technical problem but has much to do with the way societies operate.
According to NASA, "Most climate scientists agree the main cause of the current global warming trend is human expansion of the 'greenhouse effect,' warming that results when the atmosphere traps heat radiating from Earth toward space."
With a host of gases contributing to the "greenhouse effect," such as water vapor -- the most abundant green house gas -- methane and nitrous oxide, the most important long-lived "forcing" of climate change, not surprisingly, is human activities such as deforestation, land use changes, and burning fossil fuels. NASA reports: "Humans have increased atmospheric CO2 concentration by a third since the Industrial Revolution began."
Despite all the years of scientific evidence and research, the embattled Governor of Pennsylvania has chosen to nominate someone to lead the Department of Environment Protection, who, in his own words, isn't aware that climate change can be harmful.
On the morning of December 4th, Chris Abruzzo, who has been Acting DEP secretary since April, spoke before the Senate Environmental Resources and Energy Committee and was asked about his views on climate change. First noted by StateImpact, a reporting project of NPR member stations, Abruzzo stated: "I've not read any scientific studies that would lead me to conclude there are adverse impacts to human beings, animals, or plant life at this small level of climate change."
Although he does believe "climate change is occurring" and that it seems to be at least "partially attributable to human factors," Abruzzo said he does not view it as harmful and sees "no reason for Pennsylvania to adopt new policies to address it."
His ill-informed statement sparked Karen Feridun, a MoveOn member in Kutztown, Pennsylvania, to start an online petition to the Pennsylvania Senate, who is expected to vote on Abruzzo's nomination this week. Feridun is aiming to get 15,000 signatures, she currently has 10,071.
Another activist who was taken-a-back by Abruzzo's controversial remark was B.O.L.D member, 19 year-old Rashaun "DJ Reezey" Williams, a 2013 BMe Leader who has launched a S.T.E.A.M powered edutainment campaign that informs students of sustainable soil management practices, and engages schools and communities in sustainable project based learning activities.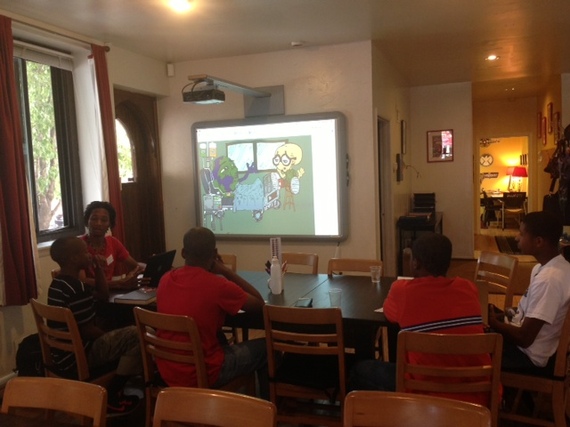 In collaboration with Techbook Online, Williams introduces Brainchild & W.O.R.M™ animations to high-schoolers during a comic book writing workshop at Mighty Writers in South Philadelphia. (Photo Credit: C. Norris -©2013)
Williams, who promotes sustainability through high school activism and "social entrepreneurial action" with his millennial-led, all-volunteer organization, Phresh Philly, has spent significant hours since receiving a BMe Community Impact Grant on studying the impact that earthworms have on creating healthy soil, particularly how they help the soil store carbon more efficiently, permanently locking it away.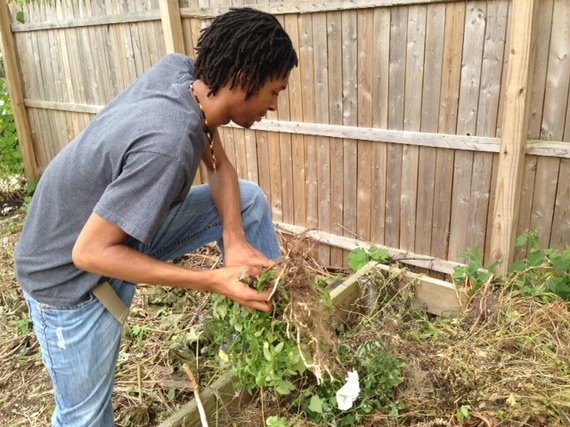 Williams examines a compost bin during a tour of Mighty Writer's community garden space. (Photo Credit: C. Norris - ©2013)
When asked his opinion about Abruzzo's comments, the popular teen DJ responded, saying:
"Since 2011, I've been a visible advocate for living healthy and treating Mother Nature with respect. After conducting my own researching -- both in and outside of the classroom -- I've come to the conclusion, like many in the world, that climate change is real and a lot of it can be attributed to human beings. Professors at Temple University have lessons on climate change and human contributions to the environment that are integrated in their curriculum. Every science teacher in Philadelphia that I've worked with has had conversations with their student body about climate change. Businesses are even advertising around sustainable solutions to climate change as they continue to produce innovate products and services. So when I hear that government officials don't believe climate change is harmful and that it doesn't deserve policy recommendations, I'm amazed, and somewhat frightened. It's as if these officials are suggesting that ground-breaking initiatives like Echoing Green's Climate Fellowship -- specifically targeted for next-generation social entrepreneurs committed to work on innovations to mitigation and adaption to climate change - must be a sham, a waste of millions of dollars. The fact that Texas is receiving snow, at very high levels, speaks for itself. These irresponsible government officials -- like Governor Corbett and the chosen one, Chris Abruzzo, really insult our intelligence. But, in my opinion, what would be more insulting is if we voted them in office for another term."
Popular in the Community