 The world is getting flatter, or so we're told. That means in order to be prepared for leadership positions, more of us need to be thinking about issues that affect the world as a whole and not just what we can see from our dorm room windows. So what does it take to make a global leader? For Wendy Judge Paulson, lifelong activist and chairman emerita of the worldwide conservation organization Rare, qualities include "intellectual curiosity, fearless tackling of hard questions," and, more unusually, "ecological literacy."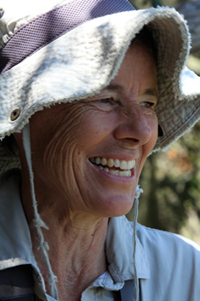 Mrs. Paulson recently visited my school (which is also her alma mater) to take part in a unique women's global leadership institute. The Madeleine Korbel Albright Institute for Global Affairs is a three-week program at Wellesley College that trains fellows in interdisciplinary approaches to global problems under the expertise of faculty and guest lecturers. Together with her husband, Henry M. Paulson, Jr., former Secretary of the Treasury, Mrs. Paulson served as Distinguished Visiting Professor.
I was fortunate to have the opportunity to ask Mrs. Paulson some questions about her college days, her experience at the Institute and on the increasing importance of conservation awareness.
What kind of role should conservation awareness play in the education of global leaders? Why?

Wendy Paulson: It should play a big role -- certainly much larger than it does now. Natural capital -- the biodiversity and natural wealth that characterize nations around the world -- undergirds economies, political stability, the ability to feed and hydrate populations. When it's abused with bad practices and/or policies -- e.g. badly sited infrastructure, incentives to destroy ecosystems that can mitigate storm surges, etc -- that can lead to economic, social, political tragedies.

Our current economic model which treats the ecosystem as unlimited simply is not going to work. We cannot treat natural resources like they're inexhaustible and end up depleting that which we need to survive.

It's not just a matter for the education of global leaders. Conservation awareness, or what I like to call ecological literacy, should be an integral part of every individual's education from the earliest years. Besides knowing their street address, for instance, youngsters should learn what watershed they live in, what ecosystem they come from (even if it no longer functions -- prairie? eastern deciduous forest? desert?).
Such education will help develop citizens more aware and more appreciative of their natural heritage and better prepared to make decisions that will optimize the benefits of that heritage.
How did your time at Wellesley influence your activism?

Wendy Paulson: I took the Wellesley motto seriously -- Non ministrari, sed ministrare -- not to be served but to serve. It strengthened a desire I had since childhood to help make the world a better place.
My time at the College exposed me to many smart, thoughtful, capable people -- both women and men, but mostly women -- as well as to serious inquiry and study. Those were Vietnam War years and there was a lot happening on college campuses. I chose not to participate in anti-war, anti-tradition demonstrations; frankly, they were beyond my capacity to sort out just then (and my father was a Marine in Vietnam at the time).
Instead I focused on studies and athletics. The beauty of the campus nurtured a latent interest I had in nature and I found inspiration and nourishment in walks around the lake and in the wonderful nooks and crannies of the campus.

It's difficult -- if not impossible -- to leave four years of academic intensity and rigor at Wellesley without carrying those features forward in whatever endeavor lies ahead. When it became clear to me that nature, education, and conservation needed to and would be central to my own development, I followed the same approach I had learned at Wellesley: study hard, learn, ask questions, work with bright people who know how to make things happen.
That naturally led to more active roles in classrooms, our community, conservation non-profits, government relations -- always with a constructive motive.
From what you've seen during the Albright Institute and the women whom you have met, what do you think has changed about the Wellesley experience since you were a student?

Paulson: The academic experience seems to be as intense as ever. What impressed me most about the students I met and spoke with was their poise, intellectual curiosity, fearless tackling of hard questions, and remarkable ability to articulate and analyze complicated issues. There were many moments during discussions when I wondered to myself if I ever could have done nearly as well at that stage of my academic career!
There was a spirit of collaboration among the Albright fellows that rarely, if ever, characterized studies when I was at Wellesley. When I questioned fellows about it, they said it was more a feature of the Institute than Wellesley studies at large. It certainly is one of the very best dimensions of the program. It was clear that the process of mutual focusing on an issue, plus working together to develop a presentation, forges strong working and social relationships.

Another thing that stood out to me was the authentic, informed interest students have in the environmental dimensions of big global problems. They understand, for instance, that environmental challenges can contribute to erosion and even collapse of national economies. That sort of awareness and interest was simply not on the radar screen during my Wellesley years. Even better, these students want to do something to address environmental problems.

Was there a particular moment during this year's Institute that stands out or that had an impact on you?

Wendy Paulson: I especially loved when one student candidly -- and courageously -- spoke of the transformation of attitudes she had long held which she realized were not helpful in sorting out a difficult international dispute. She began to see that there were other valid viewpoints and questioned her own tendency to jump to a conclusion. That sort of revelation is the mark of education - and one of the many highlights of participation in the Albright Institute for these fellows.
Wendy Paulson delivered a lecture during the institute on ecological hotspots, which you can watch here.
REAL LIFE. REAL NEWS. REAL VOICES.
Help us tell more of the stories that matter from voices that too often remain unheard.