Activists are banding together to help make this Mother's Day special for as many incarcerated black women across the country as possible.
In the week leading up to the holiday, Black Lives Matter, Color of Change and a dozen other racial and criminal justice organizations are leading a charge to help bail out black moms. Their collective effort is part of a campaign called National Mama's Bail Out Day, which aims to provide all incarcerated black women ― including those who identify as queer, trans, young, elder and immigrant ― who are unable to afford bail an opportunity to spend the special day with their families. As of Sunday, the groups raised more than $350,000 in individual donations, most of which will go towards bail outs as well as support services.
"No one — whether they're a birth mother, an aunt, or a teacher — should have to spend Mother's Day in a cell just because they can't afford bail," said Rashad Robinson, executive director of Color Of Change, in a statement sent to HuffPost. "For the first time ever, we're sending that message through a national, coordinated day of action, awareness, and kindness, building on our efforts to fuel decarceration."
"Money bail and the industry that profits from it has long been destroying our communities," Robinson added, "so this Mother's Day Black people across the country are going to reunite our families and demand an end to that system."
Throughout the week, organizations in over a dozen cities ― including Atlanta, Baltimore, Chicago, New Orleans, New York City and St. Petersburg, Florida ― will work with public defenders, community members, churches and other spiritual institutions to raise money to help bail out black mothers. They will also provide helpful resources to those released and host teach-ins that highlight the impact destructive bail practices can have on black families.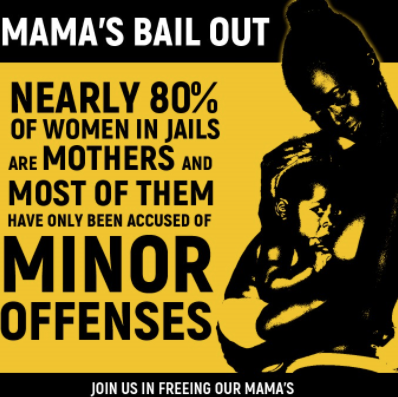 "Our corrupt criminal justice system forces innocent people who pose no threat to purchase their freedom," Ruth Jeannoel, a black mother and community organizer, says in a video on the campaign's site. "The costs are devastating. Women oftentimes lose their homes, jobs or even children just to be found innocent. Some women like Sandra Bland have even lost their lives."
According to the campaign's site, more than 700,000 people are incarcerated each day because they cannot afford bail and more than $9 billion is spent on men and women who are behind bars but have not yet been convicted of a crime.
The statistics around incarcerated women are also staggering. The site states that the number of incarcerated women has increased 700 percent since 1980. It also reports that black and transgender women are both disproportionately represented; black women are twice as likely to be put in jail than white women and 1 in 5 transgender women have spent time behind bars.
"Our mamas don't deserve this. Our mothers are not disposable. Our mothers deserve restorative justice, healing and reconciliation," Jeannoel says in the video. "Some of them have made mistakes. Some of them get caught up in the system despite their best efforts. All of them deserve to be home."
"When we, black women and black mamas, are taken from our communities, we all suffer.""
Mothers account for around 8 in 10 incarcerated women, and a large number have either never been convicted of a crime or have been accused of minor offenses and are unable to post bail, according to the campaign's site. In court systems around the U.S., people arrested even on minor charges are required to pay bail to get out of jail before trial, regardless of whether they are considered a public safety or flight risk. When defendants can't afford their freedom, they must either turn to a commercial bail-bondsman ― which typically charges a non-refundable premium of 10 percent of the total bail ― or languish behind bars.
The consequences of being stuck in jail before trial can be brutal. Defendants can lose their jobs or access to benefits or housing. They can fall behind on payments. Or they can simply be cut off from their families. These pitfalls affect all defendants, even if they're not guilty or they never end up going to trial. Pretrial incarceration has been found to increase the odds of future incarceration. In many cases, it effectively pressures defendants to plead guilty to get out of jail, even if they didn't commit the crime.
"We must demand and fight for the ending of money bail and destructive policies that keep putting us in cages and separating us from our communities," says Mary Hooks, the co-director for Southerners on New Ground, an organization partnering with the campaign. "We are the ones who take care of and hold down our families, chosen and biological. When we, black women and black mamas, are taken from our communities, we all suffer."
Nick Wing contributed to this report.
Popular in the Community