WASHINGTON ― Fresh off an inspiring Democratic win in Alabama's Senate race, hundreds of progressive activists, many of whom had physical disabilities, converged on Capitol Hill on Wednesday to protest the Republican tax bill.
Eighty-four of them were arrested after refusing Capitol Police requests to move from public spaces, the police agency said.
The demonstrators, mobilized by an array of progressive groups, focused their efforts on Republican senators who had expressed doubts about the legislation or the process that created it: Sens. Susan Collins (Maine), Jeff Flake (Ariz.), John McCain (Ariz.) and Lisa Murkowski (Alaska).
Although Democrat Doug Jones, the victor in Tuesday's special election for an open Senate seat, will likely not be seated before the tax bill is voted on, several activists said that Jones' win was a sign that the public is on their side in the fight.
"What we saw in Alabama was more than just the rejection of a pedophile," said Social Security Works Executive Director Alex Lawson, referring to accusations against Jones' Republican rival, "it was a rejection of the entire Republican agenda to ... rob us of our health care, to raid Medicare and destroy Medicaid, all so some Wall Street parasite can buy yet another yacht. Dozens of brave Americans got arrested in Senate offices today to make it clear that we fight back and we never give up."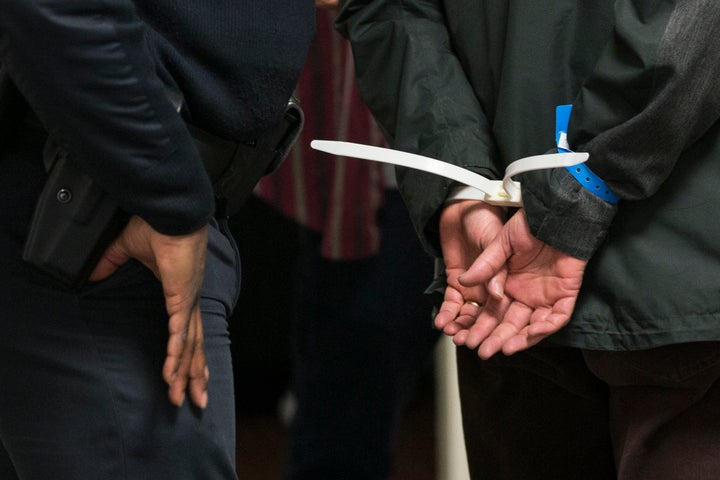 The demonstrators on Wednesday, which included activists affiliated with Social Security Works, the Center for Popular Democracy, Housing Works, the Women's March, the Strong Economy for All Coalition and Hedge Clippers, focused on the anticipated reductions to social programs that would result from the tax legislation.
The tax bill is due to add $1 trillion to the debt, which would trigger so-called "paygo" rules resulting in across-the-board spending cuts that would affect programs like Medicare. Republican leaders in Congress have committed to waiving paygo, but activists are not satisfied that they will follow through once the tax bill passes.
The activist groups also noted that the money the bill would add to the debt is likely to generate pressure to reduce budget deficits at the expense of vulnerable populations.
House Speaker Paul Ryan (R-Wis.) and other GOP lawmakers have already announced that cutting so-called entitlements for seniors and people with disabilities ― Social Security and Medicare ― as well as means-tested programs like food stamps are next on their agenda.
Ady Barkan, a 33-year-old organizer at the Center for Popular Democracy, made national waves last Thursday when he confronted Flake during a flight they were both on about the ramifications of the tax bill for people who rely on government benefits. Barkan, who was diagnosed with Lou Gehrig's disease, or ALS, just over a year ago, worries that cuts to programs like Medicare would negatively affect his life when his disease forces him to seek public assistance. In an emotional exchange with Flake, he told the senator that a vote against the bill "could save my life." The conversation took place two days after Barkan was arrested protesting the tax bill outside the office of Rep. Darrell Issa (R-Calif.), who Barkan noted is the wealthiest member of Congress.
In one last bid to stop the legislation, Barkan flew once again from his home in Santa Barbara, California, to demonstrate on Capitol Hill on Wednesday ― this time with the support of his wife and 18-month-old toddler. McCain and Murkowski did not agree to his request for a meeting; Flake was unable to meet with Barkan because he had to vote on legislation. But Barkan was able to meet with Collins alongside a delegation of activists from Maine.
In a meeting with Collins that was broadcast on Facebook live, Barkan and his comrades pushed Collins on why she would agree to vote for the tax bill without insisting on a provision precluding across-the-board paygo cuts beforehand.
Rather than lock in the waiving of paygo before committing to support the tax bill, Collins said, "I have to have it be passed into law by the end of the year is the agreement."
Barkan and the other activists argued that Republican leaders could break their promise, much as they did the promises to hold the middle class harmless in the tax cut bill and not add to budget deficits. (Reductions in tax deductions, including the state and local tax deduction, mean that the bill is a net tax increase for millions of middle-class households.)
"I believe the commitments that I've received," Collins responded when challenged.
"I know, but it's my life on the line!" Barkan declared.
Collins refused to argue that agreeing to vote for the bill before her condition is met amounted to giving up her leverage.
"I used my leverage to negotiate promises to me," Collins said. "I know the vehicle that it's going to be put in."
"It's not enough. You have to vote no," Barkan replied.
Wednesday's protests were the last of several days of civil disobedience in recent weeks. Last Tuesday, Barkan was one of 133 demonstrators arrested outside House offices, and the day before that there were 23 arrests.
But neither the public uproar nor an impending reduction in the GOP majority after the Democratic win in Alabama was enough to stop the speeding train that is the Republican tax legislation. Shortly before the arrests, President Donald Trump announced that House and Senate leaders had agreed to a final tax bill reconciling their differences between versions passed in each chamber. Congress would pass the legislation and the president would sign it before Christmas, Trump said ― just in time to affect paychecks beginning in February.
The protests were not in vain, though, according to Lawson of Social Security Works.
"The only way we lose is if we forget what we are fighting for. Anything else is a temporary setback," he concluded. "These protests are a testament that we will never forget and will always keep fighting to build a future for all of us, not just a handful of billionaires."
Before You Go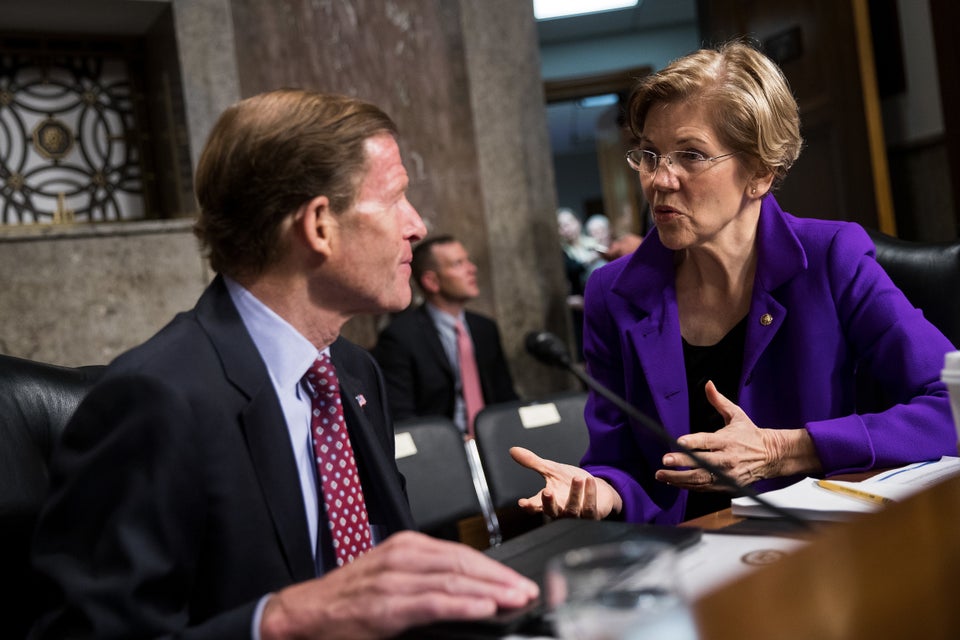 2017 Scenes From Congress & Capitol Hill
Popular in the Community