WASHINGTON ― Twenty-four activists were arrested Thursday outside the White House at the conclusion of a march against repealing the Affordable Care Act.
The progressive organizations sponsoring the march, including the foundation-backed Center for Popular Democracy, chose to put forward 24 people for the act of civil disobedience to symbolically protest the 24 million people who are projected to lose their insurance under House Republicans' bill.
Federal law prohibits political protests on the sidewalk directly in front of the White House. The U.S. Park Police warned demonstrators that they were violating the law, then arrested them one by one after they refused to move as instructed.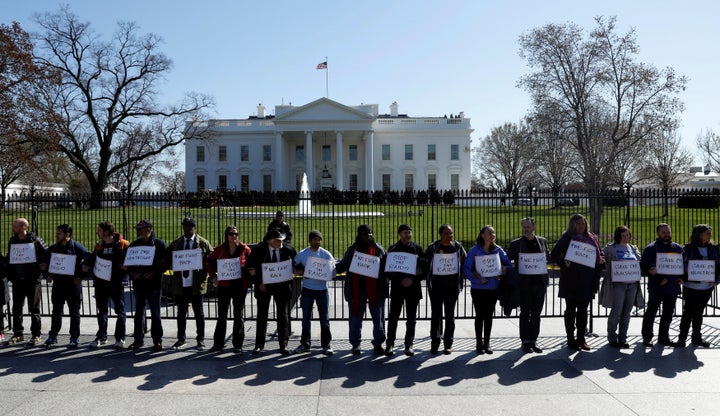 Hundreds of activists assembled in LaFayette Square Park a short distance across from them and cheered each time another person was arrested. Throughout the process, the arrestees and their supporters sang progressive folk songs, including "We Shall Not Be Moved" and "Which Side Are You On."
The arrests in front of the White House marked the culmination of a much longer demonstration in support of Obamacare that began with a 1 p.m. rally at Freedom Plaza in downtown Washington.
Addressing the crowd at Freedom Plaza, Minnesota Rep. Keith Ellison, deputy chair of the Democratic National Committee, derided the efforts of his Republican colleagues in the Capitol to pass a law he characterized as a giveaway for rich people.
"In that building right now, there are people plotting, scheming to figure out how to take your little chance to get some health care away for the only reason that they want to get a tax cut for themselves," Ellison said. "It is a fight ― make no mistake about it ― between the many, which is us, and the money, which is them."
The event was part of a nationwide day of action coordinated by the labor union-backed umbrella group Health Care for America Now. HCAN and its allies timed their efforts to coincide with the vote on the Obamacare replacement legislation, which had been scheduled for today, and the seventh anniversary of the original law's passage.
There were protests in over 40 other cities, including Chicago; Detroit; Allentown, Pennsylvania; and Binghamton, New York, according to HCAN and the Center for Popular Democracy. In some cases, constituents demonstrated outside of the district offices of Republican members of Congress, including Reps. Sam Graves (Mo.) and Jeff Denham (Calif.).
In a separately planned action on Thursday morning, AARP, the nation's largest seniors group, had staff members dressed up as squirrels distribute literature criticizing the Republican bill outside Washington's Capitol South metro station. The squirrels were inspired by "Charlie the squirrel," a character in an AARP video ad against the legislation that focuses on a feature of the law that AARP calls the "age tax." The provision would allow insurers to charge older Americans as much as five times more than younger workers.
House Democrats, effectively powerless in the minority, have been largely content to let Republicans squabble among themselves over the Obamacare replacement law.
Events on Capitol Hill on Thursday tentatively appeared to vindicate this approach. House Republicans were forced to postpone a vote on the replacement law after efforts to broker a compromise with the ultraconservative Freedom Caucus fell short at the last minute.
But if Thursday's rally at Freedom Plaza is any indication, some elected Democrats continue to believe the party must present a bold vision for progressive change that goes beyond merely opposing Trump's agenda.
"We are in a position, if we can fight these people back, not just to get back the status quo, but to create a whole new reality," Ellison said to the crowd. "Don't just be satisfied with defeating Trumpcare ― set your sights on creating real Medicare for all!"
Opposing Trump and his agenda were still the dominant themes of the day's events, however.
After a number of speeches at Freedom Plaza from other high-profile progressive leaders, including Rep. Dan Kildee (D-Mich.), Planned Parenthood president Cecile Richards, and Kierra Johnson, executive director of Unite for Reproductive and Gender Equality, demonstrators marched down Pennsylvania Avenue to the Trump International Hotel. There they stopped to chant their dissatisfaction with the hotel's proprietor, President Donald Trump, and stage a die-in to simulate the deadly effects of the Republican bill. They then proceeded to the White House by foot with a police escort.
Community organizations that often supply ground troops for progressive causes, such as New York Communities for Change and the immigration rights-focused Make the Road New York, sent buses of activists from New York, New Jersey and Pennsylvania to the Washington rally.
Other attendees ― many of them sporting the pink-knit "pussy" hats of the women's march and holding homemade signs ― said they heard about the event through social media or online liberal groups.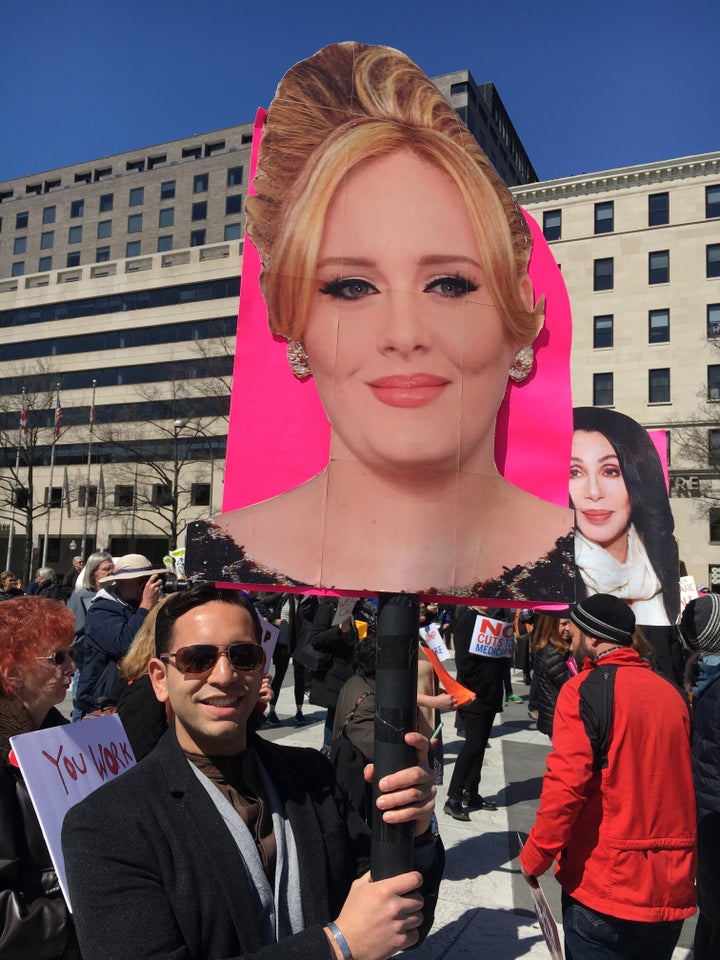 Christian Smith, 24, a Dallas-based policy analyst, held a sign with a blown up photo of the singer Adele on one side. On the other side were the lyrics, "We could have had it all," from her hit song "Rolling in the Deep."
"We could still have it all if there's a Congress that represents all people, including equal rights of women as well," Smith said.
Smith, a volunteer with the League of Young Latin American Citizens, said Obamacare was personal for him since it has allowed him to stay on his parents' health insurance coverage. While he acknowledged that the Republican replacement bill kept that provision in place, he was deeply concerned about its overall effect on his ability to afford health care after age 26, when he will no longer be eligible to stay on his parents' coverage.
"A lot of this has to do with the cost-saving as opposed to the actual 'care' part of health care," Smith said. "While that may sound appealing to people interested in saving money, there is a lot more cost associated with denying coverage to people based on various criteria."
The racially and socioeconomically diverse crowd embodied the sort of intersectional protest that progressive leaders have long hailed as the model for effecting political change. Nodding to attendees' wide range of political priorities, speakers often added a call for solidarity with undocumented immigrants to their remarks about protecting health care reform. The marchers' chants incorporated themes of social justice for other marginalized groups as well, such as queer and transgender Americans.
Debbie Mathis, 64, a college counselor from Clinton, Maryland, took off work to join the protest after hearing about it from People Power, a new Trump-era activism initiative started by the American Civil Liberties Union. Mathis was most concerned about protecting the Affordable Care Act, citing her own challenges affording adequate medical care for her son when he was younger.
But she was also motivated by a deep fear of the threat she believes Trump poses to her entire way of life. In addition to protesting Trump in person, she said she routinely bombards members of Congress with phone calls and letters.
"Everything that is going on, all of our civil rights ― our democracy is being threatened," Mathis said. "I've never really been a person who's been involved in politics, but now it's like I do everything."
Support HuffPost
The Stakes Have Never Been Higher
Before You Go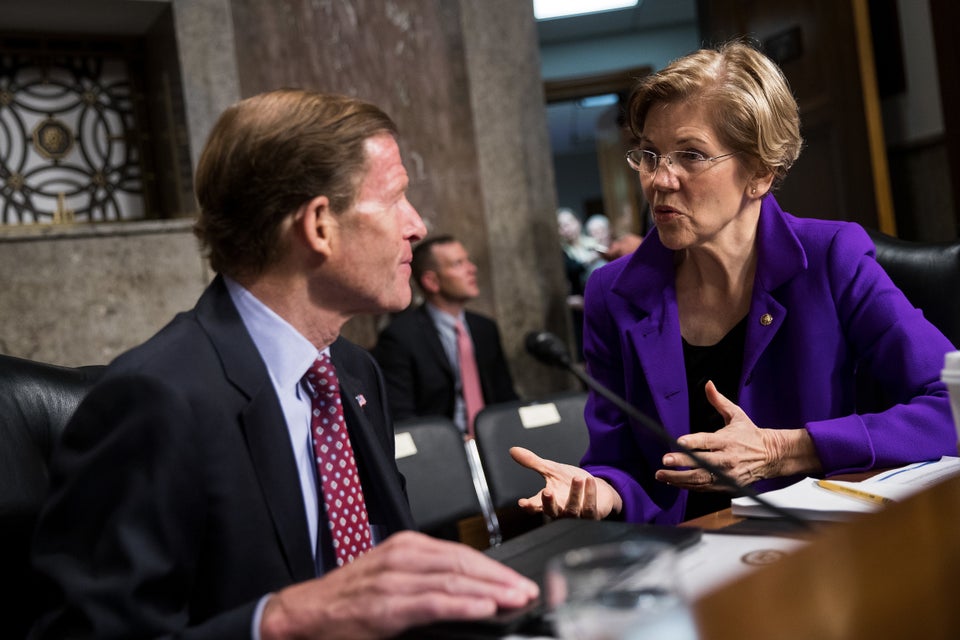 2017 Scenes From Congress & Capitol Hill
Popular in the Community