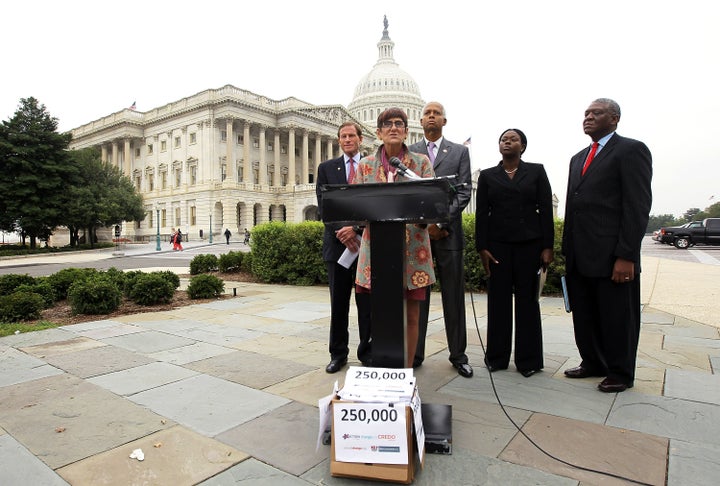 WASHINGTON -- Labor advocates delivered 250,000 petitions in support of an initiative to ban hiring discrimination against the jobless on Wednesday, handing them off to congressional Democrats in front of the Capitol.
Progressive activist groups National Employment Law Project, USAction, Change.org, ColorofChange.org and CREDO Action, presented the signatures to Rep. Rosa DeLauro (D-Conn.), Rep. Hank Johnson (D-Ga.) and Sen. Richard Blumenthal (D-Conn.), the original co-sponsors of bills that would outlaw the practice of making current employment a necessary prerequisite for job applicants (but wouldn't make employment status a protected class like age, religion or sex).
NELP, a worker advocacy group, has been documenting online job ads that say only applicants who are currently employed will be reviewed, a barrier to employment for the 14 million currently unemployed Americans.
This type of language affects recent college graduates, older Americans and minorities disproportionally, Democrats say, because those demographics all have higher overall unemployment rates.
"People want to work, we should not throw another stumping block in their way," DeLauro said. "That's what this legislation is about."
DeLauro said although there is no bipartisan support at this time, they're hopeful legislative action will take place now that their original bill has become part of President Obama's $450 billion jobs package.
The members of Congress praised President Obama for supporting their legislation, but worried Republicans may use this a "convenient excuse" to hold back support for their bills to stop discriminating against the jobless.
Johnson said much of Republican objection is politically motivated.
"[Some Republicans] don't want to see the president be successful." He added the American people "are looking past the cynicism and they're looking at their pocket books. ... They want some action."
DeLauro said she would be pressing the Republican majority to hold hearings on the issue in the coming weeks in the House Education and Workforce Committee.
When asked whether Republicans would oppose it as another government regulation, the Democrats shot back, arguing it was not a regulation. There would be no government inspectors going around, and it would cost no money to implement, they said.
So far, DeLauro said 43 Democrats have cosponsored their bill in the House. She equated this practice to signs from a century ago that would've stipulated Irish, Italians, blacks, or other classes of people need not apply. "There's no reason it shouldn't be bipartisan."
Popular in the Community