A total of 181 protesters were arrested on Monday for demonstrating against Republicans' latest beleaguered attempt to repeal the Affordable Care Act.
Hundreds of activists had gathered on Capitol Hill on Monday morning in protest of the GOP bill, with many who said they were prepared to be arrested.
U.S. Capitol Police announced late Monday that their officers arrested demonstrators who "failed to cease and desist their unlawful demonstration activities" in the committee hearing room, which disrupted the hearing.
Shortly after the hearing began, some protesters in wheelchairs were physically removed from the hearing room by police officers as protesters continued to chant "No cuts to Medicaid!"
Others were arrested in the hallway after police said they refused to cease and desist demonstrating there.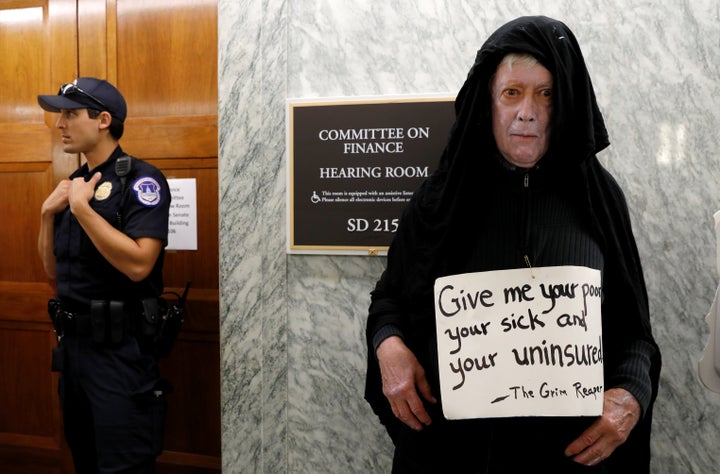 Sen. Orrin Hatch (R-Utah) put the committee in recess while police removed the protesters. Later, he told the shouting activists that if they can't remain quiet, "then get the heck out."
Sen. Bill Cassidy (R-La.), the main co-sponsor of the repeal legislation, appeared undisturbed by the activists' opposition, and was observed yawning as some protesters were forcibly removed.
Protesters who were removed continued chanting in the hallway outside the hearing.
When asked about reports of protesters being arrested, U.S. Capitol Police communications director Eva Malecki told HuffPost in an email that police are "still processing the arrests" and "will issue a statement when activities have concluded."
Hours before the hearing was set to begin over the controversial health care legislation, first introduced by Sens. Cassidy and Lindsey Graham (R-S.C.) in late July, a line of activists waiting to sit in on the Senate hearing had grown so long it stretched into another building.
Butch Brosman, a man with disabilities who traveled from Atlanta to protest the bill, told HuffPost that if it passed and became law, it would literally mean he and others with disabilities could die.
"Death," Brosman said, "death for me, death for millions of Americans. It's an assault on Medicaid, an assault on the lives of many Americans."
Michael Bancrowsky, a man from Philadelphia who traveled to D.C. to protest the bill, told HuffPost he was scared of it passing. "It would be terrible because I need Medicaid. Basically I can barely afford the things I got, it would ruin everything in my life."
Stephanie Woodward, a woman with disabilities who traveled from Rochester, New York to protest the bill, said its passage "would mean people with disabilities who need Medicaid in order to live would have their lives put at risk and their liberty." Woodward, along with several other protesters, said they were with ADAPT, an advocacy group for disabled people.
"Community-based services are paid for through Medicaid, and if Medicaid gets cut, those community-based services get cut first and they end up in nursing homes and those nursing homes get cut too," she said. "So where they end up is really shitty nursing homes where they are trapped and where they'll likely get poor services and die. We think it's every American's right to live in the community and cutting Medicaid means cutting our liberty."
On Friday, the Republicans' last-ditch effort to repeal Obamacare appeared dead in the water as Sen. John McCain (R-Ariz.) said he couldn't vote for the bill "in good conscience."
Republicans, who hold 52 seats in the Senate, must win over their colleagues before Saturday, when they lose parliamentary authority to pass repeal with 50 votes instead of the usual 60.
Since the entire Democratic caucus opposes the bill, dubbed Cassidy-Graham, Republican leaders can afford to lose only two GOP senators' votes. McCain's decision means the bill doesn't appear to have the votes to pass. Sen. Rand Paul (R-Ky.) has said he's opposed to it, and Sen. Susan Collins (R-Maine) has said she's "leaning against" it. Sen. Lisa Murkowski (R-Alaska), who voted against the last repeal bill, has also raised concerns with this one.
But late Sunday, Republicans unveiled a new version of the bill with some key changes that appear to be aimed at capturing some of those senators who were still opposed.
The new version of the bill is a lot like the original bill, which would have decimated existing federal health programs, reduced government spending, and left many millions without insurance, HuffPost Jonathan Cohn reported. The revised legislation now includes a pair of important changes ― an even more aggressive assault on protections for people with pre-existing conditions, as well as some extra money to blunt the impact of funding cuts for a handful of states.
This story has been updated to include details about ejected protesters, as well as comment from U.S. Capitol Police.
Popular in the Community