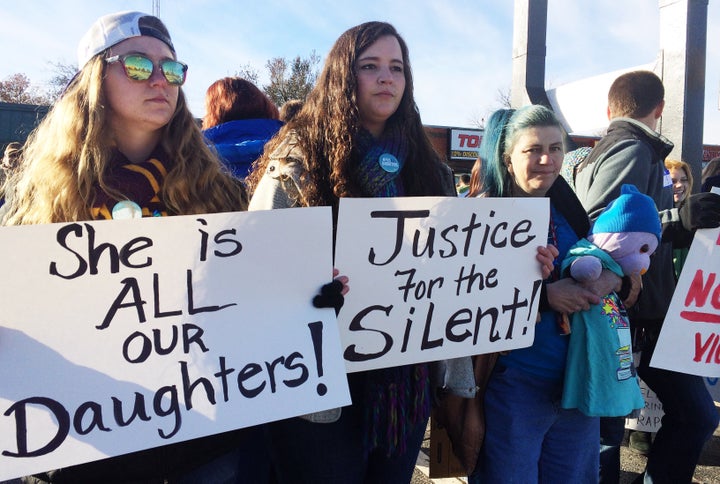 Esther Warkov's daughter is 18, and hasn't been to school in almost three years.
When her daughter stopped attending class at Garfield High School in Seattle, she was suffering nightmares about being attacked. This hadn't happened before she took an overnight November 2012 high school field trip, when she says a classmate raped and sodomized her.
Warkov complained to the U.S. Department of Education's Office for Civil Rights that the school district botched the handling and fallout of her daughter's case, and federal officials are currently investigating what happened to uncover possible Title IX violations.
Though Washington state law says there should have been an investigation within one week of the reported rape, Seattle Public Schools waited months to begin an investigation, and only did so after Warkov complained. The district said it delayed an investigation because the FBI was already looking into the case, but the bureau has disputed that claim, saying it would never have asked the school not to investigate immediately.
Meanwhile, Warkov's daughter faced retaliation from classmates for reporting the rape, and she eventually left school to deal with post-traumatic stress disorder.
"Our whole life has been shattered," Warkov said. "The way we once knew it is gone, and that's one of the motivations for doing this. We don't want other people to have to have this experience. It's a duty -- once you have this experience, you can't walk away."
In September, Warkov and co-Founder Joel Levin rolled out the website for a new national group they founded, called Stop Sexual Assault in Schools. The nonprofit aims to help people whose sexual violence cases were mishandled take action by filing federal complaints, as college activists have been doing in recent years. SSAIS also wants to push for more prevention efforts, connect victims with resources and share information about how these cases are supposed to be handled.
In short, the group is putting school districts everywhere on notice: drop the ball when a student reports a sexual assault, and we'll expose it to the world.
"I think people are blind to it -- they're in denial, they don't like to think about teenagers being sexually active," Warkov said.
"It's a duty -- once you have this experience you can't walk away."
Over the past three years, colleges have come under intense scrutiny for their responses to sexual assaults. Survivors nationwide shared stories about how schools have failed to investigate, and a crackdown by the Obama administration followed. A record number of colleges and universities -- 142 as of Sept. 30 -- are facing federal investigations into their handling of these cases, and an increasing number of school districts are facing scrutiny as well.
As of the end of September, the U.S. Department of Education had opened 53 Title IX investigations at 51 schools and school districts -- a tally that more than doubled since November 2014.
Activists are now beginning to sharpen their focus on the K-12 level, examining how schools -- especially high schools -- handle sexual violence, and whether they comply with the gender equity law Title IX.
The advocacy group Know Your IX has recently put out a toolkit to explain how Title IX applies to high school sexual assault cases. Directors of End Rape On Campus are advocating to expand affirmative consent education into high schools. The social impact team behind the campus rape documentary "It Happened Here" has worked to facilitate screenings in high schools.
As many as 1 in 4 women have experienced sexual violence before arriving in college, research shows. A 2014 study of middle school students found that just over 1 in 5 had experienced unwanted physical sexual contact.
Some activists working on sexual assault in high school are already having success. Student anti-rape activists in California started demanding last December that consent education be mandated at the K-12 level.
Last week, California Gov. Jerry Brown (D) signed into law two bills: One that mandates any school district requiring a health course to teach students about affirmative consent -- essentially, "only yes means yes" -- and a second to require all districts to provide sexual education classes twice between grades 7 and 12.
Those new laws are causing the "It Happened Here" team to work on developing a program specially tailored to California schools, according to Ari Mostov, who works with the documentary.
"This has to be addressed from so many different angles," Warkov said.
St. Paul's School, an elite New Hampshire prep school, is still recovering from the trial of former student Owen Labrie, who was acquitted of raping a 15-year-old girl but convicted of lesser sexual assault charges in August. The trial brought to light a campus tradition called the "senior salute," in which graduating boys allegedly try to take a girl's virginity before getting their diploma.
Officials at St. Paul's have contested the nature of the "senior salute," saying it was not a "game" of sexual conquest and that the administration only first heard about it in 2013.
"We revised the Student Handbook to state more explicitly that participation in that type of activity would be grounds for expulsion, as would any unauthorized possession of School keys or swipe cards," the school said in a statement in September.
Federal complaints ― such as those SSAIS is providing support for ― can spark Education Department investigations, but they do not result in monetary awards for victims. The upside for complainants is that such investigations can bring more public scrutiny or embarrassment for a school and lead to ongoing monitoring by federal officials for years to come.
"In my observation, there are many more lawsuits against school districts than [there are against] universities arising from the school's response ― or lack of ― to sexual harassment and assault, but we're not hearing as much about other remedies like government enforcement, or about preventive measures aimed at K-12," said Erin Buzuvis, a law professor and director of Western New England University's Center for Gender & Sexuality Studies. "So it's good that SSAIS is working to marshal resources and raise awareness about issue."
The volunteers behind SSAIS spent months writing materials for their website, organizing an advisory board, speaking with attorneys that represent sexual assault victims and connecting with other advocacy groups ahead of the launch of StopSexualAssaultsInSchools.org. One of their goals is to provide a bridge to college campus activism.
"It's a turning point," said Levin, another SSAIS co-founder. "This represents an end of that chapter and the beginning of another one."
All of the case documents from the complaint against Seattle Public Schools are posted on the website, Warkov said. "This gives people a chance to see some of the tactics a school district will use."
Popular in the Community