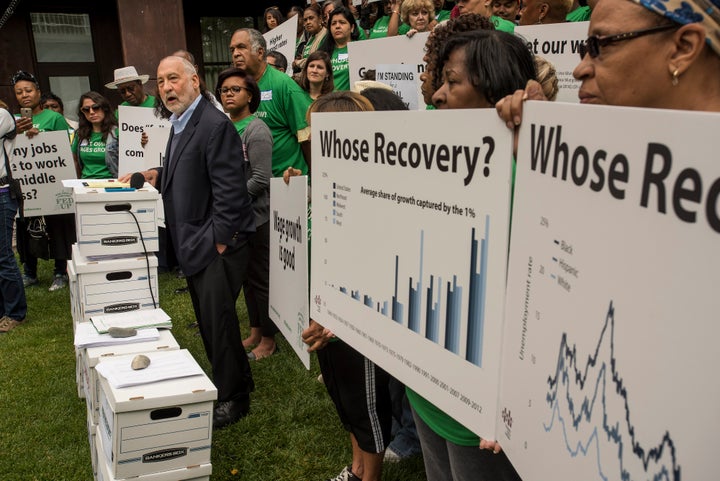 Progressive activists and economists who want the Federal Reserve to prioritize jobs and racial justice brought their case to the central bankers' summer meeting in Jackson Hole, Wyoming, on Thursday for two days of teach-ins and protests. The activists' immediate goal is to prevent the Federal Reserve from raising interest rates until wages rise more significantly.
The two-day event, Whose Recovery: A National Convening on Inequality, Race, and the Federal Reserve, is organized by the Fed Up campaign, a coalition of groups led by the nonprofit Center for Popular Democracy. It serves as a counter-conference to the annual Federal Reserve Bank of Kansas City symposium, where Fed officials come together to discuss monetary policy -- and which is currently taking place at the same resort as the Fed Up gathering.
Fed Up's member organizations brought over 100 primarily low-income grassroots activists from across the country for the gathering. It's a dramatic increase from its inaugural visit to Jackson Hole last year, when the campaign brought a group of 10 activists.
The size of Fed Up's delegation of activists and presence of prominent economists -- including Nobel laureate Joseph Stiglitz -- attests to the rapid growth of a once-unlikely campaign that began just a year ago. Fed Up has managed to turn the esoteric issue of central bank interest rates into a key element of the progressive agenda -- and a rallying cry for low-income workers.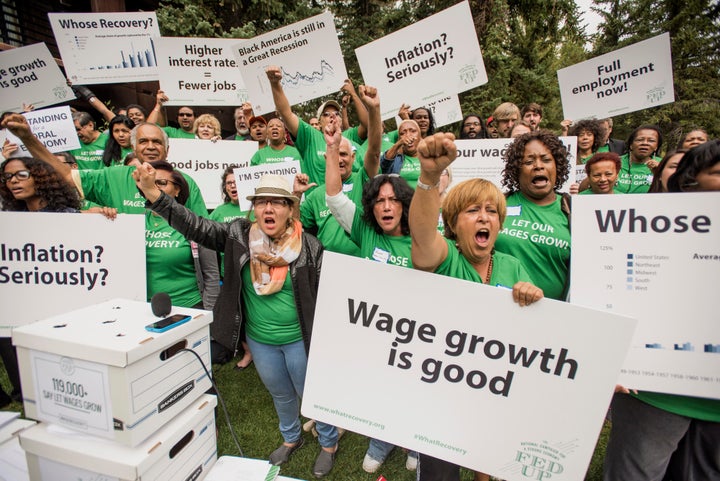 Rod Adams, a recent college graduate from Minneapolis, said he was attending the convention because he was disappointed in the job market. Despite his college degree, he currently makes $10.10 an hour working at the Mall of America.
"I have seen Wall Street's recovery and corporate America's recovery -- where is ours?" Adams demanded, eliciting cheers at a spirited press conference outside the Jackson Lake Lodge on Thursday.
The activists oppose the Federal Reserve increasing interest rates before the economy creates enough jobs to generate substantial wage growth for all workers. They believe that a premature interest rate hike would be especially harmful to workers in communities of color, who continue to suffer higher rates of unemployment than the overall population. Activists say this is partly the result of discrimination in the job market. Fed Up released a report on Thursday that uses original data to show that if there was the same low unemployment rate in every community in America, African-Americans and American Indians would experience the largest income gains.
The delegation plans to present officials attending the exclusive Fed symposium with an online petition opposing an interest rate hike that bears 110,000 signatures. The petition effort was the result of Fed Up's collaboration earlier this month with online progressive heavyweights including CREDO Action, Daily Kos, the Working Families Organization and Demand Progress. Robert Reich, former secretary of labor and an economist at the University of California, Berkeley, gave the petition drive a high-profile boost with a popular video promoting the effort.
A similar petition that Fed Up brought last year had 10,000 signatures.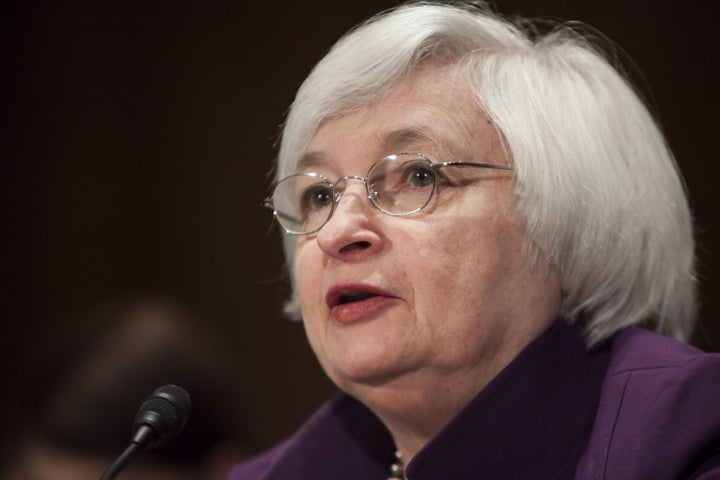 The Kansas City Federal Reserve Bank, which convenes the annual Jackson Hole symposium for Fed officials, declined to comment on this year's parallel protest conference.
Kansas City Fed President Esther George met with Fed Up activists during last year's symposium.
Janet Yellen, chair of the Federal Reserve Board of Governors, is not attending this year's symposium, precluding even the possibility of an impromptu encounter with protesters.
"Janet Yellen is missing a great opportunity to see what real people look like," Adams said. "We are not data on a spreadsheet."
Proponents of a Federal Reserve interest rate hike in the near future argue that the Fed should begin raising rates to prevent excessive price and asset inflation. The Fed has a dual mandate to maintain full employment and stable price inflation.
William Dudley, president of the Federal Reserve Bank of New York, signaled on Wednesday that they would postpone an interest rate hike that Fed officials had previously indicated would occur in September. Dudley said turmoil in China and other emerging market economies that sparked massive swings in the U.S. stock market earlier in the week made a September rate hike "less compelling."
Josh Bivens, the progressive Economic Policy Institute's research and policy director, applauded the Fed's move away from an interest rate hike, but said the reason for the Fed's decision confirmed the need for more grassroots activism.
"A week ago the case against raising rates for the labor market was clear as day, but all of a sudden when wealthy people lost money in the stock market the tide turned against a rate increase," Bivens said at Thursday's press conference. "I'm happy rates are less likely to go up because of that, but it is a terrible reason."
Popular in the Community