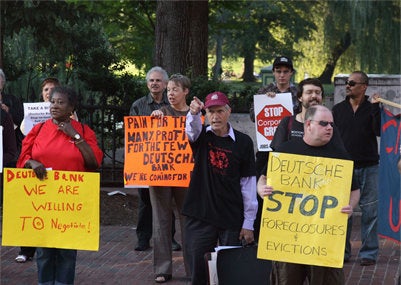 We are dismayed and angered to learn that Northern Trust recently spent millions of dollars on a PGA golf tournament sponsorship and associated parties at the same time it has taken over $1.5 billion in federal stabilization funding under the Troubled Asset Relief Program. According to published media reports, your bank not only sponsored the Northern Trust tournament at the Riviera Country Club, but also hosted clients and employees at places like the Beverly Wilshire and Ritz Carlton hotels and gave away Tiffany souvenirs. If this is accurate, we are demanding you take corrective action.
Deutsche Bank's CEO, Seth Waugh, addressed the issue of golf tournaments and bank sponsorship at a July dinner held at Boston's Four Seasons Hotel. In his address he made sure to clarify that Deutsche Bank did not take federal bailout money. Technically he's right. Deutsche Bank was not on the list of recipients. AIG was though and when they got their money they paid off their "counterparties" and Deutsche got $2.6 billion for their part in the sub prime, securities, and credit default swap fiasco. I guess that makes it ok.
Deutsche Bank was back at the Four Seasons last week to kick off their Labor Day weekend $7.5 million, $300 dollar a night, $275 dollar per ticket golf-o-rama with a dinner for attendees and executives.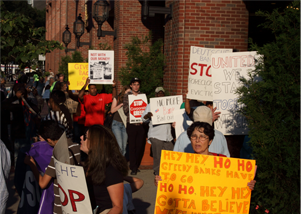 Outside the hotel 100 or so protesters from different activist organizations in the area picketed the event and demanded Deutsche be evicted from the state.
Deutsche Bank holds the record in Massachusetts for the most evictions of any bank. They are responsible for 17 percent of all evictions in the state, according to activists at the protest. Picketers passed out fliers demanding that Deutsche Bank makes its subcontractors write down mortgages to present day value at fixed rates; stop all post-foreclosure evictions; and support passage of bills in the Massachusetts Legislature that would provide a moratorium on under-water foreclosures and post-foreclosure evictions.
Led by Steve Meacham, Director of Housing Organizing for City Life/Vida Urbana (CLVU), protesters shouted, "Deutsche Bank eats while they throw us in streets." Meacham and City Life have been trying to negotiate with Deutsche Bank on behalf of homeowners and tenants facing foreclosure or eviction due to predatory lending practices on the part of Deutsche Bank. They've requested meetings with Deutsche Bank's servicers in an attempt to negotiate mortgages, only to be met with tactics and letters that have become all too typical in this situation. Deutsche Bank claims it has relinquished financial power to its servicing companies. More and more banks are hiding behind nebulous and nondescript relationships with servicers. Servicers, on the other hand, claim to be powerless to negotiate without approval from banks.
In a letter to CLVU Deutsche Bank wrote:
Your reference to "Deutsche Bank servicing companies" makes no sense because Deutsche Bank, as trustee, has no servicing companies.... That servicer is neither appointed by Deutsche Bank, nor is it an agent of Deutsche Bank. This independent contractor, appointed by the trust instrument, is given the sole and express authority to administer foreclosures and the maintenance and disposition of properties which the trust owns as a result of foreclosures. Deutsche Bank's name appears on the title to such properties because all trust property is registered in the name of the trustee of the relevant trust. That registration gives the trustee neither the power nor the duty to perform the role of the loan servicer or to substitute its judgment for that of the servicer, in an effort to "clarify" their relationship with loan servicers.
However, CLVU had also obtained a letter from Deutsche Bank that was sent to, you guessed it, their servicers. In the letter they express concern about the attention being drawn from public officials and community organizations and outline, to the servicers, the ways in which they want these issues to be dealt with.
Consider developing working relationships with local housing officials and appropriate community organizations to address public concerns regarding foreclosure and eviction proceedings that might impede the realization of the value on the Trusts' mortgage loans and REO properties.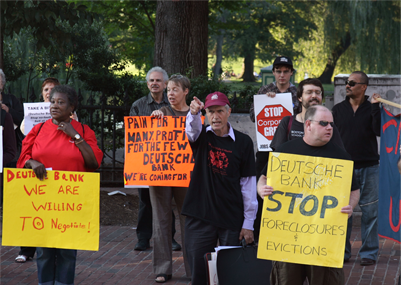 In one case, Deutche Bank has been trying to evict an elderly brother and sister from the home they've occupied since the 1990s. Both of them are legally blind and in their seventies. Their mortgage shot up in 2007 due to predatory lending practices and Meacham and CLVU have been fighting along side the family since.
I asked Meacham the reason for the protest. Was it because of a particular situation or because they were in town?
"Because they're in town," Meacham said. "The banks caused this mess. They need to fix it. Deutsche Bank has consistently been one of the biggest foreclosers and evicters (after foreclosure) in Massachusetts. We have demanded that they stop no-fault post foreclosure evictions. They claim that they can do absolutely nothing to affect the behavior of the servicing companies with whom they have a contract. We don't accept that."
And that's a reason to protest.
The local area organizations and groups represented at the protest were:
Boston Tenant Coalition; Chelsea Collaborative; City Life / Vida Urbana; Community Labor United; Jobs with Justice; Mass Alliance Against Predatory Lending; Mass Alliance of HUD Tenants; United for Justice with Peace; Mass Interfaith Committee for Worker Justice; Action for Regional Equity; National Lawyers Guild; and the SEIU.
Support HuffPost
The Stakes Have Never Been Higher
Popular in the Community