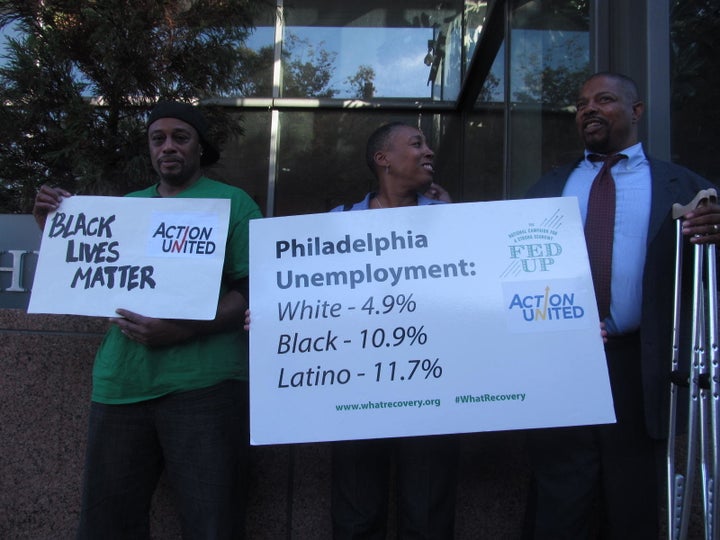 More than a dozen community activists picketed the Federal Reserve Bank of Philadelphia this week, protesting what they say is the bank president's refusal to meet with them to discuss how Fed monetary policy affects real people.
The roughly 15 activists are members of ACTION United, an organization representing low-income people of color in Philadelphia. ACTION United is affiliated with the national Fed Up campaign, a coalition of progressive groups advocating Fed monetary policies that prioritize full employment and shared economic prosperity.
Fed Up and ACTION United planned Tuesday's protest because they say that Philadelphia Fed President Patrick Harker reneged on a promise to meet, and allow group members to give him a tour of low-income neighborhoods where they are active. The activists point to a video in which Harker appears to commit to the meeting in a conversation with ACTION United organizer Kendra Brooks at the annual Jackson Hole symposium in August.
When Brooks followed up, Theresa Singleton, the Philadelphia Fed's vice president and community affairs officer, said in an email obtained by HuffPost that a meeting was not in the cards, because the bank is reluctant to work with "just one organization."
Instead, Singleton invited Brooks to Tuesday's community development briefing for low- and moderate-income community stakeholders. Singleton also said Fed staff would "design and organize" their own community tour.
That response rankled Fed Up and ACTION United members. The Federal Reserve has a dozen regional banks, and the activists have met or have planned meetings with all of the regional Fed leaders except Philadelphia's since the campaign began in August 2014. They want a meeting -- and they want it to take place in an economically distressed community of color -- not in the Fed's offices.
So they decided to pressure the Philadelphia Fed with a protest, featuring Fed Up's trademark "What recovery?" signs and green "Whose Recovery?" T-shirts.
ACTION United also sent Brooks to the community development briefing, where she and several nonprofit executives and bankers who work with low- and moderate-income earners spoke with Harker and Singleton.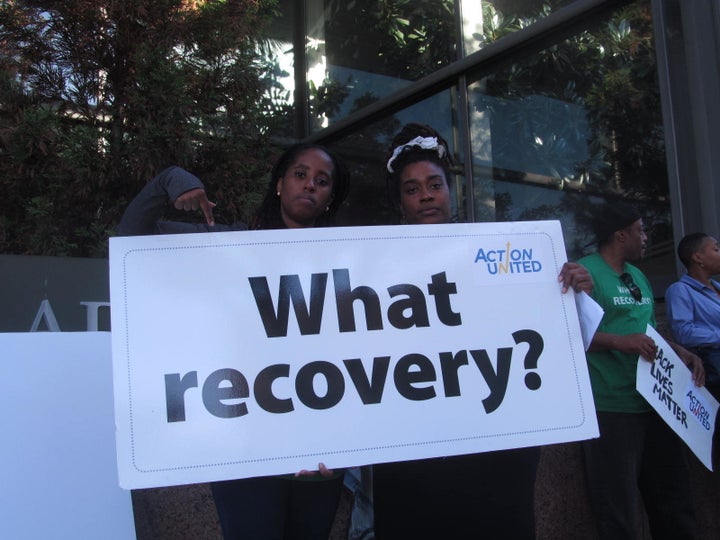 Brooks said she was mostly pleased with what she heard from Harker and other Fed officials, who she said sounded genuinely committed to researching the conditions in communities the Fed serves and finding ways to improve "economic autonomy" in the Philadelphia region. 
"The outcome of the meeting was much better than we anticipated, but going in, we did not know the information that we knew coming out." Brooks said. "We hope he will continue to keep the doors open for organizations like ours and our coalition. And that we will continue to be a part of that conversation and not excluded."
But Brooks noted that the Fed officials did not discuss how monetary policy and the Fed's adjustment of interest rates disproportionately affects low-income workers and communities of color.
For the Fed Up campaign, the exclusion of monetary policy reaffirms that nothing short of a meeting between Harker and activists will suffice.
"We appreciate and accept the invitation to discuss community development and research, but this is not a substitute for the promise President Harker made to Fed Up," said Shawn Sebastian, a policy advocate and staff attorney for the Fed Up campaign. "President Harker promised to speak with working families in the black neighborhoods of Philadelphia about their experiences -- where unemployment is double white unemployment. Harker promised to discuss how his monetary policy decisions can build a true full employment economy that works for everyone."
Philadelphia Fed spokeswoman Marilyn Wimp, in an email to HuffPost, didn't address a question about whether Harker reneged on his promise to meet with protesters. She instead pointed to Tuesday's briefing as evidence of Harker's interest in reaching out to diverse parts of the community.  
But the list of the Tuesday briefing's attendees reveals that Brooks was the only stakeholder from a group with a position on Fed interest rates.
Crafting monetary policy is a main responsibility of the Federal Reserve regional banks. Regional Fed presidents occupy five of the 12 seats on the Federal Open Market Committee, responsible for adjusting the Fed's benchmark interest rates. Lately, they have accounted for half of the committee's votes, because the Senate has failed to approve presidential nominees for two of the seven seats reserved for members of the Federal Reserve Board of Governors in Washington.
The FOMC keeps its benchmark interest rates low when it is more concerned about full employment, and raises them to curb excessive inflation when the economy has grown enough to drive up prices.
Fed Up wants the central bank to maintain current low interest rates for the near term, which will allow economic demand to continue to grow, benefitting workers with more jobs and higher wages. The campaign applauded the Fed's decision to leave rates unchanged in September.
But Fed Up leaders said they're worried about the Philadelphia Fed and the role its president may play in future monetary policy decisions. The Philadelphia region's previous Fed president, Charles Plosser, who left the post in March, was an outspoken inflation hawk.
Harker's views on monetary policy are not yet known. He is a former trustee of the Goldman Sachs Trust, which Sebastian and other Fed Up critics said they worry will make him more sympathetic to financial institutions' concerns about inflation.
REAL LIFE. REAL NEWS. REAL VOICES.
Help us tell more of the stories that matter from voices that too often remain unheard.