Activists, Democratic politicians and others watching the news Sunday reacted with shock at scenes of mothers fleeing with children from tear gas fired by American officers at the Mexican border.
Agents for the U.S. Customs and Border Protection agency fired several canisters of gas after groups of immigrants tried to squeeze through gaps or scale fences at the border crossing between Tijuana and San Diego. U.S. officials completely shut down the port of entry in both directions for several hours.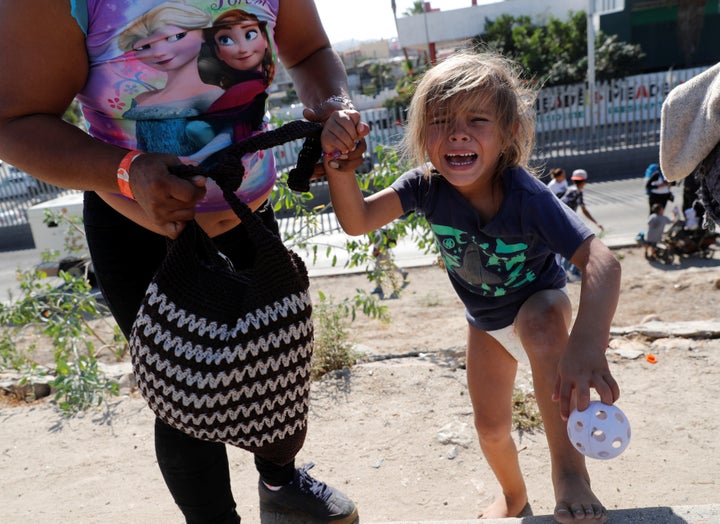 Children screamed and coughed amid the gas, The Associated Press reported. The wind carried the aerosol chemicals toward people hundreds of feet away who were not attempting to enter the U.S., the wire service noted. One woman collapsed unconscious amid the chaos, and two babies sobbed with tears running down their faces from the gas, Reuters reported.
The use of force was sharply criticized.
Sen. Brian Schatz (D-Hawaii) called on people "uncomfortable with spraying tear gas on children" to join the "coalition of the moral and the sane" to "get our country back."
Congresswoman-elect Alexandria Ocasio-Cortez (D-N.Y.) compared the Central American immigrants to Jews fleeing Germany, and emphasized that applying for asylum "isn't a crime."
Angelica Salas, executive director of The Coalition for Humane Immigrant Rights, called Sunday's actions "a despicable act."
"It is a despicable act on the part of the Trump administration and CBP officials to attack defenseless women and children firing tear gas, a chemical agent, at them," Salas said in a statement. "These are human beings who are reaching a point of desperation because their asylum claims are being processed at a snail's pace or not at all."
Amnesty International complained that "families are frightened and soldiers are shooting tear gas at toddlers. We must choose to be better than this."
The organization noted that President Donald Trump provoked the immigrants' desperation by sending 5,800 troops to the border with authorization to use lethal force.
Rep. Maxine Waters (D-Calif.) echoed the accusation in an interview on CNN, accusing Trump of deliberately provoking chaos to give him free rein to crack down. She called it part of Trump's "political ploy" to "stoke fear" about the migrants and react harshly to please his already revved-up constituency.
Others who watched the horror unfold on the news reacted with similar sentiments.
Trump suggested Saturday that the U.S. had worked out a deal with Mexican officials to keep the immigrants on their side of the border as the U.S. processes claims for asylum. But the incoming Mexican government said there is no such agreement.
Popular in the Community