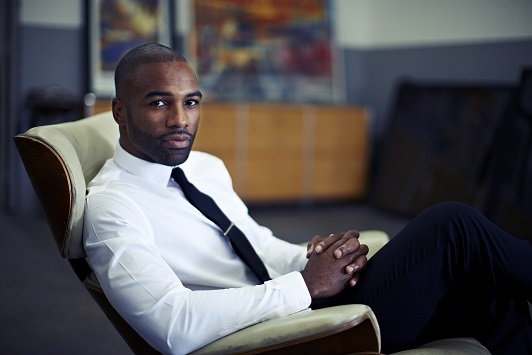 Former Apollo Theater stand-up comic, Andra Fuller stars in the new comedic satire by Adult Swim, Black Jesus.
Andra's Twitter: @mrdrefuller , Website: http://andrafuller.com/
Photo by Tomosso Mei
I don't know how to cook food, but I have a new recipe called Andra Fuller. This guy is educated, good looking AND funny. I know, right? Where'd he come from?! Step aside, people! Yeah, that means you. I'm in line first.
Andra, best known for his role on The CW's critically acclaimed series, "The L.A. Complex", shared some great insight about his auditions, personal life and workout routine. Let's get to it!
You play Fish on the new comedic satire by Adult Swim, Black Jesus. What happened at your audition? Where were you when you found out you won the role?
When I first received the script for "Black Jesus" and saw that it was Aaron McGruder's new project, I knew that it would be an instant hit. As I read it, I envisioned Fish as a grimey, unkempt, sketchy looking type of dude, so I made sure that was how I looked when I went in for the auditions. I went like two weeks without shaving or grooming so my beard was growing wild and untamed, the clothes I wore were all black and somewhat militant looking, and I had on a black beanie with black combat boots. I pretty much looked like I was headed to rob a bank after my audition.
My initial audition went fairly smooth. I read two scenes with Slink (who plays Jesus), then we did a couple improved scenes as well. The following week I came back for my producer's session and it was pretty much the same formula, except this time Aaron and Mike were in the room giving me specific directions. I did the same two scenes from my first audition and some more improv and that was it. Everything felt really natural between Slink and I so I had a strong feeling I had booked the role even before I walked out of the room. But you never know, and I've been wrong before! Then later that night, I was on the red carpet for a movie premiere when my manager and agent called to tell me the role was mine. I was so excited, I just politely walked off the red carpet to a quiet little corner and thanked God.
Tell us the origin of your name.
Well, first and foremost for those who don't know, my name is pronounced, Andre, it's just spelled slightly different. And there is not a single day that goes by that somebody doesn't mispronounce my name. Which is also why I used to DREAD the first day of school as a kid. LOL!! But in short, my grandmother named my dad Andra and that's how she chose to spell it. So in turn, my mother gave me the same name and spelled it the same way. Growing up, I hated the spelling of my name, but now that I'm an actor, I love it because its unique and it sets me apart in an industry where everyone is fighting for a way to stand out.
On The CW's critically acclaimed series, "The L.A. Complex" you played Kaldrick King, a closeted gay rap star. Your performance earned you a nomination for Best Male Actor at the 2013 Canadian Screen Awards. When you auditioned for Kaldrick King, were you told up front that he was a closeted gay character?
Well I initially auditioned for the role of Tariq, which was Kaldrick's love interest on the show so yes, I knew he was a gay character from the start. However, I had no idea that we would have to perform actual on-screen love scenes, because that's not something you typically see on network TV shows. Especially the aggressive types of scenes we did. But when I accepted the role, I took ownership of bringing Kaldrick King to life and being 100% accurate and true to the character. No exceptions. So even though it was different being a straight man playing a gay character, I threw away all apprehension, and just engulfed myself in the character holistically.
You're a former Apollo Theater stand-up comic. What are the highest and lowest points of your stand-up career so far?
I think the pinnacle of my stand-up career was definitely performing at the world famous Apollo Theater in Harlem, NY. As a kid I would stay up until 11pm on Saturday nights to watch "Showtime At The Apollo," so it was definitely an honor to perform on that same stage and rub the same Tree of Hope that so many of my peers have. And I would say my low point would probably just be the lack of opportunities I got. I was really funny and was always well received when I did stand-up, but unfortunately in the comedy world, a lot of venues in L.A. don't give lesser known comedians a legit shot. They only want the well known big names. But I do miss doing stand-up, and look forward to returning to the stage someday.
You have a love for football. A lot of parents feel that by putting their kids in sports, they will be too busy to hang out with "the wrong crowd". What are your thoughts on kids today joining sports?
I'm a huge advocate for kids being involved in sports or any other extracurricular activities. Speaking from personal experience, sports do absolutely keep kids off the streets and away from easy trouble because it gives you something constructive to do and eliminates idle time. But there's also tons of other benefits and life lessons that kids learn from sports. Besides learning to love exercise and be healthy, they also learn teamwork, communication, hard work, dedication, how to be a self motivated and many other valuable attributes. Not to mention they can also potentially earn a free education via scholarships. And there's also a direct correlation between former athletes and those who achieve great level of success in various other professions too. Who knows where I would be in life if sports didn't keep me busy, off the streets, focused, and clear of trouble.
At Baylor University, what were your responsibilities as President of Alpha Phi Alpha Fraternity Incorporated?
My duties as the President of the Baylor Chapter of Alpha Phi Alpha were fairly similar to those of any other leader of a national organization. Along with my chapter brothers, I made executive decisions pertaining the direction and goals of our chapter and our national and local service projects. I made sure my chapter was involved in uplifting the entire Waco community in addition to the areas surrounding Baylor University. And of course we partied hard, and had tons of frat boy fun, but we also did a lot of community service, registered hundreds of people to vote, tutored and mentored hundreds of local kids weekly and created other non-profit projects to enhance the Waco, TX community.
What's your workout routine?
My workout routine consists of playing basketball 3-4 times a week for my cardio, then lifting weights afterwards. I typically mix my weight routines up between heavy weights/low reps, and light weight/high reps so I can hit the large muscles and improve my muscle definition. I also end my workouts with 300-500 crunches. I don't necessarily diet, I just believe in portion control and consistent exercise. That works for me.
How did you get your Twitter account verified?
Because I'm special. DUUUH!! Lol :)
What was it like the first time you walked down the red carpet?
My first time walking the Red Carpet was when I first moved to Los Angeles in 2008. My college buddy Steve invited me to an NFL Draft Party, put me on the Red Carpet, and introduced me as, "Andra Fuller from Prison Break", (the show I was on at the time). The cameras starting snapping, I starting smiling. It felt natural.
What brand headphones do you have? Why'd you choose them?
I just use the standard Apple headphones that came with my iPhone, because they fit nicely in my ears when I workout at the gym. I also prefer to use my headphones to talk on the phone, as opposed to holding the phone to my ear. (Annoying) BUT... if any potential sponsors reading this would like to pay me to wear or endorse their headphones, I'M IN!! Lol!
Did you ever have braces?
Nope. Never had braces. Luckily I was blessed with straight teeth. :)
How has your life changed with fame?
I'm not exactly a household name YET, so I can still live relatively the same lifestyle I've always lived. But with the recent success of "Black Jesus," I just make sure that I don't go to the super market looking like I just rolled outta bed. Oh, and I also leave better tips now! Because with the monster that is social media, I would hate for someone to tweet, "FYI, Fish from Black Jesus is a poor tipper!" So even tho I never was a bad tipper, I just add an additional few bucks now. Lol!
I have many many battle wounds all over, because I was a very rough kid growing up. I have a four inch scar at the bottom of my right foot where I was cut by some broken bottle glass and almost had my foot amputated!! A huge gash on my left forearm where I accidentally punched through a window while playing, a six inch scar on each of my knees from tearing both my ACL's playing football and a pretty little scar on my forehead from where I broke a glass bottle on my forehead to impress some girls when I was in elementary school. Nicely done! Amongst many other scars. Yea, active childhood.
What scares you the most?
The possibility of dying without leaving a impactful mark on society scares me. As self serving as it may sound, I want to be remembered, admired, and appreciated when I'm no longer here. And I know that means that I have to be a great person and have a positive impact on the lives of many others while I'm here. Only then will my life and humanitarian efforts be looked upon as worthy of reverence.
Anything else you'd like to say?
I'd just like to thank everyone who has supported my career to this point, and all those who have given me the opportunity to live my dream. I have some of the best supporters ever and I've been really blessed with some amazing opportunities. I anxiously look forward to what the future holds - I'm just getting started.