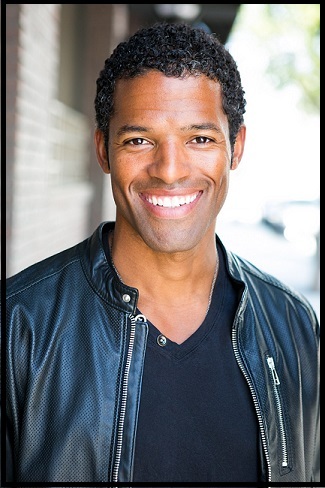 Ben Patterson plays Noah Kendall in Oprah Winfrey's Greenleaf. Watch the two-night series premiere June 21-22.
Ben Patterson's Website, Twitter & Instagram.
An Oakland native, Ben Patterson grew up in a diverse neighborhood of the San Francisco Bay, playing the drums and swimming competitively through high school with future television stars Lance Gross (Tyler Perry's "House of Payne") and Russell Hornsby (NBC's "Grimm"). As an aspiring musician he picked up the guitar and piano, while booking DJ gigs at house parties and local nightclubs, which continued while he was a psych major at San Diego State University.
Fast forward to now, Ben is a new father to a 4-month old son and spending time in the kitchen cooking with his husband. A fitness fanatic since his modeling days, he stays fit by practicing yoga and hiking the various trails around Los Angeles. An avid photographer he's shot many upcoming actors headshots and editorial images while sharing his insights on the industry as someone who appears comfortably on both sides of the lens. With his new music being produced to be released on iTunes this summer there isn't an end in sight for this renaissance man, who often wonders how he balances it all.
I can't stop looking at Ben's pictures on Instagram!
You're appearing in OWN's Greenleaf alongside executive producer Oprah Winfrey. Tell us about your audition.
My audition for Greenleaf was pretty standard. I got an email, sides (which was from a scene in ep.1), and it was with Kim Coleman casting (who I have read with for a number of projects and I really like). I wore a tailored suit. I don't have many suits, and when it's time to look the part, I pulled out the big guns and wore my favorite suit that I had made last spring. There were no callbacks or screen tests, and I found out that I booked the role two days before I was to be in Atlanta filming.
You were discovered by a scout for a local modeling competition that you ultimately won as International Model of the Year. How old were you when this happened? How'd you know this wasn't a scam?
I was 24 when I was involved with that modeling competition. I didn't know if it was legit or not going into it, but I honestly didn't care one way or the other which is probably why I won. Looking back there are a few things that I would have done differently, but I am where I am, so it's all good.
What makes your blood boil?
Uninformed people being outspoken makes my blood boil. It's fine to voice your opinion, but just be informed.
What's it feel like to be a sex symbol?
This is a funny question to me because, as I do appreciate compliments, I am so in touch with my inner goof-ball that I have fun with the idea of being sexy. I love taking care of myself, and think that one day I'll look back at photos and say, "Yeah, I was kinda hot ".
At what point in your life did you pick up your first instrument?
When I was in 3rd grade everyone had to play the recorder. I didn't think it was fun and quickly let that go. Then came the flute in 4th grade, but this also meant that I would have to learn to read music - - NOT! In 9th grade I was in beginning band and wanted to play drums. The teacher told me that he only taught brass and woodwinds to beginners. I said, "There are drums over there, I want to play those". He gave me sheet music to learn and told me if I learned it, then I could play drums. It was something super simple so I was cool. I am self-taught on piano, guitar and bass -- and I still can't read music .
In the episode of Grey's Anatomy called The Great Pretender, you played Curtis 'Rosalind' Warren, the transgender brother of Dr. Ben Warren. What do you think about LGBT representation in today's entertainment world vs. 10 years ago?
I  think the LGBT representation in entertainment today is quite remarkable versus 10 years ago. I have seen so many characters on various shows that would not have been around when Noah's Arc or Queer as Folk was being filmed. As with any group that feels that it is underrepresented, people should continue to tell the stories that they experience because the positive effects are so wide spread. I know that doing Noah's Arc was a huge step in the right direction for so many people and I am glad to have been a part of that show.
You have a baby boy with your husband. Tell us the story about your son.
My husband's name is Mike and we had our son Zac though a surrogate. We have been together for 16 years, so a child really was the next logical step in our lives. Without going into too much detail we picked a donor that resembled Mike and used my sperm. He was born in January while I was working on Greenleaf so I was flying back and forth for a few weeks when he was a new born. I was at his birth, and he's growing FAST!
Have you ever had acting lessons?
I have had a few acting coaches but only one two that I really felt got me and "Taught me how to Fish", rather than feed me. Scott Tyler and Nikolai Guzof (who I still study with) are excellent at what they do.
How do you identify sexually? At what age did you figure all this stuff out?
Hmmm - Well I identify as a Husband and a Father :0). Growing up I dated girls, but I thought guys were hot, too. Although I never really acted on it until later, I was raised in a very diverse neighborhood, so same sex couples were something that I was used to. I knew pretty early on that I found both sexes attractive, but I never thought that I was bisexual because I knew that I would end up with one person ultimately. To me, there is a huge grey area between the attraction to men and women, and where you see yourself is up to you. Just as long as you are happy.
Anything else you'd like to say? Advice?
My advice to anyone about all this is, be happy with yourself first and work on improving you. Trying to fix others is most people's biggest source of stress. Thank you for taking the time to read all this. Yes, Oprah is as cool in person as you have read. More importantly she is amazingly generous.
Check out my Instagram (kinda funny) @BenjaminPattersonallday and my Twitter @BenJustCreates. I have music on iTunes under my band name SAPPHIRE SKY - Funk music.
Calling all HuffPost superfans!
Sign up for membership to become a founding member and help shape HuffPost's next chapter