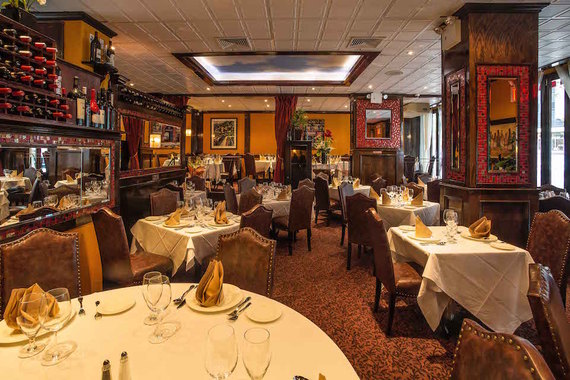 Back in the '70s a style of Italian restaurant emerged in NYC that set itself apart from the dated "red sauce" restaurants with checkered tablecloths and Chianti bottle candle holders. Not that stellar Italian restaurants hadn't existed--the elegant Piemontese ristorante Barbetta opened in 1906--but these new, so-called "Northern Italian" restaurants, like Il Nido, Il Menestrello and Gianmarino, most of them on the East Side, prepared pastas tableside by captains in tuxedos. They had décor familiar to a clientele familiar with the best restaurants in Rome, Florence and Venice. None served pizza, which was considered a trattoria item, not one found in a true ristorante.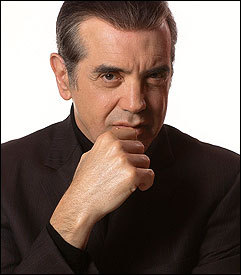 Sadly, many of those ristoranti disappeared; some closed while others, like Il Mulino, were corporatized and lost their individuality--just as a new wave of downtown trattorias serving "gourmet" pizzas began attracting an arts and fashion crowd with their casual atmosphere, brick walls, loud music, cramped quarters and witless waiters in t-shirts with the restaurant's name on the front. On the West Side elegant new places like Marea, A Voce and Lincoln Ristorante opened, but were in a different style from those of the 1970s and 1980s.
Now, thanks to actor-director Chazz Palminteri--in partnership with the Sinanaj brothers, who also run Empire Steakhouse and Ben & Jack's Steakhouse--the brand new 140-seat Chazz Palminteri Ristorante Italiano near Grand Central Terminal restores much of the classic look, food and service that has been missing for the past decade.
The premises used to be a pizzeria, but you'd never know it now. The décor is sumptuous, graceful, in rich fabrics and colors of Parma gold, with antique brown leather chairs, red tiles, and of course thick tablecloths and linens, with mirrors that open up the space still more. The wine list is 250-label strong, along with Chazz's own brand of Sicilian BIVI vodka. The maître d' wears a well-cut tuxedo.
And Chazz Palminteri is regularly on premises, greeting old friends and new guests who know his work from "A Bronx Tale" (which he wrote and starred in) so well that they quote lines from it.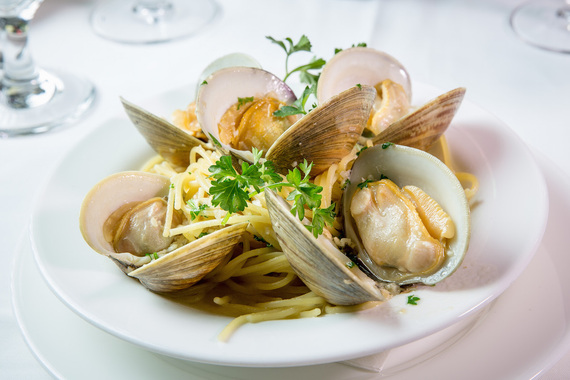 Abundance is a virtue here, from large antipasti platters and pasta to a true rack of baby lamb and massive venison chop. And the most expensive item on the menu (besides chateaubriand for two at $84.95) is a USDA Prime ribeye at $44.95; that's almost a bargain these days.
We began with antipasti of roasted asparagus splashed with sherry and generously topped with a gratin of Parmigiano ($12.95) and jumbo shrimp alla romana ($15.95) sautéed with chopped spicy peppers in a light and very creamy Gorgonzola sauce served over garlic bread. You could make a meal out of these.
All the pastas we tried were very good, including ravioli with funghi porcini glossed with a rich black truffle sauce ($26.95). Potato gnocchi were excellent, just the right plumpness, in a rich veal ragù with shavings of Parmigiano ($23.95), and tender housemade bucatini alla carbonara with sweet onions and pancetta, and mixed with an egg yolk, so it didn't really need the touch of cream ($20.95). Pastas may be ordered as appetizer portions.
There is always a temptation to go easy on the main courses after such rich pastas, but you would be missing wonderful dishes like Dover sole baked with fresh herbs and served with a lemon caper sauce (market price). A hearty, country-style dish is the chicken alla scarpariello with sweet garlic, hot cherry peppers, sprinkled with rosemary and cooked in a white wine sauce, a lavish dish for just $26.95.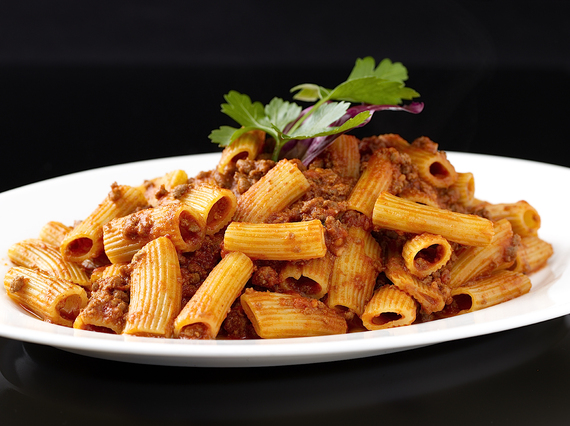 You will find a veal chop on every Italian menu in NYC but not a rack of veal (market price), as served here, topped with sautéed onions, mushrooms, peppers, fresh herbs and served with roasted potatoes. Unless you share this dish, you'll probably take a lot home. The same goes for a juicy rack of American lamb (market price) served in a well-reduced mint sauce. And the special the night I dined there was the first good venison chop I've had this winter, meaty, mildly gamey, in a well-seasoned wine-dark sauce.
If you feel you need to, share a slice of good cheesecake at the end.
Celebrity-partnered restaurants rarely have little more than a name on the door, with very little input from the celeb, who may or may not know anything about the food served. At Chazz Palminteri you are guaranteed two things: that the Sinanaj brothers are the pros behind the restaurant, purchasing high-quality ingredients and maintaining an Old World service style, and that Chazz Palminteri has his own vision of what a restaurant with his name on it should be and he's not about to let that change.
Open for lunch and dinner daily; fixed price lunch at $25.95.
CHAZZ PALMINTERI
Ristorante Italiano
890 2nd Avenue (near 48th Street)
212-355-5540
chazzpalminterinyc.com