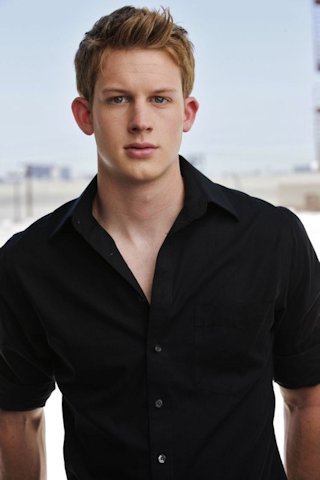 Chris Sheffield stars as Communication Officer Mason on the upcoming, and highly anticipated TNT drama series, The Last Ship by Michael Bay. Sheffield will also star in 20 Century Fox's The Maze Runner hitting the theaters this September. Chris' Twitter: @ChrisShef . Photo by Paul Smith.
I was unsure what to expect when interviewing Chris Sheffield, and I must say, I was more than impressed! He's humble, well spoken and truly has a love for his craft.
You're starring in the Michael Bay directed, TNT, dramatic pilot The Last Ship as the young Communications Officer Mason. You also star in FOX's highly anticipated The Maze Runner set to premier in September. What were the differences you noticed regarding working on a cable vs. network show?
Specifically, with The Last Ship and The Maze Runner, both had bigger budgets and required a lot of time, hard work, and passion from everyone involved. From Executive Producer Michael Bay, The Last Ship is a dramatic action TV series, but truly looks and felt like a film while working on it. Everything was just on a larger scale. From the large, ensemble cast lead by the incredible Eric Dane to filming on an active Navy Destroyer (USS Dewey) along side active Navy Sailors. Everything was a little more epic. The Maze Runner differs from any other project and crew. We can't get enough of each other -- it's a little ridiculous. We have a group chat and talk every day. That kind of bond, though, is so important in the film and grounds these individuals together in a truly desperate, tragic world.
If you had to own any ONE car in the world for the rest of your life, with no other vehicles allowed, which car would you choose? Why?
Oh man, I don't know that I could own the same car for the rest of my life. I enjoy experiencing different cars and how they perform. My dad started to teach me how to drive when I was 13 years old behind the local public library because I kept bugging him to. He just always said, "Don't tell mom." When I was young, I would always go across the street to my neighbors and "help" rebuild old cars. My favorite was an Oldsmobile Cutlass 442.
What kind of guitar do you have and how'd you choose it?
The only guitar I currently have belonged to my grandfather, Joseph Sicilia. He was a major artistic influence in my and my brother's life. He was a cartoonist and drew the original Mighty Mouse and Heckle and Jeckle for Terrytoons Cartoons. My grandfather was also a singing cowboy, actor, dancer and singer. After his passing, I asked to keep one of his guitars. The one I chose is covered in American flag stickers. I cherish it.
Tell us about your love for improv and sketch comedy.
Improv and sketch comedy is something I have always had a love for. I grew up watching "Saturday Night Live" and would always watch old reruns of "I Love Lucy." I was lucky enough to take classes at The Groundlings Improv School where the alumni include Phil Hartman, Kristen Wiig, and Melissa McCarthy. Improv challenges you by thrusting you into the unpredictability of the present and forces you to listen and work with your partner. Studying Improv has been critical to my craft in not just comedy but also my dramatic work.
If you had a twin brother, who would be cooler?
My twin would be! I have an older brother, Ryan Sheffield. He is a talented artist and writer. He is the coolest.
If you were going to build a robot, what would it look like? What would be its main function?
So many things come to mind, but I'll say it would most likely look like Jennifer Aniston and would help build schools for kids and bring Olive Garden (so delicious) to anyone in need of food.
What product do you use in your hair?
What's your workout and food routine?
I actually belong to a low key Tennis club, but usually just use the weight room and pool. Lately I have been lifting more weights and running a little less. I have always been a big runner. I used to run four miles a day, but have been gaining a little more muscle mass since reducing my cardio and increasing my weight lifting. My trick is I watch what the personal trainers have their clients do in the gym next to me and copy it nonchalantly.
Discuss the audition process and your character of Mason in The Last Ship. How will we see him grow as a character?
My character on The Last Ship was something that evolved over time. I worked with Denise Chamian, the casting director for Michael Bay's Transformers and she brought me back in. I originally went in for a nonspecific co-star role and I got called back and read for another character, a larger role that had already been cast. A few weeks go by and I hear I booked the role of the young communication officer Will Mason and needed to be in San Diego two days later for training with the cast and the Navy. Eventually, the role became recurring after the pilot was completed. After we got picked up to series I was able to have lunch with the producers and writers of the show where they informed me and my cast mates about the storylines we were going to have over the course of the season, and the writers shared their wonderful vision of whom this young man is. The character, Will Mason, represents a coming-of-age on the show and over the course of the season you see my character lose his innocence and grow into a man through his experiences on and off the ship.
If you were to wake up and only remember one thing, what would it be?
My family -- the feeling of love.
What tech do you use? What gaming console?
I'm not one of those guys that are completely up on all the new gadgets. I still play Mario Kart on Nintendo 64 -- and I'm proud of that!
Why did you become an actor?
Even as a little kid, I have always had a strong imagination and a curious nature. I can remember playing pretend around my house when I was maybe nine years old. I loved to pretend to be a cop, a doctor, a truck driver, James Bond, a waiter, among countless others. The waiter one is ironic because I waited tables for years when I first moved to LA and let me tell you, it was much more fun in my imagination. I figured out early on that I loved people; how they affected me, and how I affected them. I read an interview with Denzel Washington once and he put my exact thoughts on "why do you act?" into words. He said because (after reading a story, script, a human being's experiences) "I want to know what that feels like." Acting has allowed me to feed into my curiosity and imagination and have human experiences unlike any other.
Anything else you'd like to say?
I'm so grateful for these experience and opportunities. This journey is the sum of the incredible people in my life who have given me nothing but love and support.