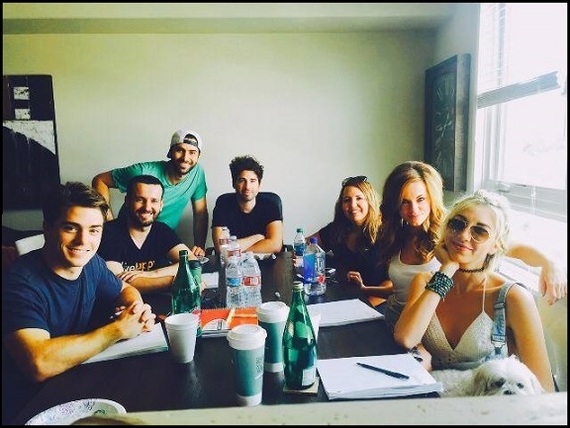 Freddie Smith (middle) and the cast of horror film Hiker at a table read. (See the cute dog in the front? Awww!)
It was a sad day last week in the soap opera world when Daytime Emmy winner Freddie Smith, who played Sonny Kiriakis on Days of Our Lives the past four years, decided to leave the show. Fans went into a frenzy!
But if you check out that huge smile in the above picture, you'll be happy to know that Freddie is not off the grid, but instead filming his passion project called Hiker!
You're directing the horror film Hiker. How did you become interested / involved in directing?
Yes, I am directing a horror film. I have been shooting short films, skits, and web series for almost 10 years now. Also, being directed as an actor has helped me learn what not to do as well as what to do.
Hiker is being shot entirely by a Go Pro. For those who don't know, what is a Go Pro? Why did you choose this? Why do you think this will be a unique experience for moviegoers?
A Go Pro is a tiny camera that shoots in HD that you clip to your helmet, surf board, handle bars, car, anywhere you'd like. You have probably seen them attached to people who are in extreme sports. Surfing, skateboarding, rock climbing, sky diving, motocross, and especially cliff jumping! The unique thing about Go Pro's is that the audience gets to watch from each character's point of view!
Where were you when you were nominated for the Daytime Emmy Award for Outstanding Younger Actor in a Drama Series? What was going through your mind? Do you know in advance if you win or you find out with the rest of the world? Congrats!
Thank you! I was sitting at home having my morning coffee and I got a text message from a friend who found out I was nominated! I remember telling my girlfriend first and then calling my parents. I worked extremely hard and I was very honored that my work was recognized.
What was the protocol when you decided to leave Days of Our Lives?
I signed on to Days of Our Lives for four years. I knew my contract was coming to an end and the big decision had to be made. I felt the love story was told beautifully and as an actor, I wanted to step outside of my comfort zone and pursue other avenues. When I sat down with Corday and the other producers to tell them I had decided to leave, they were so supportive and thanked me for my hard work. They even said the door was always open, which is the best compliment I could have received.
Is there a chance you may re-join DOOL in the future?
I absolutely believe there will be a time when I appear on DOOL again.
I moved out to Los Angeles to pursue many dreams. If you want to succeed in life you have to give your dreams and goals 110 percent of your attention. Working 60 hours a week on DOOL, I had all of my focus on the show. In order for me to direct and pursue films, I had to make the tough decision and leave the show.
What is the story behind Hiker?
Ever since The Blair Witch Project came out in 1999, I was fascinated with the fact that a feature film could be made for less than $100k and gross hundreds of millions of dollars. Putting that in perspective, is mind boggling. Then, Paranormal Activity came around and released a film that was made for only 15K and became almost a billion dollar franchise. Now a days, with all the CGI and budgets that are over 200 million dollars , it's nice to see that if you have a great idea and few simple tools, you can create art at it's finest.
Years ago, you needed tons of money to get the equipment to shoot film quality projects. But with technology growing and forms of self distribution, all film makers really need in this day in age, is a website, iPhone, and a great idea to showcase their talent.
Three years ago, I was hiking with some friends and we were shooting a segment for his Youtube page. He was the guy who had the videos online about how to eat right and get fit. My writing partner, Alyssa Tabit and I, felt someone was following us. We started spit balling ideas about what if we were kidnapped out here or even killed. The moment sparked the idea to make a feature. We came home and over the past three years, we have written and rewritten the script until it was ready to come to life!
We hear you are self-distributing Hiker. It seems more and more people are going this route. Speak to us on the benefits of self-distribution?
Now a days, if you have a following and even a little experience with marketing, you can self distribute a film or series and still get the buzz and following the same way you would if a big studio buys the film. Now, I'm not crazy, if a distribution company wants to have a worldwide release, I wouldn't turn it down, but there is something special about a community of people coming together and helping a low budget indie film make it big. I truly believe because of how real and terrifying this film is, word of mouth will take care of the advertising!
Why did you want to delve into the horror genre?
Horror genre is a perfect place to start in the film world. It can be shot on a low budget, the story structure is simple to duplicate, and being scared never runs out of style. Plus, there is an overwhelming following for horror films, especially around Halloween!
What do you have to say to your DOOL fans?
The DOOL fans had a huge part in helping the show tell a true love story. I can't thank them enough for speaking up and writing in. It resulted in a great four year run on the show and changed people's lives for the better.
Anything else you want to say?
I have always been a huge fan of found footage features. BUT, I have always had one complaint and I addressed it in this film. In real life, if someone was carrying around a soccer mom camera and a natural disaster or a murder took place, the normal response would be to run and not continue to film - especially, if your friend just got killed. By having four Go Pro's attached to head straps around each character's head, not only will the audience get to experience the fear through the eyes of each character's point of view, but it gives you more belief that this could ACTUALLY be caught on tape.
Popular in the Community