Our Oxfam Global Ambassador and Hollywood actor Gael García Bernal has taken time out from filming on location in Jordan to meet Syrian refugees.
The Mexican-born star who has starred in six Academy Award-nominated films including Babel and The Motorcycle Diaries, visited refugee families living in the outskirts of the capital Amman, with the aid agency Oxfam. Bernal has been filming in Jordan since mid-June for his new film, Rosewater, directed by The Daily Show's Jon Stewart.
He stopped off to talk to the El Masry family from Saida, a village on the outskirts of Dera'a currently living in a house in Safut. A total of 15 people are living in this house after they had to flee from Syria six months ago when their neighbourhood became a battle zone. They told Bernal of the trauma they witnessed and how to this day their children are suffering from nightmares.
Bernal is now calling on world leaders to find an urgent solution to the Syria crisis.
For more than two and a half years, Syrians have been fleeing from the deadly conflict in their home country, where an average of at least 5,000 people are killed every month.

In a few days' time, the number of Syrian refugees will reach the two million mark. I have met a few of them in Jordan, with Oxfam, where they are struggling to live with dignity using the few resources available to them.

I've met families living in crammed rented houses and tents where they struggle to make ends meet.

Aid is essential for these people. There's not enough coming, despite the promises from the international community. And, more importantly, the people I met want peace -- they want to return to their home country to rebuild their future. It's time to put our money where our mouth is and help these people whose only dream is to return to life in their own country.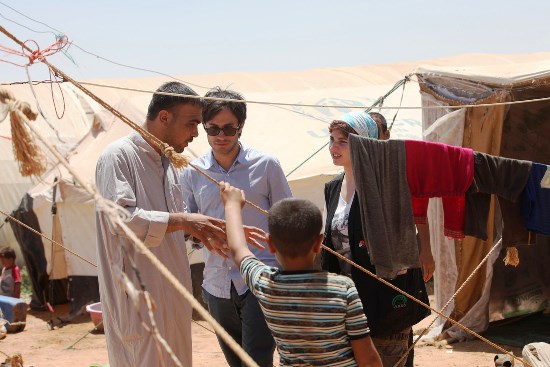 Bernal also visited a community of more than 100 Syrian refugee families living in tents on a farm on the outskirts of Amman. Credit - Salah Malkawi/Oxfam
Oxfam is providing families with cash support, so they can buy items such as medicines, food, clothes as they need. Oxfam has also provided water filters to ensure families can drink clean water.
Around 80 percent of the more than 1.8m Syrian refugees who have fled to neighbouring countries are living outside camps either in informal settlements -- mainly tents -- or high-cost rented accommodation.
For more information on Oxfam's work on the Syria crisis CLICK HERE.
Note: Earlier this year, Oxfam launched an appeal for $57.6 million to fund its humanitarian response in Lebanon, Jordan and Syria to help more than 650,000 people over the next 12 months. The appeal is just 28 percent funded. To donate to Oxfam's appeal visit www.oxfam.org.uk/syria.
Calling all HuffPost superfans!
Sign up for membership to become a founding member and help shape HuffPost's next chapter