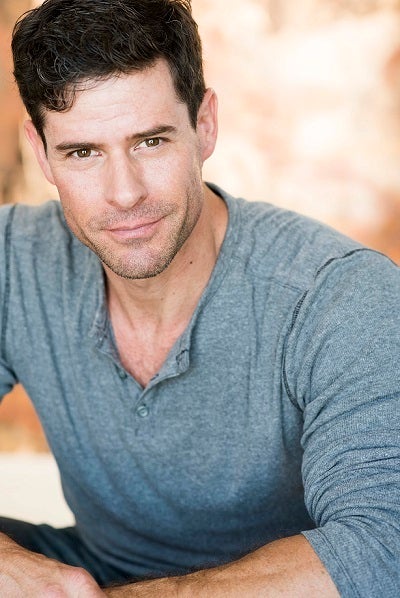 This interview with actor Gian Keys has been brewing and stewing for a long time. (I just made myself hungry for brisket.)
(Gian – thanks for hanging in there while I was busy with my hatchlings over the summer! Your publicist followed up with me 103 times!)
Gian proves that it's never too late for a career change. There are always people complaining that they're too old, or not skilled enough, to change jobs and actually be happy.
So if you're one of those people, take this cue from Gian Keys – he set his mind to do something and he's doing it! Go out into the world -- learn, study and put yourself out there.
You play Griff on The Love Witch. Tell us about your audition and table reads. How long did it take from your auditions to when you found out you got the part?
The audition process for THE LOVE WITCH went through the usual channels, which was through my manager. I went and the audition well. Like most auditions, I heard nothing. Around the nine month mark I thought about the project. I may of had the email from my manager, which had the director's email in it. I sent an email. She replied and invited me to a second audition. Roughly two months later we were on set.
Tell us your family history and how you got your name.
Myself, and my two brothers Kevin and Perryn, are adopted. My parents wanted unusual names. They say they found them in a baby names book. Gian is a popular Italian name, but they pronounce it quite different.
Taylor Swift: Wildest Dreams video. Wait, what? Did you work on this? What capacity?
Wish I had an interesting story behind the Taylor Swift video. Nailed the audition with a buddy of mine. Booked it. We were supposed to play opposite her as the agent and publicist, but sadly, we were never used. Guess they made some changes.
After your stint as U.S. Air Force air traffic controller, you signed with L.A. Models agency. How exactly did you get in front of L.A. Models? Did you 'audition' for other modeling agencies as well?
Between the Air Force and L.A. Models was almost ten years. My college degree took me to Miami Beach, Florida, where I got started in the modeling industry. From there, I moved to L.A. to see about learning how to be an actor. I've been studying with a wonderful coach, Joe Palese, for the last five years. He's why I booked THE LOVE WITCH. I went to numerous "open call" auditions for modeling. Being an ex-competitive bodybuilder I was too muscular for most. Got lucky with L.A. Models.
What's your workout and food routine?
I exercise a few times a week with free weights, swim a few miles, and play beach volleyball every Saturday morning in Manhattan Beach. I don't eat much. I generally keep it simple with healthy carbs, protein, and fat. I have a sweet tooth, but I resist. It's important for me, and my career, that i stay lean and nicely muscled.
What do you think about the current administration?
I'm not much into politics. This is definitely the most unusual administration I've experienced in my lifetime.
What's your take on people who are lazy?
I think people who are lazy simply need a goal to go after, a reason to get up early and get after it. I love having specific goals to achieve, because then I know exactly where I'm headed.
Has there ever been an interview question you didn't want to answer?
I haven't come across a question I didn't want to answer.
What's up next for your career?
THE LOVE WITCH was an important project for me. It helped confirm, in my mind, that I can handle a major role in a feature film. I'm also in the process of co-creating another comedy series with Jennifer Gregory, who's a very talented actor and a good friend. My first, F**KIN' ACTORS was a success and wonderful learning experience.
Anything else you'd like to say?
I'd like to thank you, llana, for the opportunity to interview with Huffington Post. I look forward to the next one.
You can also follow me at the below:
Related
Popular in the Community